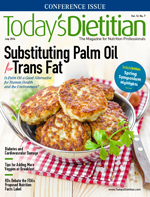 July 2014 Issue
Veggies at Breakfast
By Lindsey Getz
Today's Dietitian
Vol. 16 No. 7 P. 40
The most important meal of the day provides clients and patients the perfect opportunity to eat more vegetables and meet dietary requirements.
By adulthood, people should be eating as many as 3 cups of vegetables per day, depending on their age and sex. Unfortunately, most people don't even come close to that number: A State of the Plate survey conducted by the Produce for Better Health Foundation found that the average person consumes 1.8 cups of fruits and vegetables per day.
If your clients and patients are trying to pack more vegetables into their day and are falling short, recommend they add veggies to their breakfast plate. Bear in mind, however, that you also may be addressing the fact that many clients may not be eating a wholesome breakfast or may be skipping it all together.
Most Important Meal
Many people don't eat their first vegetable of the day until dinner, according to Sharon Palmer, RD, author of The Plant-Powered Diet and Plant-Powered for Life. At that point, it's probably too late to fit in the full 2 or 3 cups recommended. "Plus you don't gain the benefits of a good source of phytochemical-rich foods with antioxidant and anti-inflammatory compounds pumping through your body all day," she says. "So why not try to include vegetables in the diet at the very start of the day? Many cultures eat vegetables for breakfast, and there's no reason we can't either. By eating them for breakfast, you're fitting in those important servings and getting more fiber and more nutrients to boost your day. Plus you can cut down on unwanted calories by filling up on these plant foods."
In fact, filling up at breakfast may promote a healthier weight as well. According to a study published in July 2013 in Obesity, eating a large breakfast rather than a large dinner helps take advantage of the natural fluctuations in the body's metabolic cycle and reduces carbohydrate cravings. "Often, we're used to eating our biggest meal of the day at dinner, but that might not be the best way to go," Palmer says. "However, it's important to make sure that breakfast isn't just a refined carb, saturated fat mess. I recommend servings from all major food groups: protein, whole grains, fruits, and veggies."
Beyond promoting a healthy weight, eating breakfast has several other benefits. It's long been touted as the "most important meal of the day," and that largely has to do with getting the day off to a good start. "Eating a nutritious breakfast can get your day started on the right foot," says San Francisco-based dietitian Kaley Todd, MS, RD. "It breaks your night fast and jump-starts your metabolism. Studies have linked breakfast consumption to lower risk of chronic diseases, better weight management, and improved mental performance."
"After sleeping seven or eight hours, eating breakfast in the morning—typically within an hour of waking up—is a great way to renourish and fuel the body to start the day," adds Barbara Ruhs, MS, RD, LDN, a former supermarket dietitian and the owner of Neighborhood Nutrition in Phoenix. "Eating breakfast helps us to bring our blood sugar back to normal, fueling our brains for the day ahead."
Solutions to Skipping
But Ruhs knows that despite its importance, many people skip breakfast. "I think many people opt for more sleep instead of waking up and allowing enough time for breakfast," she says. "Eating anything is better than nothing; however, you get out what you put in. If you fuel yourself with a healthful and balanced breakfast, you will get more brain-power bang for your buck."
"The International Food Information Council Foundation did a survey that found that even though 93% of Americans agree breakfast is the most important meal of the day, only 44% are actually eating it," says Elizabeth Pivonka, PhD, RD, president and CEO of the Produce for Better Health Foundation. "Mornings are very busy and hectic, and I believe that's the biggest reason more than half are skipping breakfast."
Americans are skipping breakfast for other reasons as well, says Amy Myrdal Miller, MS, RDN, senior director of programs and culinary nutrition for The Culinary Institute of America. "Some people think they're too busy even though there are many very quick, easy breakfast options," she says. "Others think that eating breakfast makes them hungrier than if they skip breakfast, but this can be overcome by choosing more healthful breakfast foods. High–glycemic-load breakfasts such as orange juice, a sweetened refined grain cereal, and nonfat milk will leave people feeling quite hungry only a few hours later. But a lower-glycemic-load breakfast such as a whole orange, whole grain breakfast cereal, nonfat milk, and some nuts or nut butter will leave people feeling satisfied for a much longer period of time."
And, of course, adding veggies to the breakfast meal also is a wholesome way to fill up. Todd says she urges people to include a variety of vegetables throughout the day to maximize their nutrient intake. "Vegetables typically are a nutrient dense food with minimal calories, meaning a big nutritional bang that won't add inches to the waistline," she says.
However, even those who are eating breakfast tend to shy away from incorporating veggies. Ruhs says she doesn't think it's an aversion to veggies at breakfast; it's simply not a natural consideration. In America, vegetables traditionally have been associated with lunch and, even more so, with dinner. But helping to change your clients' and patients' mindsets may be as simple as giving them ideas and recipes but also may require helping them find solutions to some of their nutrition struggles.
Helpful Hints for Success
Sometimes, just trying to get out the door on time in the morning can be a struggle, let alone trying to eat healthfully. That's why Pivonka says dietitians should suggest foods that are easy to fit into a busy schedule. "Tomato juice is a great way to get some vegetables quickly," she says. "People often need to be reminded that they can incorporate fruits and vegetables in all forms—canned, frozen, fresh, or dried—in order to find ways to incorporate more."
Foods that can be taken on the go definitely are a key to success. "A lot of people I talk to have problems fitting in a wholesome breakfast on the run," Palmer says. "Some people wait to eat breakfast until they get to work or school and then their choices may be limited to less-than-stellar food options."
RDs may need to remind clients that adding veggies can be simple, and they can be eaten on the run. "Some cultures slice vegetables over a breakfast sandwich, such as radishes, cucumbers, tomato slices, or lettuce leaves," Palmer says. "Just spread whole grain bread with hummus, tahini, or nut butter and pile it with delicious, crisp vegetables. That's an easy, packable breakfast."
"[Suggesting] quick, easy, and affordable breakfast ideas that incorporate veggies is the best way to encourage others to gobble up produce in the morning," Ruhs adds. "Grab and go is the way to go for breakfast, and creating vegetable-inspired breakfast plans that accomplish this can go a long way. The smoothie and juicing folks are breaking barriers in this realm."
Smoothies definitely are a simple way to squeeze more vegetables in, Myrdal Miller agrees. "Consider adding canned, drained, rinsed beans to berry-based smoothies for some extra fiber and protein," she says. "Dark leafy greens go great with citrus-based smoothies, and baked sweet potatoes are a wonderful addition to apple-based smoothies with cinnamon."
But Myrdal Miller says eggs truly are the gateway to fitting in more vegetables at breakfast time. "Vegetables, including beans, can be added to omelets and breakfast sandwiches," she says. "Breakfast burritos and tacos are gaining in popularity, and vegetables easily can be incorporated into the filling with a vegetable-based salsa that can be used as a condiment."
Eating leftovers is another morning vegetable option, Pivonka suggests. "If you had a healthful vegetarian pizza for dinner, have some cold for breakfast," she says. "This is an easy way to get some extra vegetables in the morning."
Todd says mixing leftover vegetables from dinner into your breakfast meal also is quick and easy since the vegetables already are cooked. "Making a quick morning hash with sweet potatoes and leftover vegetables can be a delicious way to kick off your morning while also sneaking in a serving of vegetables," she says.
Vegetables also can be baked into muffins. "Adding puréed pumpkin or shredded carrots or zucchini to your whole grain muffins is a great way to incorporate vegetables," Todd says. "Make a big batch and freeze the extras for a quick, veggie-packed treat on the run."
While vegetables at breakfast may be a new idea for clients, it's one they can come to embrace. After all, many other cultures have long been getting their veggies during the morning meal. "Vegetables at breakfast may seem foreign to Americans, but there are many cultures and cuisines from around the world that include vegetables at every meal, including breakfast," Myrdal Miller says. "There's a wonderful savory Bolivian quinoa breakfast pudding that's topped with roasted peppers and an aged cow's milk cheese. In Turkey, eggs are scrambled with vegetables to create a dish called menemen. In Italy, a savory breakfast porridge is made from dried, ground fava beans. And in India, dal [cooked lentils] is a common breakfast food. With some good ideas, Americans can be on board with more vegetables at breakfast, too."
— Lindsey Getz is a freelance writer based in Royersford, Pennsylvania.
Sunshine Tofu Scramble
Serves 2
Ingredients
1 tsp extra virgin olive oil
1 clove garlic, minced
1/2 small onion, diced
1 small yellow summer squash, sliced
1/2 yellow bell pepper, diced
1 cup sliced mushrooms
5 oz extra firm tofu (1/2 package), cubed
1 tsp oregano
Black pepper and salt to taste
Directions
1. Heat oil in a skillet. Add garlic, onion, and squash, and sauté for 3 minutes.
2. Add bell pepper, sliced mushrooms, tofu, oregano, and seasonings. Sauté for an additional 5 minutes until vegetables are tender.
Nutrient Analysis per serving
Calories: 125; Total fat: 6 g; Sat fat: 1 g; Cholesterol: 0 mg; Sodium: 13 mg; Total carbohydrate: 12 g; Fiber: 4 g; Sugars: 6 g; Protein: 9 g
— Recipe courtesy of Sharon Palmer, RD
Morning Grain Goodness
Serves 2
Ingredients
1 T olive oil
1 cup mixed raw vegetables, diced (try zucchini, asparagus, mushrooms, and broccoli), or leftover cooked vegetables
1 cup raw spinach
Salt and pepper, to taste
1 cup cooked quinoa or brown rice
1 tsp vinegar
2 large eggs
2 T grated Parmesan cheese
1/2 sliced avocado
Directions
1. Add oil to a medium skillet over medium heat. Add mixture of raw vegetables, and cook until slightly tender (skip this step if using cooked vegetables). Add spinach to vegetables, and cook until wilted. Season with salt and pepper. Mix in quinoa or brown rice, and heat until warm.
2. Fill a sauté pan with 1 1/2 inches of water, add the vinegar, and bring to a simmer. Break 1 egg into a small bowl, then carefully pour it into the water and vinegar mixture. Repeat with second egg, spacing them so they don't touch. Poach at a gentle simmer until the whites are firm but the yolks are still runny, 3 to 4 minutes. With a slotted spoon, transfer the eggs to paper towels and season with salt and pepper.
3. Divide quinoa and vegetable mixture between two plates or bowls. Top each with an egg and half of the Parmesan cheese and sliced avocado.
Nutrient Analysis per serving
Calories: 350; Total fat: 22 g; Sat fat: 5 g; Cholesterol: 190 mg; Sodium: 250 mg; Total carbohydrate: 26 g; Fiber: 7 g; Sugars: 2 g; Protein: 15 g
— Recipe courtesy of Kaley Todd, MS, RD
Pumpkin Pecan Spiced Pancakes
Makes 8 pancakes
Ingredients
1 cup unsweetened plant-based milk
1/2 cup water
5 T canned pumpkin
2 T canola oil
2 T maple syrup
2 tsp egg replacer
1 cup white whole wheat flour
1 T baking powder
1 tsp ground cinnamon
1/2 tsp ground nutmeg
1/4 cup chopped pecans
1 T ground flaxseeds
Directions
1. Combine plant-based milk, water, pumpkin, canola oil, maple syrup, and egg replacer in a medium bowl.
2. Add white whole wheat flour, baking powder, cinnamon, nutmeg, pecans, and flaxseeds, and stir just until well combined, being careful not to overwork the batter. Let stand for 10 minutes.
3. Heat a griddle on its low setting (or heat a skillet over low heat) and spray with nonstick cooking spray. Ladle 1/3 cup pancake batter onto griddle and cook until golden on both sides and cooked through (about 4 to 5 minutes on each side).
4. Repeat the process to make 8 pancakes.
Nutrient Analysis per serving
Calories: 132; Total fat: 6 g; Sat fat: 1 g; Cholesterol: 0 mg; Sodium: 160 mg; Total carbohydrate: 18 g; Fiber: 4 g; Sugars: 6 g; Protein: 4 g
— Recipe courtesy of Sharon Palmer, RD