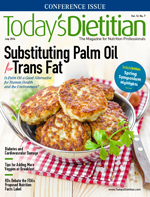 July 2014 Issue
Sustainable Hospital Foodservice
By Juliann Schaeffer
Today's Dietitian
Vol. 16 No. 7 P. 34
Today's Dietitian profiles the top health systems in the country that are driving change.
The sustainability movement has hit health care, as hospitals are making great progress toward establishing healthier, more sustainable foodservice for patients and their families. Many of these green efforts are influenced, at least in part, by the Healthier Hospitals Initiative (HHI), a national campaign to improve environmental health and sustainability in the health care sector. Healthier food is one of six challenges that form the basis of the HHI's campaign, providing resources, insight, and support any hospital or health system can adapt to develop sustainable foodservice programs.
Seema Wadhwa, director of the HHI and director of sustainability for Inova Health System in Virginia, has been pursuing various sustainability goals over the past few years as part of her role with Inova, and the health system's efforts were summarized in the organization's 2012 sustainability report, which also illustrated the reasoning behind why such efforts are pivotal for patients and the planet. "Inova recognizes that food has a direct, measurable impact on human health," the report states. "We also acknowledge that the current global food production system in the US is unhealthy for both humans and the environment. Highly processed, calorie-laden junk foods have become easier and cheaper to access than natural, nutrient-rich food items. Antibiotics are used as a growth stimulator rather than to treat illness in livestock. Crops and livestock are grown using practices that pollute our water, air, and land. The majority of our food is produced in a way that sacrifices long-term well-being for instant profits."
The HHI, for one, is working to change the status quo in hospital foodservice to adopt more sustainable practices. "The HHI is a national movement to implement a completely new approach to improving environmental health and sustainability within the health care sector," says Patti Oliver, MS, RD, MBA, director of nutrition for UCLA Health in California. "It's intended to accelerate the greening of health care by offering a free way for hospitals to introduce sustainable practices into their daily operations. Twelve of the largest, most influential US health systems, comprising over 490 hospitals with more than $20 billion in purchasing power, have partnered with Health Care Without Harm, the Center for Health Design, and Practice Greenhealth to create the HHI as a guide for hospitals to reduce energy use and waste, choose safer and less toxic products, purchase environmentally responsible products, and serve healthier foods."
Thus far, the HHI has grown to include nearly 1,000 hospitals in all 50 states and the District of Columbia. According to Oliver, the HHI issued its first milestone report last year, based on 2012 data, and the findings are promising. "In the report, data indicate that HHI hospitals have reduced their environmental footprint, lowered costs, and improved patient health by incorporating sustainability initiatives into their business models," she says. "This is the first time hospitals have quantified sustainability efforts by collecting and reporting data to show movement."
Whether with help from HHI tools or on their own, smaller hospitals and large health systems alike are revising their menus with a healthful twist, incorporating more local and seasonal food products, offering more vegetarian meals, and buying more organic, fair trade, and sustainably grown beverages and foods. There still are many health systems that have yet to see the importance of sustainability efforts, and plenty of work still must be done, but the health systems interviewed here are leading the movement in health care, demonstrating there isn't just one look to sustainable foodservice in health care.
UCLA Health System
Based in Los Angeles, UCLA Health System comprises Ronald Reagan UCLA Medical Center; UCLA Medical Center, Santa Monica; the Resnick Neuropsychiatric Hospital at UCLA; Mattel Children's Hospital UCLA; the UCLA Medical Group; and more than 150 primary care and specialty care offices throughout the region, so the system feeds many mouths through its foodservice operations.
"We serve 3.4 million meals annually at our hospital campuses in Westwood and Santa Monica," Oliver says, adding that the foodservice program covers inpatient meals at each hospital as well as several retail locations on both campuses and a large catering operation. "We provide a hotel-style room service for patients whereby they can order from a menu featuring more than 40 different ethnically and culturally diverse entrées, including vegetarian and vegan options."
While the foodservice menu boasts a multitude of ethnic and cultural foods, there's one item you won't find: fried foods. "We completely eliminated fried foods from all of our menus several years ago," Oliver says, "and we decreased the price of the salad bar from $6.99/lb to $4.99/lb to encourage consumption of fruits and vegetables.
"We have a huge salad bar and a made-to-order sandwich deli alongside made-to-order sushi, an international corner, and a hot line with a variety of entrées," she says of the many healthful items that have replaced the previous fried offerings. "We also still offer a grill with burgers and sandwiches, pizza, and El Pollo Loco, but even the vendors have no fried foods."
Not only are menu items healthier for patients in terms of nutrient composition, but they're also more sustainable. The organization's sustainability policy set a goal to make 20% of food purchases sustainable by 2020. "We surpassed that goal in early 2013 by having 24% sustainable purchases," Oliver says. "Our recent conversion to some sustainable cuts of meat will increase our percentage above its current level."
For UCLA, sustainable means using a high percentage of locally grown and organic produce, which is labeled at the salad bar. "We also post a map showing the location where all of our produce originated," Oliver says.
The organization participates in Meatless Mondays to reduce its meat purchases, offering a fully vegetarian menu every Monday. "You can still get a hamburger if you request it," Oliver explains, "but all of our daily specials are meat-free and we post education on the 10 reasons to eat less meat."
Not only does that mean fewer meat purchases overall, but UCLA Health System also has made efforts to ensure that the meat they do buy is better quality. (This relates to one of the HHI initiatives for balanced menus, which asks health systems to use less meat and better-quality meat.) "We recently started purchasing antibiotic-free chicken breasts, beef patties, and ground beef," Oliver says. "This constitutes approximately 30% of our meat purchases."
In addition, 70% of disposables used throughout the foodservice program, such as utensils and plates, are compostable; 20% are recyclable; and 10% still go to landfills, though Oliver notes that the University of California's overarching sustainable practices policy, which was developed by the 10 UC campuses, including UCLA, set a goal to have zero waste go to landfills by 2020.
"We also sell reusable UCLA Health coffee mugs and give discounts on coffee to patrons who bring any reusable mug," she says, adding that in 2013, all UCLA Health staff members were given a reusable water bottle to encourage the use of refillable hydration stations that are available across the UCLA campus.
Inova Health System
Inova, a not-for-profit health care system based in Northern Virginia, serves more than 2 million people each year throughout the metro DC area through the system's five hospitals. In addition to being one of the founding HHI systems, in 2012, the health system developed the Inova IMPACT platform, which guides its overall sustainability strategy. This platform breaks down all efforts into three distinct branches: healthfulness, sustainability, and connectivity. Thus far, the health system has made big strides in each one of these categories, and it has even bigger plans for the future.
Regarding healthfulness, Inova has made numerous menu changes in an effort to ensure everyone within its hospitals has access to fresh, nutritious, and health-promoting foods. "In 2012, Inova's Food Services team conducted cafeteria audits across the system to establish baseline levels of healthfulness," according to Inova's sustainability report. "They used the results to inform changes such as the repositioning of less healthful food items, the installment of weekly produce stands in cafeterias, and the switch from fried to baked for certain popular grill items."
According to the report, at least one daily vegetarian option was added to the hot food station, and many snacks that didn't meet the healthfulness guidelines were replaced with more nutritious options or eliminated altogether.
Inova continues to work toward meeting several healthfulness goals, including reducing fried foods and sweetened beverages; offering more fruits and vegetables and fresh, seasonal produce; and moving away from processed foods.
Regarding sustainability, Inova has taken steps toward purchasing more locally grown food products. "Last year, Inova was able to double our local food spend," Wadhwa says. "We also have partnered with local farmers for [an organic] CSA [community-supported agriculture] program."
Moreover, "All coffee was switched to fair trade," says Carolyn Billetdeaux, of Inova's Office of Sustainability. "We've started to track our meat [in 2013] to create a baseline for [an effort toward reducing Inova's meat spending] and are working on carbon food printing."
The third branch of Inova's sustainability program extends its efforts beyond Inova's facility walls and seeks to bring the healthful and sustainable food conversation to the community. To do that, Inova established a mobile farmers' market that brings local produce into areas with few healthful options. In addition, the health system's Double Dollars Program provides an incentive for food stamp recipients at four local farmers' markets as well as the mobile market so they can purchase fresh and local foods. "Through this effort, Inova matched the first $10 in SNAP [Supplemental Nutrition Assistant Program] purchases at four local farmers' markets, as well as at a Mobile Farm Market," according to Inova's sustainability report. SNAP is a key initiative in the nation's nutrition safety net.
To help get more people talking about these issues and incorporating sustainability efforts into their daily lives, Inova also offers cooking classes that help inform people about what healthful and sustainable really mean. "Carolyn Billetdeaux has been a champion and also produced a sustainable cookbook and local ingredient guide," says Wadhwa, who credits Inova's foundation of a strong team, including Billetdeaux, for the health system's sustainability successes.
Kaiser Permanente
Kaiser Permanente, which serves upward of 9 million members in eight states and the District of Columbia, was among the 12 health care systems that helped to launch the HHI. However, its efforts toward offering more healthful food options aren't new; it began almost a decade ago.
"Kaiser Permanente developed healthy nutrition standards in 2005 as part of our Healthy Picks program," says Jan C. Villarante, MS, RD, director of national nutrition services, procurement, and supply. "Healthy Picks standards are based on evidence-based research. The program then evolved to include sustainable food criteria into our foodservice program as well."
Part of that evolution came through Kaiser Permanente's Environmentally Preferable Purchasing Policy, which it developed in 2008, as well as detailed sustainable food purchasing criteria developed the year after. "In 2012, we launched our Sustainable Food Scorecard, which we used in our RFP [request for proposal] and contracting process to set sustainability standards within the industry," says Kathleen M. Reed, sustainable food program manager and national farmers' market coordinator. "We achieved an 18% sustainable food spend in 2013."
In 2012, Kaiser Permanente and its 38 hospitals teamed up with Partnership for a Healthier America, for which it made a commitment to deliver healthier food and beverage options throughout its facilities, Villarante says. Through this partnership, Kaiser Permanente implemented menu labeling in the cafeteria to give patrons more nutrition information at the point of sale, instituted healthy-only marketing, and introduced healthier sides, entrées, and beverages.
"Kaiser Permanente purchases about 590 tons of sustainably and locally and/or sustainably grown fruits and vegetables annually, which are served on patient menus and in cafeterias across the organization," Reed says, noting that many vending machines offer fair trade coffee and tea. Kaiser Permanente's Hawaii hospital also serves about 1,800 lbs of local, seasonal seafood annually in its cafeteria and patient meals.
In addition, milk and yogurt, which are offered with many patient meals, cafeterias, and vending machines, are free of the growth hormone rBGH. And Northern California patients who order from the patient menu can choose cage-free, certified humanely raised and handled eggs and beef burgers made from animals raised without antibiotics or added hormones. Kaiser Permanente projects to purchase more than 200,000 lbs of meats raised without antibiotics in 2014.
With regard to this beef, and meat overall, there will be less of it on the menu in the years ahead. "Kaiser Permanente has been making efforts to reduce the meat on our patient menus by increasing the vegetarian options on our patient and cafeteria menus and serving more vegetarian items as the house choice on our patient menus," Villarante says, adding that the health system already has made some headway. "Kaiser Permanente reduced beef purchases by 18% in 2013."
Other Sustainable Standouts
Through its subsidiaries, Tenet Healthcare Corporation, an HHI sponsor organization, operates 77 hospitals, 189 outpatient centers, and Conifer Health Solutions, which offers business process solutions to more than 700 hospitals and other clients nationwide.
Many of Tenet's hospitals have incorporated more local produce, meat, and dairy options into their foodservice operations, but Sierra Vista Regional Medical Center in San Luis Obispo, California, in particular, has made great inroads in converting its beverage offerings into healthier options. Currently, 75% of drink offerings are water, unflavored sparkling water, and other nonsugary beverages, and soda machines are nowhere in sight.
To further reduce waste, the hospital also eliminated bottled water for all hospital functions and catering events, says Melinda Lokey, director of human resources administration, who serves as the "sustainability champion" for Tenet's sustainability efforts.
And it's not just large health systems that are getting in on the sustainability movement. Resolute Health, which Tenet recently acquired, is a new health and wellness company in New Braunfels, Texas, that focuses on preventive health measures and changing the delivery of health care. Through its Sow Healthy Garden program, Resolute Health sponsors 10 school gardens with the local Comal County School District. In addition to several community health centers, including the Center for Wellbeing, Resolute Health was set to open a new full-service hospital in June, and while it may be just opening, the hospital has its feet firmly planted in healthful and sustainable practices.
"The hospital will open with a reusable to-go container program and composting," says Dion Turner, RDN, food and nutrition director for Resolute Health. "Our local organic farm is 15 miles away in Seguin and will be growing most of our produce. We have selected local vendors for grass-fed meat, organic tamales and tortillas, and cold-pressed healing juices. No Styrofoam products will be found in our foodservice operations, and we look at purchasing minimally packaged items."
According to Turner, the patient room service menu still will showcase comfort foods, but they will be homemade and given a healthful twist. "The hospital will have plenty of fresh vegetables and will have a Meatless Monday menu all day in our Leaf café," she adds. "The local organic vegetarian tamales are one item that we expect to have every Monday."
Rex Healthcare in Raleigh, North Carolina, a member of UNC Health Care, is a private, not-for-profit health care system that serves more than 4,000 meals each day to patients and customers at three ancillary locations. Chef Jim McGrody is director of culinary and nutrition services at Rex, and he's made it a personal quest to change the way hospital food is prepared and served. Two years ago, the health care system removed fried foods from its menus and replaced them with a wide variety of whole grain options.
At Rex, fresh food reigns, and some of those ingredients couldn't get much fresher, coming from a nearby courtyard. "An herb garden, located in a courtyard near the café, was planted more than four years ago to encourage the use of fresh herbs in daily cooking. Every attempt is made to buy as much produce as possible from local North Carolina farms," McGrody says, adding that educating patients and visitors about these efforts is important as well. "Information about the food we buy and prepare in the café is posted on a bulletin board to let customers know where our food comes from."
Florida's Lee Memorial Health System, which includes five acute care hospitals and two specialty hospitals, provides more than 1.5 million inpatient and outpatient meals annually and more than 5 million meals overall.
According to Larry Altier, systems director for food and nutrition services, over the past three years, the health system has made several sustainability improvements. In addition to revising hospital menus to be lower in sodium and fat, Lee Memorial also has substantially increased its local food buys. "Well over 44% of our vendors [offer] sustainable, local products," Altier says. "During peak growing months in Florida, our produce can be as much as 88% local. We're also working with a local urban grower to provide us with custom-grown organic produce."
One foodservice vendor that has embraced the sustainability concept is ARAMARK. Advocate Health Care, a founding and sponsoring system of the HHI based in Downers Grove, Illinois, worked with ARAMARK to introduce compostable plates and bowls in its retail cafeterias and compost food waste at select hospitals. The system also establishes farmers' markets at many hospitals during the summer and promotes the use of reusable cups and mugs to reduce waste and recycles plastic, glass, aluminum, and paper, says Mary Larsen, MS, Advocate's environmental stewardship manager.
Sustainability efforts of Sodexo's foodservice program also are evolving, according to Debbie Petitpain, MS, RDN, Sodexo wellness nutrition coordinator. "Five years ago, we upgraded our traditional patient tray line to room service, which allowed us to reduce food waste as well as increase patient satisfaction," Petitpain says. "Eighteen months ago, we started composting our patient tray waste and kitchen scraps, and since starting this program have diverted over 90 tons of food waste from the landfill."
In addition, national food and dining management services company Unidine Corporation has initiated green improvements over the past few years. "Unidine's Fresh Food Pledge, which is its pledge to use authentic food from scratch using fresh, responsibly sourced, seasonal ingredients and guided by environmentally responsible practices, avoiding additives, chemicals, and preservatives, is used to guide the culinary program and results in less waste," says Ellen Lowre, RD, vice president of nutrition, health, and wellness. "For example, if asparagus is on the menu Monday, then cream of asparagus soup is planned for Tuesday so no asparagus goes to waste."
Abounding Benefits
According to Oliver, it's not just patients who are benefitting from these efforts toward establishing more sustainable health care foodservice programs. "Everyone benefits from the healthy and sustainable initiatives we've embraced," she says, "whether that's in terms of personal health or an investment in the future of the environment."
More than just patients, sustainability is about populations, Wadhwa says. "Inova sees sustainability as an upstream opportunity to focus on population health," she says.
In addition to patient and environmental health improvements, Reed says sustainability efforts can go a long way to help local economies. "Our local produce sourcing supports small-to-medium scale local farmers and puts money back into our local economy," she says. "Our sourcing of sustainable produce, dairy, meat, and poultry supports the human health of consumers and the environmental health of the communities where the food is grown."
And it doesn't taste too bad, either. "Another great benefit is the quality and taste of the food provided to our patients, employees, and visitors, all of which enhances their dining experience," she says.
— Juliann Schaeffer is a freelance writer and editor based in Alburtis, Pennsylvania, and a frequent contributor to Today's Dietitian.