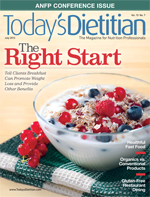 July 2013 Issue
The Right Start — Tell Clients Breakfast Can Promote Weight Loss and Provide Other Great Benefits
By Densie Webb, PhD, RD
Today's Dietitian
Vol. 15 No. 7 P. 24
Many of your clients and patients have heard the adage that "breakfast is the most important meal of the day," but how many of them actually take it to heart?
According to a survey conducted by the International Food Information Council Foundation, 93% of Americans agree with that statement, yet fewer than one-half eat breakfast regularly. So just how important is eating breakfast to good health?
Studies clearly show that the breakfast meal can contribute important nutrients such as calcium, protein, and fiber to the diet. According to the USDA, breakfast provides more nutrients to children's diets, relative to its calorie content, than lunch or dinner. In addition, study after study suggests that eating a nutritious breakfast offers health benefits that range from improved concentration to a reduced risk of obesity and diabetes.
Who's Skipping?
Despite the nutrients breakfast provides, the morning meal isn't a part of the daily routine for many children and adolescents, who skip breakfast more than any other meal.1 Data from the National Health and Nutrition Examination Survey (NHANES) 2001-2002 indicate that 13% to 14% of children aged 6 to 11 and 30% to 31% aged 12 to 19 skip breakfast on any given day. Breakfast consumption generally decreases with age,1 with the most dramatic decline beginning at age 15, when social life takes precedence and weight control becomes a priority, especially among girls.2 Unsurprisingly, girls skip the morning meal more often than boys do, and that gap widens with age as well.3
Moreover, budget and time constraints make skipping breakfast even more common. Surveys show skipping breakfast is more prevalent among some low socioeconomic groups.4
Potential Health Consequences
Studies consistently show that skipping breakfast can have negative health consequences for children, adolescents, and adults. Breakfast skippers generally fail to make up for the nutrients they miss at breakfast. As a result, those who eat breakfast have better overall eating habits, compared with those who don't eat breakfast, and have higher intakes of protein, calcium, vitamin C, zinc, iron, and fiber and lower fat intakes.1,3,4 In fact, calcium and fiber were identified as "nutrients of concern" in the 2010 US Dietary Guidelines for Americans.
Many people, especially girls and older teens, skip breakfast in an effort to lose weight. But research suggests that skipping breakfast more likely will cause weight gain rather than weight loss.3 In fact, among adolescents, skipping breakfast is strongly associated with overweight and obesity.5
While children and adolescents who eat breakfast tend to consume more calories than those who don't over the course of a day, they're less likely to gain weight, but this research finding could be due to underreporting of food intake by those who skip breakfast.3,4,6 An analysis of breakfast frequency and changes in body weight among adolescents over five years that was published in Pediatrics reported that the frequency of breakfast consumption was significantly inversely associated with weight gain: the less frequently breakfast was consumed, the stronger the association with weight gain.3
Carol O'Neil, PhD, MPH, RD, LDN, a professor at Louisiana State University and breakfast researcher, says children and adolescents should be provided with and encouraged to eat healthful food options such as whole grains, fruit, vegetables, low-fat dairy, and lean protein. "These foods should be available and children and adolescents should know how to prepare them if necessary," she says.
Moreover, studies show that skipping breakfast is associated with markers of insulin resistance.7 One study found that men who skipped breakfast had a 21% higher risk of developing type 2 diabetes compared with men who ate breakfast.8 The 2010 Dietary Guidelines pointed out that consuming a nutrient-rich breakfast is associated with weight loss and weight-loss maintenance, and according to the National Weight Control Registry, almost eight in 10 adults who maintain a weight loss of at least 30 lbs for at least one year eat breakfast every day.
Several studies also have found that children and adolescents perform better in school if they eat breakfast, but according to O'Neil, not all the studies have been well designed, so the jury still may be out on that conclusion. She says the same is true for adults, who have been studied even less. But she still emphasizes the importance of eating a healthful breakfast each morning to ensure kids and teens perform well in school.
What's for Breakfast?
A recent review of breakfast studies found that, among those who eat breakfast, ready-to-eat cereal and dairy foods were the most commonly consumed breakfast items.9 That covers plenty of nutrition territory, since cereals can range from low-sugar, low-sodium, high-fiber, whole-grain options to those laden with salt and sugar and little or no whole grains or fiber. The same goes for dairy products. Low-fat or fat-free milk and yogurt are healthful additions to any breakfast menu, but full-fat, sugary yogurts or dairy drinks can start the day off on the wrong foot. While kids typically prefer high-sugar cereals, a recent study published in Pediatrics found that children generally will eat low-sugar cereals when offered.
Studies also have found that a breakfast rich in protein may improve satiety and diet quality in teens and adults who are overweight or obese.5,10 A recent study used MRI to assess brain signals controlling food motivation and reward-driven eating behavior, and found that these signals were reduced following a high-protein breakfast—evidence that breakfast may be a valuable strategy to control appetite and regulate food intake.5
There are no recommendations for the percentage of daily calories that should come from breakfast in the 2010 Dietary Guidelines. But the characteristics of the "ideal breakfast" have been described as one that includes healthful foods balanced in both macro- and micronutrients, such as whole grains, fruits or fruit juices, low-fat milk products, or other sources of calcium, and provides 20% to 35% of daily calories.11
Whole Grain Cereal
More than 90% of ready-to-eat or cooked cereals are fortified with vitamins and minerals and several are high in fiber and protein. According to the Centers for Disease Control and Prevention, many significantly contribute to nutrient intakes, especially among children, and the diets of cereal eaters contain less fat and cholesterol and more fiber than noncereal eaters.12 A recent study found that adults who ate a cereal brand with at least 3 g of fiber per serving for breakfast consumed 14% more fiber for the day compared with those who ate cereals with less than 3 g of fiber per serving.13
The health benefits of consuming whole grains include a reduced risk of type 2 diabetes, hypertension, and being overweight.14 A study found that men who consumed whole grain cereal at least seven times a week had a significantly lower risk of heart failure compared with those who didn't consume whole grain cereal.15 Some of the health benefits may be due, in part, to a prebiotic effect of whole grain breakfast cereals.16
Whole grain cereals also are good sources of several phytochemicals, such as lignans, ferulic acid, lutein, and zeaxanthin, believed to provide health benefits as well.17
Eggs
According to the USDA Nutrient Database, eggs are a source of high-quality protein. They provide the antioxidant lutein; several vitamins and minerals, including selenium and phosphorus; and the nutrient choline, which is significantly lacking in many Americans' diets.18
It's true that eggs are one of the most concentrated sources of cholesterol in the diet (185 mg per large egg), but the 2010 Dietary Guidelines determined that research overwhelmingly indicates that consuming one egg per day doesn't increase the risk of heart disease in healthy people.
A diet rich in high-quality protein, like that found in eggs, may help promote weight loss and prevent weight gain in adults.10 The protein in eggs has long been used as the gold standard for assessing protein quality. According to Heather Leidy, PhD, an assistant professor of nutrition and exercise physiology at the University of Missouri, "There's substantial evidence that meals high in protein will, over the long term, reduce body fat."
High protein intake at breakfast may be especially helpful in weight-loss efforts by promoting satiety and helping regulate several factors related to appetite control.19-22 Several studies specifically have looked at eating protein-rich eggs at breakfast, and findings suggest they may help control appetite and decrease food intake throughout the rest of the day.19,22
A recent study found that a breakfast containing 35 g of high-quality protein from beef and eggs resulted in changes in hunger- and satiety-stimulating hormones that control food intake.10 And Leidy says, "Our recent pilot study found that 12 weeks of eating a high-protein breakfast reduced daily intake by 400 kcal." She and her colleagues are exploring whether smaller amounts of protein will have similar effects on appetite and calorie intake.
If limiting dietary cholesterol is a priority, there are several egg substitute and egg-white-only products that provide the high-quality protein of eggs without the cholesterol, but they lack the choline, lutein, and vitamin D found only in the egg yolk.
Low-Fat and Fat-Free Dairy
Dairy foods are the primary source of calcium, potassium, magnesium, phosphorus, vitamin D, and protein in Americans' diets.23,24 NHANES data show that milk is the No. 1 source of calcium, vitamin D, phosphorus, and potassium in the diets of children aged 2 to 18 and the No. 1 source of protein in the diets of children aged 2 to 11.
The 2010 Dietary Guidelines recommend increased intake of low-fat and fat-free milk and milk products, and recommends that children aged 4 to 8 get 21/2 cups per day and that older children, adolescents, and adults consume 3 cups per day. Breakfast is an opportunity for kids, adolescents, and adults to consume more low-fat and fat-free milk and yogurt.
Suggestions
When asked for her advice regarding breakfast, O'Neil simply says, "Eat it." And Adrien Paczosa, RD, LD, CEDRD, owner and operator of iLiveWell Nutrition Therapy in Austin, Texas, concurs: "Any breakfast is better than no breakfast, but I'm a strong advocate for balance; a good mixture of carbohydrates and protein helps the body and brain function optimally."
In addition, because there's no research pointing to the best breakfast meal, O'Neil suggests rotating whole grain cereal and low-fat milk one day, eggs and lean meat the next, and low-fat or fat-free yogurt with whole grain cereal the day after that. Here are some additional breakfast-building tips for client and patients:
• Make low-sugar cereals more appealing to children and adolescents by adding a small amount of table sugar and fresh fruit.
• Add dried cranberries or fresh blueberries to oatmeal.
• Stir in low-fat granola, sliced almonds, chopped pecans or walnuts, or ready-to-eat cereal into low-fat or fat-free yogurt.
• Add low-fat or reduced-fat cheese to eggs, egg whites, or egg substitutes.
• Mix raisins and wheat germ with low-fat cottage cheese.
• Make a breakfast wrap with a whole wheat tortilla, scrambled eggs, shredded low-fat or reduced-fat cheese, and salsa.
• Choose a whole grain cereal, top it with reduced-fat granola for sweetness, and pour on low-fat or skim milk.
• Eat dinner or lunch leftovers or any high-protein, low-fat, low-sugar food that seems appealing.
• Vegetarians can choose a whole grain cereal with calcium-fortified soy, almond, or rice milk.
— Densie Webb, PhD, RD, is a freelance writer, editor, and industry consultant based in Austin, Texas.
Best Breakfast Choices
Cereal
General Mills Fiber One and Cheerios
Kashi GoLean
Kellogg's Frosted Mini-Wheats and All-Bran
Post Bran Flakes and Shredded Wheat Original
Quaker Oatmeal, unflavored (instant, quick cooking, or old fashioned)
Whole Foods 365 Organic Raisin Bran
Cholesterol-Free Egg Substitutes
Better 'n Eggs
Bob's Red Mill Egg Replacer (powdered)
Egg Beaters
Ener-G Egg Replacer
Nulaid ReddiEgg
OrgraN No Egg Natural Egg Replacer
Egg White Products
AllWhite Egg Whites
Daily Chef 100% Liquid Egg Whites (Sam's Club brand)
Deb El Just Whites Dried Egg Whites
Eggland's Best 100% Liquid Egg Whites
Eggology 100% Egg Whites
Great Value 100% Liquid Egg Whites (Wal-Mart brand)
Lucerne 100% Liquid Egg Whites
Greek Yogurts
365 Everyday Value Nonfat With Strawberry
Alpina Revive Plain 0% Fat
Chobani 0% Fat Blood Orange
Fage 0% Fat Cherry
Muller Greek Corner Honeyed Apricot
Stonyfield Oikos 1.5% Fat Organic Raspberry
YoCrunch Greek Raspberry & Açaí Super Fruit With Almonds
Yoplait 100 Vanilla
References
1. Nicklas TA, Morales M, Linares A, et al. Children's meal patterns have changed over a 21-year period: the Bogalusa Heart Study. J Am Diet Assoc. 2004;104(5):753-761.
2. Siega-Riz AM, Popkin B, Carson T. Trends in breakfast consumption for the children in the United States from 1965-1991. Am J Clin Nutr. 1998;67(4):748S-756S.
3. Timlin MT, Pereira MA, Story M, Neumark-Sztainer D. Breakfast eating and weight change in a 5-year prospective analysis of adolescents: Project EAT (Eating Among Teens). Pediatrics. 2008;121(3):e638-645.
4. Rampersaud GC, Pereira MA, Girard BL, Adam J, Metzl JD. Breakfast habits, nutritional status, body weight, and academic performance in children and adolescents. J Am Diet Assoc. 2005;105(5):743-760.
5. Leidy HJ, Ortinau LC, Douglas SM, Hoertel HA. Beneficial effects of a higher-protein breakfast on the appetitive, hormonal, and neural signals controlling energy intake regulation in overweight/obese, "breakfast-skipping," late-adolescent girls. Am J Clin Nutr. 2013;97(4):677-688.
6. Kant AK, Andon MB, Angelopoulos TJ, Rippe JM. Association of breakfast energy density with diet quality and body mass index in American adults: National Health and Nutrition Examination Surveys, 1999-2004. Am J Clin Nutr. 2008;88(5):1396-1404.
7. McCrory MA, Howarth NC, Roberts SB, Huang TT. Eating frequency and energy regulation in free-living adults consuming self-selected diets. J Nutr. 2011;141(1):148S-153S.
8. Mekary RA, Giovannucci E, Willett WC, van Dam RM, Hu FB. Eating patterns and type 2 diabetes risk in men: breakfast omission, eating frequency, and snacking. Am J Clin Nutr. 2012;95(5):1182-1189.
9. Mullan BA, Singh M. A systematic review of the quality content, and context of breakfast consumption. Nutr Food Sci. 2010;40(1):81-114.
10. Westerterp-Plantenga MS, Nieuwenhuizen A, Tomé D, Soenen S, Westerterp K. Dietary protein, weight loss, and weight maintenance. Annu Rev Nutr. 2009;29:21-41.
11. Giovannini M, Verduci E, Scaglioni S, et al. Breakfast: a good habit, not a repetitive custom. J Int Med Res. 2008;36(4):613-624.
12. Cho S, Dietrich M, Brown CJ, Clark CA, Block G. The effect of breakfast type on total daily energy intake and body mass index: results from the Third National Health and Nutrition Examination Survey (NHANES). J Am Coll Nutr. 2003;22(4):296-302.
13. Williams CL, Felt-Gunderson P. Analysis of average daily fiber intake among ready-to-eat cereal consumers: role of whole-grain cereals in closing the fiber gap. Am J Life Med. 2013;Epub ahead of print.
14. McKeown NM, Jacques PF, Seal CJ, et al. Whole grains and health: from theory to practice—highlights of the Grains for Health Foundation's Whole Grains Summit 2012. J Nutr. 2013;143(5):744S-758S.
15. Djoussé L, Gazaiano JM. Breakfast cereals and risk of heart failure in the Physicians' Health Study 1. Arch Intern Med. 2007;167(19):2080-2085.
16. Costabile A, Klinder A, Fava F, et al. Whole-grain wheat breakfast cereal has a prebiotic effect on the human gut microbiota: a double-blind, placebo-controlled crossover study. Br J Nutr. 2008;99(1):110-120.
17. Fardet A. New hypotheses for the health-protective mechanisms of whole-grain cereals: what is beyond fibre? Nutr Res Rev. 2010:23(1):65-134.
18. Zeizel SH, da Costa KA. Choline: an essential nutrient for public health. Nutr Rev. 2009;67(11):615-623.
19. Leidy HJ, Bossingham MJ, Mattes RD, Campbell WW. Increased dietary protein consumed at breakfast leads to an initial and sustained feeling of fullness during energy restriction compared to other meal times. Br J Nutr. 2009;101(6):798-803.
20. Leidy HJ, Racki EM. The addition of a protein-rich breakfast and its effects on acute appetite control and food intake in 'breakfast skipping adolescents. Int J Obes (Lond). 2010;34(7):1125-1133.
21. Pereira MA, Erickson E, McKee P, et al. Breakfast frequency and quality may affect glycemia and appetite in adults and children. J Nutr. 2011;141(1):163-168.
22. Vander Wal JS, Gupta A, Khosla P, Dhurandhar NV. Egg breakfast enhances weight loss. Int J Obes (Lond). 2008;32(10):1545-1551.
23. Rafferty K, Heaney RP. Nutrient effects on the calcium economy: emphasizing the potassium controversy. J Nutr. 2008;138(1):166S-171S.
24. Cotton PA, Subar AF, Friday JE, Cook A. Dietary sources of nutrients among US adults, 1994-1996. J Am Diet Assoc. 2004;104(6):921-930.