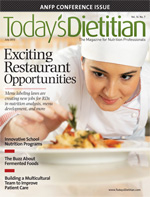 July 2012 Issue
Salmon — It's an Underappreciated Best Seller
By Bryan Roof, RD, LDN
Today's Dietitian
Vol. 14 No. 7 P. 66
Last summer, I joined a fish share, and for a lump sum, I received a whole, freshly caught fish every Tuesday for 12 weeks. I got the chance to practice breaking down a whole fish. My kids enjoyed poking it in the eyes, and they obtained a better understanding of where their food comes from. We all took pleasure in eating fresh fish. My only two complaints: Fish bones in the midsummer garbage don't sit well, and I would've liked more variety each week. Since I live on the east coast, the majority of the fish I received was cod, haddock, or hake—all good varieties but all very similar in texture and flavor. Honestly, I would've preferred salmon most nights.
Incidentally, I used to hear restaurant chefs complain nonstop that salmon is bland and boring, but I object. Salmon is one of the best-selling fish in restaurants and markets, and it's due to its versatility. Its rich, oily flesh takes well to curing and smoking, tartare, and sushi, and it can be prepared using various cooking techniques and flavors, from grilling to pickled cranberries, respectively.
Farm Raised vs. Wild
When shopping for fresh salmon, you're faced with two choices: farm raised and wild. There are pros and cons with each. Farm-raised salmon is more fatty than wild salmon, which means its flesh is more succulent, increasing the time it takes to accidentally overcook it. The downside is that the waste from overcrowded aquaculture farms can pollute the surrounding waters and cause widespread disease among the native species living in the area. Farmed salmon are raised in close quarters, so they get less exercise than their wild cousins, which is why they contain more fat—and as a result of this dormancy, their flesh tone is naturally gray. To counter this, farmed salmon are fed a diet of protein pellets containing less-than-desirable ingredients, including an attractive bright pink dye to color their flesh. When it comes to omega-3 fatty acid content, farmed salmon contain less per ounce than wild. But at least farmed salmon is less expensive.
On the other hand, wild salmon, especially from Alaska, tends to have a higher content of omega-3s. However, wild salmon is leaner than farm raised, which means it can be trickier to cook since it dries out more quickly. To confuse matters further, some wild salmon are actually spawned and briefly raised in farms before being release into the wild. So these fish can begin life eating the same type of pellet feed as farmed salmon before they're released into the wild to fend for themselves. I've found that this breed of wild salmon is slightly cheaper than other types of wild salmon but still more expensive than farm raised. If you have questions, it's best to ask your fishmonger about the life and times of the salmon you're considering purchasing.
As for me, for a long time I enjoyed farmed salmon because it's so fatty. I considered it the pork belly of the ocean. But now, given the recent health and environmental concerns surrounding farm-raised salmon, I choose wild—or at least as wild as I can find. And I feel better about eating it.
Even though I still eat fish once per week, I don't always sign up for the fish share anymore. But when I do, I prefer receiving fish fillets. Sure my kids miss the eyeballs and are less enamored with the spectacle of dinner, but at least I don't have to sneak around after dark looking for Dumpsters in which to toss my fish bones.
— Bryan Roof, RD, LDN, is a chef, dietitian, and food writer living in Boston.
Cedar-Plank Grilled Salmon With Mustard Glaze
Serves 4
To ensure evenly thick pieces of salmon, it's best to buy one whole piece and cut it yourself at home. Cedar planks can be found at most grilling supply and hardware stores. Make sure you buy cedar planks specifically made for grilling.
Ingredients
1 T whole grain mustard
1 T honey
1 tsp low-sodium soy sauce
One 11/2-lb, skin-on, center-cut wild salmon fillet, cut into four equal portions
Sea salt* and black pepper to taste (optional)
1 cedar plank, soaked in water for 1 hour
Directions
1. Whisk the mustard, honey, and soy sauce together in a small bowl.
2. Season the salmon with salt and pepper. Place the salmon on the cedar plank.
3. Prepare a medium fire on the grill. Set the cedar plank over the fire, cover, and cook until the salmon can easily flake when prodded with a paring knife, and it registers 125˚F, 10 to 15 minutes.
4. Spoon the mustard mixture over the salmon, cover, and continue cooking for 1 minute longer. Transfer the salmon to a platter and serve.
*Salt to taste isn't factored into the nutrient analysis.
Nutrient Analysis per serving
Calories: 270; Total fat: 10 g; Sat fat: 2 g; Trans fat: 0 g; Cholesterol: 75 mg; Sodium: 200 mg; Total carbohydrate: 4 g; Dietary fiber: 0 g; Sugars: 4 g; Protein: 37 g