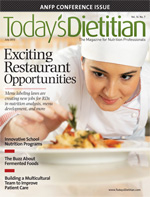 July 2012 Issue
Emerging Opportunities
By Judith Riddle
Today's Dietitian
Vol. 14 No. 7 P. 6
As you know, fast-food and fine-dining restaurants have responded to President Obama's signing of the Patient Protection and Affordable Care Act in March 2010 as well as strong consumer demand for healthier fare. The new legislation requires restaurants with 20 or more locations nationwide to post nutrition information on menus and/or menu boards, and many have and continue to comply with this new mandate.
Since menu labeling legislation debuted, restaurants have slimmed down recipes for their customers' favorite entrées and a la carte options and posted calorie and other nutrition information on menu boards at drive-thrus and on display tags at salad bars and buffets.
Menu labeling was introduced to help fight the obesity and chronic disease epidemic in this country. The hope is that if consumers know beforehand how many calories and fat grams the food they purchase contains, they'll be more inclined to choose more healthful fare. There are mixed opinions among nutrition professionals and consumers about how successful the new legislation will be in accomplishing this goal. But speaking from experience, I definitely can say menu labeling has a positive influence. After reading a menu board highlighting the number of calories and fat grams contained in a toasted egg and cheese bagel, I quickly changed my breakfast choice to a much lower-in-calories-and-fat option. No matter how great the toasted egg and cheese bagel would've tasted going down (and believe me, it would've been lip-smackin' good), I simply didn't want to consume all those calories. So, yes, menu labels are beneficial.
The legislation is also proving a boon for dietitians as well, offering a wealth of career opportunities like never before. Dietitians are sorely needed to help restaurateurs in the areas of nutrition analysis, recipe makeovers, menu development, and staff training. To read more about menu labeling and the emerging job opportunities available to nutrition professionals, read "Exciting Restaurant Opportunities" on page 22.
Also, our feature story "Innovators in School Nutrition" profiles four extraordinary school districts across the country that are offering nutritious meals in creative ways to improve the health of the next generation.

Please enjoy the issue!