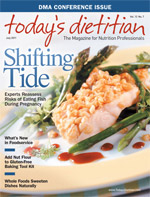 July 2011 Issue
Slashing Sodium — Efforts Aim to Meet Proposed School Guidelines
By Carol Patton
Today's Dietitian
Vol. 13 No. 7 P. 8
Over the past two years, the 29,000 students in Colorado's Boulder Valley School District (BVSD) have noticed a dramatic change in their cafeterias' menus. Chicken on the bone has replaced chicken nuggets. Burritos are no longer premade; they're now prepared fresh. Pizzas are created in the district's five production kitchens headed by sous chefs. Salad bars have replaced canned vegetables, offering fresh fruits and vegetables daily. And the food tastes so good that hardly anyone notices what is missing: very high amounts of sodium.
School districts and food manufacturers nationwide are slashing the amount of sodium in all types of menu items without sacrificing flavor so food doesn't end up in the garbage. Recommendations from the Institute of Medicine to the USDA, which sets school meal guidelines, is helping drive this effort. The changes are strict, reducing sodium between 25% and 54% in school breakfast and lunch programs over a 10-year period. According to the 2010 Dietary Guidelines for Americans, children should consume less than 1,500 mg of sodium per day.
Two years ago, BVSD began overhauling everything from lunch menus to inventory management, explains Deb Trevor, RD, district manager at BVSD nutrition services. So far, the amount of sodium in its lunch entrées has dropped from an average of 1,400 mg to 896 mg, representing a 36% reduction. Its strategy includes serving hot sauce to spice up meals, transitioning to scratch cooking, and purchasing goods with "clean" labels, produce from local farmers, and fewer processed foods.
"We just passed our five-year review from the USDA and Colorado State Department of Education," says Trevor. "We passed with flying colors and got commendations for having low-sodium [products] on our menus."
Companies Commit to Change
In 2009, Harrison, Ohio's J.T.M. Food Group, which serves 6,300 school districts throughout the country, launched a program called "Assault on Sodium" designed to reduce sodium by at least 25% in all 150 items it manufactures for school lunches, says Brian Hofmeier, senior director of school sales.
He says the company surpassed its goals through formulation changes. Sodium in popular foods such as macaroni and cheese dropped from 1,050 mg per serving to 780 mg and from 580 mg to under 300 mg in taco filling and meatballs.
"We began focusing on sodium seven years ago," says Hofmeier. "It's quite a monumental task. Sodium reduction technology is going to have to progress further to get where the USDA wants to go with sodium. Right now, it's impossible."
Not surprisingly, sodium levels are partially determined by age. He says teenagers are allowed the highest amount of sodium and fat in their diet. According to the new sodium levels proposed by the USDA, says Hofmeier, elementary school children can consume 640 mg of sodium in lunch entrées; middle schoolers are allotted 710 mg; and high schoolers can eat 740 mg.
If the USDA approves the proposed changes, Hofmeier says the amount of sodium will gradually decrease over the next decade. For example, during the first year, meals can contain up to 1,588 mg. In the third year, that amount drops to 1,420 mg; years five and six, sodium levels can't exceed 1,080 mg; and after the final (10th) year, meals will contain less than 740 mg.
In the meantime, J.T.M. and 12 other food manufacturers teamed up with the Alliance for a Healthier Generation to make more healthful school lunches within the reach of school cafeterias as far as cost.
Among those other manufacturers is Schwan's Food Service, Inc, which provides food products to 72,000 public and private schools. Last year, Schwan's committed to reducing the sodium content in its school pizza products by 10% before 2012 and will continue to increase the number of pizza products that have at least 51% whole grain crust. Its new line of pizza products now contains less than 600 mg of sodium per serving, less than 35% of the total calories from fat, less than 10% of calories from saturated fat, and 0 g of trans fat.
Likewise, in 2004, Tyson Foods, Inc, which services 7,800 school districts, launched a corporatewide initiative focused on reducing salt in its meat and poultry products without impacting flavor. Product examples include breaded chicken patties made with white meat and unbreaded fully cooked dark meat strips used in tacos, pizzas, and Asian dishes, each containing approximately 300 to 400 mg of sodium per serving; and an "all-in-one" poultry dish—dark meat strips and spicy orange sauce—that meets the government's proposed standards for not only sodium but also fat and protein.
The company's school products team, which includes four RDs and seven credentialed school nutrition specialists, also strives for cleaner labels and avoiding ingredients such as MSG, artificial colors and flavors, high-fructose corn syrup, and added trans fat.
Schools Find Solutions
As the school nutrition specialist for both Gates Chili Central School District and East Rochester Union Free School District in New York, Debbi Beauvais, RD, is scrutinizing lunch menus to reduce the amount of sodium in items across the board. Currently, she says meals contain between 1,200 and 1,500 mg of sodium.
One solution is to use spices, but they can be expensive. A food representative once told her that while salt costs 8 cents per pound, seasonings that produce a similar flavor profile cost between 30 and 40 cents per pound.
"It's kind of a challenge," she says. "Right now, the way the new regulations are proposed, a carton of milk and turkey sandwich on whole wheat bread with no condiments do not meet the sodium guidelines."
Cheese, which is laden with sodium, ranks among her top challenges. Since it's incorporated into so many foods—ranging from cheese sauce to sandwiches to pizza—she says finding an acceptable low-sodium cheese product will probably have the biggest effect on reducing sodium in meals.
Until then, both districts have implemented key changes. Soups such as chicken rice, turkey noodle, and cream of broccoli are being made from scratch with a low-sodium base. More herbs, spices, and fresh seasonings are being used to enhance flavor. Products with 25% less sodium have been introduced, such as spaghetti sauce and baked and breaded mozzarella sticks with tomato dipping sauce, now a popular dish. Several years ago, Gates Chili High School opened a food court offering fresh sandwiches and a salad bar. More than 100 wraps are served daily, and the consumption of fruits, tossed salads, and cold vegetable salads increased by roughly 30%.
"[Reducing sodium] poses challenges both in the cost world and flavor world," Beauvais says. "At the end of the day, we have to recover our costs. You really have to be a business person and nutritionist to make it all work."
— Carol Patton is a freelance journalist in Las Vegas who covers health-related topics for various publications.