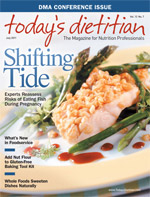 July 2011 Issue
Eyes for Almonds
By Bryan Roof, RD, LDN
Today's Dietitian
Vol. 13 No. 7 P. 64
Like most cautious and overprotective parents, I confirmed that none of my children had a peanut allergy by unconsciously offering bites of Pad Thai, realizing what I'd just done, and waiting for all hell to break loose. I've been lucky three times over on this account—and if there's ever a fourth, I promised my wife I'd be more careful.
Nuts have long been part of the American diet but in recent years have received greater focus due to their health benefits and the heightened awareness surrounding their allergies. For me, boiled peanuts are a humble delicacy I'll forever associate with my childhood in the South. I will never forget my first bite of an oily macadamia, and I now know that my dislike for walnuts stems from having eaten them after they had turned rancid on the shelf. (Nuts are high in fat—primarily good unsaturated fat—which leaves them prone to spoilage at room temperature. They are ideally stored in the freezer.)
In my eyes, almonds offer the perfect combination of versatility and clean flavor. Not technically a tree nut but a drupe, like cherries, peaches, and plums, almonds are high in protein, vitamin E, magnesium, manganese, copper, phosphorous, calcium, riboflavin, and fiber. But anyone who knows me knows that good nutrition goes only as far as good taste in my kitchen, and almonds lend themselves well to a crust for fish, a crunchy topping on a beet salad, or eating straight out of hand as a snack. And please—spare me the "nuts are high in calories" bit. These are good calories that tide you over long after your last swallow.
In the warm summer months, almonds can lend their subtle sweet flavor to a well-chilled white gazpacho. And in cool soup in July is exactly how I prefer to enjoy them.
— Bryan Roof, RD, LDN, is a chef, dietitian, and food writer living in Boston.
White Grape and Almond Gazpacho
Serves 4
Ingredients
2 T extra-virgin olive oil, plus extra for garnish
6 garlic cloves, peeled and lightly smashed
1 tsp kosher salt
Pinch red pepper flakes
5 oz whole blanched almonds (about 1 cup), plus extra for garnish
1 slice white sandwich bread (about 1 oz), torn into 1-inch pieces
4 cups cold spring water
5 oz red grapes (about 1 cup), plus extra for garnish
11/2 T sherry vinegar
Ground black pepper
Directions
Combine oil, garlic, 1 tsp salt, and red pepper flakes in large saucepan over medium heat and cook until garlic is lightly toasted, 3 to 5 minutes. Stir in almonds and bread and cook until almonds are lightly toasted, about 3 minutes. Add water, bring to a quick boil, and remove from heat.
Carefully transfer half of soup to blender along with half of grapes and purée until smooth, about 2 minutes. Strain soup through fine mesh strainer and repeat with remaining soup and grapes. Refrigerate until chilled, at least 1 hour.
Stir in vinegar and season with salt and pepper to taste. Serve, garnished with olive oil, toasted almonds, and halved grapes.
Nutrient Analysis per serving
Calories: 320
Total fat: 25 g
Sat fat: 2.5 g
Trans fat: 0 g
Cholesterol: 0 mg
Sodium: 530 mg
Total carbohydrate: 19 g
Dietary fiber: 4 g
Protein: 9 g
Note: Take care to blend soup as smooth as possible. Do not press on the solids when straining; rather tap the strainer to force the remaining liquid through the mesh.