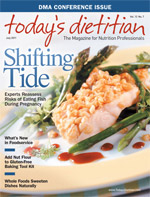 July 2011 Issue
Go Nuts! — Almond and Other Flours Make Great Additions to GF Baking Tool Kit
By Juliann Schaeffer
Today's Dietitian
Vol. 13 No. 7 P. 42
To the untrained and time-constrained eye, home cooking a meal can sometimes seem a vast and daring venture. For people with gluten sensitivities (or a parent of someone with celiac disease), cross-contamination and other anxieties can quickly turn such an undertaking into a downright daunting experiment.
Prepared gluten-free (GF) baked good offerings have become more widely available in recent years, yet these options "are usually frozen and almost always shrink wrapped for 'sell by' dates months in advance. But the worst part is that no matter what, they are always expensive," wrote cookbook author Annalise Roberts in Gluten-Free Baking Classics.
Roberts says the time investment that goes into GF home-baked goodness is well worth it, in no small way: "Time and effort aside, if you are going to eat cake or muffins, you're better off making them yourself. They will be fresher, cost less, and have less fat and sugar than ones you buy at the store—wheat or no wheat."
For clients looking to get more comfortable with their oven (or even those already well accustomed to GF cooking qualms), RDs may want to suggest a new tool for their GF baking tool kit: nut flours.
Nut Flour Basics
Also known as nut meals, nut flours are generally made from raw (sometimes blanched), whole nuts that have been ground into a fine powder, and experts say they make a great addition to any GF baker's repertoire.
Elana Amsterdam, author of Gluten-Free Cupcakes: 50 Irresistible Recipes Made With Almond and Coconut Flour, is a big proponent of almond flour in particular but says nut flours in general can be a great tool for GF baking. "I use nut flours for cakes, cupcakes, cookies, tarts, pies, crisps, and crumbles. [They] add a rich buttery flavor to baked goods and have a smooth mouthfeel," she says.
From a nutritional standpoint, Carol Fenster, PhD, president and founder of Savory Palate, Inc and author of 10 GF cookbooks, including 125 Gluten-Free Vegetarian Recipes, says nut flours add more than just a nutty flavor to foods. "Compared to the traditional gluten-free flours of brown rice, white rice, potato starch, cornstarch, and tapioca, nut flours add more protein, which enhances and accelerates browning of baked goods; fat, which adds calories but also nicely softens the crumb of baked goods; and fiber, which helps us reach our daily goal of 25 to 38 g," she says. "Most people only get around 15 g [of fiber] daily. This same fiber adds texture to baked goods and can make them crunchy, which may or may not be a good thing in certain items."
Most experts interviewed agreed that when utilizing nut flours in baking, a better end result often comes from using nut flours in tandem with other flours. "I suggest that gluten-free bakers use nut flours as part of the flour blend," says Fenster.
Making substitutions is possible in certain instances, but for clients who are new to this GF baking tool, RDs might want to suggest one accompaniment to their experimentation: a good GF cookbook. "If they want to bake with nut flours as the sole flour, then they should consult a cookbook or recipe to see more specifically how it's done," says Fenster.
Sue Gray, product development manager for King Arthur Flours, adds another reason why a GF cookbook may come in handy: Because nut flours are higher in fat and since they do not contain gluten-forming proteins, they must be used with other ingredients to contribute structure. "Most baking recipes in which nut flours are used rely on eggs for the structure. Start with a recipe that is written for gluten-free baking; you will need to make adjustments in addition to substituting nut flour if you start with a conventional recipe," she says.
Common Varieties
For GF baking, nut flours can be used in one of two ways: in conjunction with other GF flours to enhance the flavor and/or texture of baked goods or to replace other GF flours entirely. Almond, pecan, hazelnut, and walnut flours are the most widely available varieties and are detailed as follows:
Almond
Almond flour, which has a mild, sweet butter flavor, is the most commonly used and widely available nut flour in the United States. Fenster says blanched or slivered almonds will produce a lighter-colored flour, which can be used in almost any baking recipe, while whole almonds produce a browner flour that will add a darker hue to a baked good.
"[Almond flour] really blends well into most recipes," says Marlisa Brown, MS, RD, CDE, CDN, author of Gluten Free, Hassle Free, among other cookbooks. She says almond flour can be used to improve texture, as a filling, or even in custards. "It can even be used as the base on some dessert and cracker recipes or standalone for some cookies," she adds.
Pecan
According to Amsterdam, pecan flour is just as easy to work with as almond flour, but it is likely to be a bit harder to find in stores. "Pecan flour is quite similar to almond flour and very rich tasting, though it has a slightly more astringent flavor," she says.
Because pecan meal's skin is left on prior to grinding, thus contributing to its darker brown color, Fenster recommends using this flour in any baked good that isn't white or too neutral flavored, such as white cake.
According to Brown, pecan flour "makes a great crust and filling."
Hazelnut
Hazelnut flour, commonly used in Europe but only recently gaining popularity in the United States, has a more distinct flavor. "It is great for any item that you want to taste like hazelnuts," says Amsterdam.
Like pecans, hazelnut meal is darker, which will affect a baked product's color. "But it works beautifully in all forms of baking as long as the end result isn't meant to be white," says Fenster.
Brown says this flour is a little mealier, "so it gives a grainer texture to baked goods. It is great in biscotti or cookies or cakes that you want more of a distinctive density."
Walnut
Walnut flour, which has a distinctly walnut taste, is another brown flour since its skin is left on when grinding. Brown likes its nice light flavor and says it works best in recipes similar to those that call for pecan flour.
Since walnuts are softer nuts, Fenster says they can be ground into nut flour at home with a food processor.
To Buy or Not to Buy
Experts were split on whether to suggest clients try making their own nut flours at home.
Gray says it can be less expensive to make nut flours at home and likes that it allows people the option to toast the nuts first, which can bring out more flavor.
Yet grinding nuts on your own can create some challenges, as too much time spent in the food processor can quickly turn a nut flour into a paste. "Better to start out by buying them, at least in the beginning stages," recommends Brown.
When it comes to almond flour in particular, Amsterdam suggests sticking to the store-bought (or online) brands entirely. "I do not recommend making almond flour; it is a lengthy process to blanch the nuts and then grind them and quite challenging to obtain the super finely ground quality that comes in the nut flours available online," she says, noting that in her experience, there's not a big cost difference to buying vs. making your own. "Given that the cost of nuts is on par with that of nut flours, it is not necessarily economically effective to make your own product—ie, big time investment with not-so-great results."
Notes on Nuts
For clients open to adding nuts to their GF baking routine, there are some things to note before embarking on a nut flour journey.
First, proper storage is a must. "It is important to store nut flours in the refrigerator or freezer to avoid rancidity. Because they are more expensive, you want to protect your investment," says Fenster.
Also, because nuts are one of the most common food allergens, Brown says bakers should take heed to avoid unintentional exposure to an allergen, since most nut meals hide well in recipes. An example: chocolate chip cookies. "Chocolate chip cookies don't usually have nuts in them. If used as part of a flour blend, someone with a nut allergy might just pick one up and eat it if nuts aren't easily identified," she says.
A Nice Nutrient-Dense Addition
Overall, Brown says nuts are "a nutrient-dense food higher in fiber and protein," which, when in flour form, can be a viable alternative to gluten-containing flours in many GF recipes. "It can make a nice addition to round out a gluten-free diet," she says.
— Juliann Schaeffer is an associate editor at Great Valley Publishing Company and a frequent contributor to Today's Dietitian.
Lime Cupcakes
Makes 10
Sweetness: Medium
Ingredients
1/2 cup coconut flour
1/2 cup blanched almond flour
1/2 tsp sea salt
1/4 tsp baking soda
3 large eggs
1/2 cup grapeseed oil
1/2 cup agave nectar
2 T firmly packed lime zest, plus more to decorate (about 3 limes)
Directions
Preheat oven to 350˚F. Line 10 muffin cups with paper liners.
In a large bowl, combine coconut flour, almond flour, salt, and baking soda. In a medium bowl, whisk together eggs, grapeseed oil, agave nectar, and 2 T lime zest. Blend wet ingredients into coconut flour mixture with a handheld mixer until thoroughly combined.
Scoop 1/4 cup of batter into each prepared muffin cup. Bake for 18 to 22 minutes, until a toothpick inserted into the center of a cupcake comes out with just a few moist crumbs attached. Let cupcakes cool in pan for 1 hour, then frost (recipe follows), sprinkle with remaining lime zest, and serve.
Nutrient Analysis per cupcake
Calories: 247
Total fat: 17 g
Sat fat: 3 g
Trans fat: 0 g
Cholesterol: 63 mg
Sodium: 171 mg
Total carbohydrate: 21 g
Dietary fiber: 5 g
Protein: 5 g
Reprinted with permission from Gluten-Free Cupcakes: 50 Irresistible Recipes Made With Almond and Coconut Flour. Copyright © 2011 by Elana Amsterdam, Celestial Arts, an imprint of Ten Speed Press, a division of the Crown Publishing Group, Berkeley, Calif.
Vegan Coconut Frosting
Makes 2 cups
Sweetness: Medium
Ingredients
1/2 cup coconut milk
1/2 cup agave nectar
1 T arrowroot powder
1 T water
1 cup coconut oil, melted over very low heat
Directions
In a medium saucepan, bring coconut milk and agave nectar to a boil over medium heat. Whisk ingredients together, then decrease heat and simmer for 2 to 3 minutes to reduce just slightly, stirring frequently.
In a small bowl, dissolve arrowroot powder in water, stirring to make a slurry.
Increase heat under saucepan to medium-high so mixture is bubbling. Add arrowroot slurry to coconut mixture, whisking constantly until mixture thickens and turns opaque and shiny, about 1 minute. Once mixture becomes shiny, remove pan from heat and gradually blend in coconut oil with a handheld mixer until well combined.
Allow to cool on the counter for 15 minutes. The mixture will not look like frosting yet—don't worry; this is OK.
Chill frosting in the refrigerator for 1 to 11/2 hours, until frosting fully solidifies and looks opaque white in color. Remove from refrigerator and whip with a handheld mixer until thick and fluffy. The frosting will be sticky looking and lumps will dissolve during whipping.
Use immediately or store in a glass Mason jar in refrigerator for up to 3 days. Allow frosting to soften a bit after removing from the refrigerator. Stir with a flexible spatula until spreadable.
Nutrient Analysis per 2 T
Calories: 166
Total fat: 15 g
Sat fat: 13 g
Trans fat: 0 g
Cholesterol: 0 mg
Sodium: 1 mg
Total carbohydrate: 9 g
Dietary fiber: 0 g
Protein: 0 g
Reprinted with permission from Gluten-Free Cupcakes: 50 Irresistible Recipes Made With Almond and Coconut Flour. Copyright © 2011 by Elana Amsterdam, Celestial Arts, an imprint of Ten Speed Press, a division of the Crown Publishing Group, Berkeley, Calif.
Flourless Chocolate Cake
Serves 12
This is a great dessert for dinner guests. For a lighter texture, separate the eggs and beat the egg whites to soft peaks with your electric mixer. Blend remaining ingredients together; then fold into egg whites by hand.
Ingredients
2 cups whole pecans (measure before grinding)
1 cup packed brown sugar
1 cup whole eggs (about 4 or 5)
1/2 cup light olive oil
1/3 cup unsweetened cocoa
1 tsp vanilla extract
1/8 tsp salt
Directions
Preheat oven to 350˚F. Grease, then line bottom of 8- or 9-inch spring-form pan with waxed paper or parchment paper. 
Grind nuts in food processor, along with half of sugar, to meal-like texture.
Add remaining sugar plus other ingredients and process 30 to 40 seconds. Scrape down sides of bowl and process until very smooth, about another 30 seconds. Transfer batter to prepared pan.
Bake 40 to 45 minutes or until toothpick inserted into center comes out clean. Cake rises as it bakes, then falls slightly as it cools. Cool 15 minutes in pan on wire rack. Cut around edge to loosen cake from pan edges. Release pan sides; remove paper liner and slice. Serve, topped with your favorite frosting, melted chocolate glaze, or dusted with powdered sugar.
Nutrient Analysis per serving
Calories: 295
Fat: 23 g
Protein: 7 g
Carbohydrates: 18 g
Sodium: 115 mg
Cholesterol: 62 mg
Fiber: 3 g
Reprinted with permission from Gluten-Free 101 by Carol Fenster (Savory Palate, 2010)