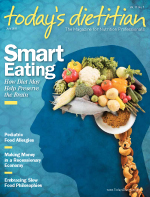 July 2009 Issue
Off to a Good Start — Embracing Slow Food Philosophies for Nutritious and Pleasurable Eating
By Lindsey Getz
Today's Dietitian
Vol. 11 No. 7 P. 34
"Slow down, you move too fast, you've got to make the morning last"—Simon & Garfunkel might just have easily been describing slow food ideals, which are gaining momentum as people find value in buying locally and savoring their daily meals, starting with breakfast.
The slow food movement is nothing new, but lately it seems to be gaining more ground. Amid the current economic downturn, many Americans are beginning to recognize a need to change not only their spending habits but also their diet and lifestyle. In the past, Americans' fast-paced lives led to poor food choices because of meals eaten on the go or purchased at the local drive-thru.
While people still frequent fast-food establishments, some are also turning to local farmers' markets for fresh food or even growing it in their own backyard to save money and eat healthier. As a result, families are spending more time at home and eating more home-cooked meals. This has also given people a chance to practice another slow food philosophy: taking the time to savor food instead of hurrying through a meal.
Education has also spurred the public's interest in the slow food movement. People want to know more about what they're eating, and they want fresh ingredients that are nutritious and safe. They also care about the environment, wanting to know whether their food was grown in a sustainable manner.
These are some of the slow food movement philosophies. Created in direct opposition to fast food, the original Slow Food nonprofit organization was founded 20 years ago in Italy. Today, the U.S. branch of Slow Food has 200 chapters across the country.
"Slow Food was probably one of the first internationally recognized movements that embraced and continues to embrace the idea of celebrating ingredient provenance, artisanship, kinship, community, and justice around food," says Amanda Archibald, RD, principal and founder of Field to Plate, LLC, an education company fusing new inspiration and meaning into food and nutrition education, as well as the eating experience. "Beyond that, the movement embraces the value of the simple meal and of breaking bread together. Many other movements and organizations have sprung up all over the world since this movement first began in Italy."
"It is a movement away from convenience and fast foods by returning to homemade meals for the family dinner," adds Joanne Larsen, MS, RD, LD, founder of www.dietitian.com. "Family traditions can help shape healthier food choices and incorporate local food culture rather than fast or convenient foods. Local food culture is usually designed around locally available foods, such as wild rice and lake fish in Minnesota, local varieties of salmon or fish in Seattle, and boutique vegetables from the San Francisco peninsula."
Of course, another major aspect of the slow food philosophy is the focus on "clean" (ie, hormone free, chemical free) food. Donna M. Wolf, RD, CLT, founder of Healthy Directions of Poway in California, believes that the slow food movement is more important than ever because of what she considers a tainted U.S. food supply.
"I believe our entire food supply has become polluted," says Wolf, who is a member of the San Diego Slow Food chapter. "I believe this because I see all around us greater incidences of diseases and other concerns. Not just cancer but diabetes, thyroid disorders, allergies, food sensitivities, and an increasing number of people who are overweight. When you really start reading labels, it's horrible what is in our foods—to the point of almost being scary. More than ever, people are turning to their local farmers' market or to homegrown foods to avoid all the flavorings, chemicals, and preservatives that are in the nation's food supply."

Whatever the case may be for why it's happening, there's no doubt that the slow food movement is gaining popularity. Julie Whittington, MS, RD, LDN, a Charlotte, N.C.-based dietitian, says locally, she's seen these philosophies really take hold. "At my Charlotte Dietetic Association meeting this month, local chefs came to talk to dietitians about slow food and local growers, including the health and environmental benefits," she says. "And it seems so many things are cropping up in the Charlotte area. Many restaurants are now offering local produce, eggs, and dairy. And next month, I'm going to a slow foods dinner through my local Slow Food chapter. It used to be if I talked about slow food, nobody knew what it meant. But it seems today, more and more people are familiar with the terminology."
Embracing the Ideals
There are many ways that you can help your clients become invested in the slow food movement. Encouraging them to take baby steps is important because clients could become discouraged if they try to make too many changes too quickly. Suggest that they slowly incorporate locally grown food—maybe adding some farmers' market vegetables to a stir-fry or purchasing some local fruit to eat with their yogurt. "Focus clients on a gradual move from fast food to slow food, as it doesn't have to be an all-or-nothing lifestyle," advises Larsen.
You may find that some clients want to eat more locally grown, fresh foods, but they don't know where to start looking for them. You can help by creating a handout of area farmers' markets and their hours and locations, suggests Larsen. "You may even want to take clients on a local farmers' market tour," she adds. "You can also share recipes or even start a cooking class for your clients who grew up thinking that rethermalizing food in the microwave oven is 'cooking.' The idea is to get people interested in the food they eat and where the food comes from. It's all about the flavor of fresh, local ingredients."
You may also find that some clients aren't ready to embrace the ideals of slow foods. It's important to be able to recognize if that's the case, advises Archibald, so you aren't pushing too hard. "In reality, most of the clients we work with need help espousing the very basic of nutrition ideals, namely variety and balance," she says. "We must help people create variety and balance in their lives first. Slow food is a higher level ideal. Ingredient provenance and food justice is not a '101 idea.' Therefore, pushing farmers' markets and locally produced and fair trade products may not be a realistic [first] step for many of our clients. That does not mean, however, that our longer term plan and guidance should not include an introduction to the slow food philosophy at some point."
Start the Day Slow
One effective and fun way to teach clients about the philosophy of slow food is encouraging them to enjoy a slow food breakfast. Breakfast tends to be a meal that people rush through or skip altogether as they begin their busy day. Few people take the time to sit down and enjoy a well-balanced, nutritious breakfast. Instead, many hit the drive-thru or grab something at the local coffee shop. Since breakfast sets the tone for the day, if clients can master a slow food breakfast, they can embrace the philosophy during all of their meals.
"Since breakfast starts the day, why not start with locally grown, nutritious foods?" says Larsen. "These foods can be purchased fresh or frozen during growing seasons, like fruits and berries. Bread and dairy foods are usually locally made rather than trucked long distances because they are fresh, short-shelf-life products. Look for locally grown whole grain breads, eggs, and cheese."
But even if your clients have not fully mastered the slow food way, it's still important to encourage them to improve their breakfast routine. Research is constantly demonstrating the importance of eating a healthy morning meal. "The science has proven over and over that nourishment at the beginning of the day sets you up for mental and physical agility for the remainder of the day," says Archibald. "You don't need a slow food to start the day, but you do need good food that delivers both nourishment and energy. For many Americans, the start may be to eat something. For others, it progresses to eating a nutritionally right-sized breakfast."
Archibald adds that those who are ready to embrace the slow food ideal should look into incorporating some food choices from trusted local producers. "Perhaps a locally baked whole grain bread accompanied by locally grown fruit," she suggests. "If you use dairy, then choose milk or yogurt produced by a local dairy if you have the option. If no local producer exists, then choose dairy produced by a regional or national company whose ethics you are familiar with and agree with."

At the very least, even if your clients are not ready or are struggling to incorporate locally grown foods, Archibald says they can still incorporate at least one aspect of the slow food movement into their morning routine. "Remember, at least, to take a cue from the word 'slow,'" she stresses. "If you can do nothing else, learn from the Europeans, who linger over their coffee and breakfast bread. In this case, the word 'slow' means taking the time to partake."
Slow Pace Wins the Health Race
Encouraging your clients to slow their pace as they eat will not only give them a chance to savor their food but also to notice when they're feeling full. That benefit alone could lead to slimmer waistlines and encourage healthier eating. But beyond that, your clients will appreciate reduced stress and anxiety as they take life just a little slower.
— Lindsey Getz is a freelance writer based in Royersford, Pa.
A Slow Food Vacation
Here's a fun way to get your clients engaged in the slow food way: Suggest that they visit a bed and breakfast (B&B) on their next vacation or weekend getaway. B&Bs are known for their hearty morning meals, and they encourage visitors to take their time and savor their food as they sit around the table and dine together. And, even better, some B&Bs are focusing on slow food ideals by using fresh and local ingredients. Here are three you can feel good about recommending to your clients.
Inn on Charlotte
Based in Saint Augustine, Fla., this B&B helps visitors take time to relax and unwind in a pristine setting. "I think people come to a bed and breakfast to slow down," says owner Lynne Fairfield. "Part of the experience is sitting down for breakfast and talking with the other guests. And we always make the food part of the experience—it's not just a quick bowl of cereal and running out the door."
Fairfield grows most of her own herbs and uses them to garnish her meals or add to their flavor. And the food is always satisfying without being over the top. "Our French toast is baked and served with a fresh peach sauce instead of being fried and sugary," she says. "We don't serve a super sweet or sugary breakfast. Even our pancakes are oatmeal or gingerbread and served with fresh applesauce. It's a chance for visitors to try something a little different." (www.innoncharlotte.com)
The Hawk & Ivy
This "holistic bed & breakfast" is located on a 24-acre nature preserve in North Carolina and is known for its healthy, gourmet breakfasts made with fresh ingredients. James and Eve Davis co-own the B&B and both serve on the board of the Asheville, N.C., chapter of Slow Food, so they embrace those philosophies when preparing meals. The food served is either grown on site or comes from local providers. "Everything we serve here is organic, even down to the vanilla," says Eve.
One of guests' favorite treats is fresh herb tea that Eve makes from the garden. She also serves fresh fruit every morning and pays special attention to the presentation, often using a lot of edible flowers for decoration. An example of a recent meal is asparagus omelets with fresh tarragon from the garden plus mushrooms and onions. (www.hawkandivy.com)
Journey Inn
With 66 acres of prairie, hilly woodland, and a spring-fed creek in Maiden Rock, Wis., the Journey Inn is an eco-retreat. Co-owners Charlene Torchia and John Huffaker have strong beliefs about the food they serve and maintain memberships in a local community-supported agriculture (CSA) farm, food co-ops, and Slow Food USA. "Food is such an important factor in our lives, and it affects not only our bodies but our culture," says Torchia. "How we buy food is important. So we buy from local farmers and subscribe to a CSA. It's important to me to support family farms as well as the health of our environment."
One of the fresh breakfast items that Torchia likes to prepare is a frittata using organic kale and organic cheese. "We have a local cheese factory that produces organic cheese, which the guests love," she says. Torchia also gets her bread from a local farmer, and the coffee and tea she serves are fair traded. (www.journeyinn.net)
Breakfast Recipes
Wild Mushroom, Asparagus, and Leek Frittata With Fresh Mint
Frittatas, or Italian omelettes, can be served at any meal of the day or even as an appetizer, as is sometimes done in Italy. However, Americans tend to consider frittatas breakfast or brunch fare. You can purchase a frittata pan or simply use a broiler-safe nonstick skillet. Use local and/or organic ingredients if possible.
Ingredients:
2 T extra-virgin olive oil (or organic unsalted butter)
1 cup chopped leeks (white and pale green parts only)
1⁄2 bunch (about 6 oz) thin asparagus tips
1 cup assorted fresh wild mushrooms, sliced (eg, button, cremini, and shiitake)
1 garlic clove, minced
1⁄2 tsp salt
1⁄2 tsp ground black pepper
4 large eggs
6 egg whites
1 1⁄2 T chopped fresh mint (or other herbs of choice)
1⁄4 cup (about 3⁄4 oz) freshly grated Parmesan cheese
Fresh berries
Directions:
Position oven rack 8 inches from broiler heat source. Preheat broiler.
In an oven-safe, 10-inch nonstick skillet, warm oil over medium heat. Add leeks and sauté for 4 minutes. Stir in garlic. Add asparagus and mushrooms, sprinkle with 1⁄4 tsp salt, and sauté until tender, about 5 minutes.
In a bowl, whisk together eggs, egg whites, cheese, mint, 1⁄4 tsp salt, and 1⁄2 tsp black pepper.
Arrange asparagus mixture evenly across the bottom of the skillet. Pour egg mixture over the asparagus mixture. Cook until almost set. Broil until puffed and golden, about 3 minutes.
Remove from oven and let sit for 5 minutes. Run a rubber spatula around the sides of the skillet to loosen frittata. Invert on a plate and let cool for 10 min.
Cut into pie-shaped wedges. Garnish with mint and fresh berries.
Serves 6
Nutrition Analysis per serving: Calories: 142; Protein: 11 g; Carbs: 4 g; Total Fat: 9 g; Sat Fat: 2 g; Trans Fat: 0 g; Cholesterol: 144 mg; Sodium: 383 mg; Fiber: 1 g
— Recipe courtesy of Julie Whittington, MS, RD, LDN
Yogurt Parfait II
This yogurt parfait makes a nutritious breakfast or a healthy snack. Try different combinations of fruits and nuts each time you make it for variety: pears and walnuts, apples and peanuts, or perhaps blueberries and almonds.
Ingredients:
1 cup nonfat plain yogurt
1 piece medium-sized fruit (eg, apple, banana, pear, mango, plum, or a combination cut in bite-sized pieces) or 3⁄4 cup berries
1⁄4 cup nuts, preferably raw, or toasted or dry roasted (not fried in oil)
1 tsp honey or few drops stevia noncaloric sweetener
1 T toasted wheat germ
1⁄4 tsp extract (eg, vanilla, almond, chocolate), optional
1⁄4 tsp spice (eg, cinnamon), optional
Directions:
Combine all ingredients in a small bowl and serve. Makes one 11⁄4-cup serving.
Nutrition Analysis per serving: Calories: 409; Protein: 16 g; Carbs: 57 g; Total Fat: 17 g; Sat Fat: 2 g; Trans Fat: 0 g; Cholesterol: 5 mg; Sodium: 139 mg; Fiber: 8 g
Note: Analysis used apples and walnuts.
— Recipe courtesy of Donna M. Wolf, RD, CLT