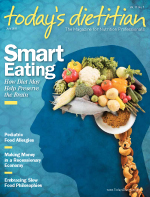 July 2009 Issue
Societies Release New Critical Care Guidelines
Today's Dietitian
Vol. 11 No. 7 P. 15
The American Society for Parenteral and Enteral Nutrition (ASPEN), in partnership with the Society of Critical Care Medicine (SCCM), has released "Guidelines for the Provision and Assessment of Nutrition Support Therapy in the Adult Critically Ill Patient," providing recommendations for delivering clinical nutrition to patients who are critically ill. The guidelines are intended for the treatment of adult patients requiring an intensive care unit (ICU) stay of more than two or three days.
"Traditionally, we've seen nutrition support in the critically ill as adjunctive care," says Stephen A. McClave, MD, president-elect of ASPEN. "Nutrition support is now seen as a proactive therapy, helping to reduce disease severity, diminish complications, decrease length of stay in the ICU, and favorably impact patient outcomes. This shift makes guidelines for providing nutrition therapy to critically ill patients extremely timely."
Experts from ASPEN and the SCCM worked together to construct the list of recommendations. The development process included the detailed review and analysis of the pertinent, available current literature; other national and international guidelines; and the blending of expert opinion, clinical practicality, and research studies. Randomized controlled trials were used as the primary source to support guideline statements.
"The significance of appropriate nutrition in the care of the hospitalized patient—particularly in the ICU—cannot be overstated," says Mitchell M. Levy, MD, president of the SCCM. "This collaboration between ASPEN and SCCM illustrates the importance of multidisciplinary approaches to patient care, the value of the perspectives that all the members of the healthcare team contribute, and the shared responsibility we have for all elements of our patients' health."
The recommendations include topics such as the following:
• initiation, dosing, and monitoring tolerance to enteral nutrition;
• selection of appropriate enteral formulations and the use of adjuvant therapies such as probiotics;
• when and how to use parenteral (IV) nutrition;
• the use of nutrition support therapy with pancreatitis and pulmonary, hepatic, or renal failure; and
• nutrition and end-of-life situations in patients who are critically ill.
The metabolic stress of critical illness, coupled with associated clinical complications, can lead to malnutrition. It has been shown that early enteral nutrition may favorably impact patient outcomes. Caregivers involved in providing nutrition therapy to this population—physicians, nurses, dietitians, pharmacists, and respiratory and physical therapists—may find these guidelines beneficial as they seek to provide the best care for their patients.
The complete critical care guidelines were published in the May issue of the Journal of Parenteral and Enteral Nutrition and are available on the ASPEN Web site (www.nutritioncare.org). An executive summary of the guidelines was published in the May issue of Critical Care Medicine and is available on the SCCM Web site (www.sccm.org).
— Source: American Society for Parenteral and Enteral Nutrition