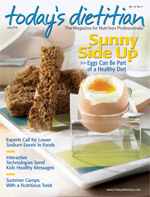 July 2010 Issue
'Vegaquaterian' Eating
By Chef Kyle Shadix, MS, RD
Today's Dietitian
Vol. 12 No. 7 P. 64
As RDs know, vegetables and seafood bring many benefits to the table. They are versatile, pack a nutritional punch, offer a variety of textures, and are full of flavor. The potential for veggie- and seafood-inspired meals is limitless.
I believe more people might eat seafood and vegetables if they only knew how to cook them. After all, fresh seafood and produce do not come with instructions. No one should have to rely on meals from canned or preprepared items when grocery stores have so many fresh foods from which to choose.
Knowing the basics of "vegaquaterian" eating (emphasizing the consumption of seafood and vegetables) starts with knowing how to cook fish and the techniques that will make preparing fillet of Dover sole as easy as turkey meatloaf. Once immersed in this new way of eating, consumers may wish to learn more technical skills, such as how to handle a lobster and devein shrimp.
I love the concept of a vegaquaterian diet. Just as vegetarians and vegans have a variety of reasons for their dietary lifestyle, vegaquaterians may have reasons for choosing fish over other animal proteins. Dietitians often suggest this option for health reasons, citing the facts that non-lean red meats contain high amounts of saturated fat and that certain kinds of fish are healthful for all people, especially those with high cholesterol, and are convenient sources of omega-3 fatty acids.
To encourage your clients to consume and prepare more fresh vegetables and foods from the sea, you might steer them toward three helpful books by author Mark Bittman: How to Cook Everything, Completely Revised 10th Anniversary Edition: 2,000 Simple Recipes for Great Food; How to Cook Everything Vegetarian: Simple Meatless Recipes for Great Food; and Fish: The Complete Guide to Buying and Cooking. Since cooking vegetables requires specific techniques depending on the variety, reliable resources on how to cook produce will simplify clients' efforts to include more veggies in their diet.
First publicized by the Canadian Department of Marine Fisheries, the accompanying method for cooking fish is the gold standard and works with broiling, grilling, poaching, steaming, sautéing, microwaving, en papillotte, planking, and baking.
— Chef Kyle Shadix, MS, RD, is a culinary nutrition communications consultant in New York City and online at www.chefkyle.com.

How to Cook Fish
Preheat oven to 425˚F. Measure the fish at its thickest part and calculate 10 minutes of cooking time for each inch of fish. Don't forget to add or subtract fractions of inches—no rounding up or down. Remember that all foods, especially fish, will continue to cook after they are removed from heat, so visually checking the fish and taking it out when it "looks" done will leave you with an overcooked piece of fish.
I have found that if the fish is more than 1/2-inch thick, such as 2 inches, it is best to turn the fish halfway through the 20-minute cooking time at 425˚F.
Mediterranean Cod Fish
Ingredients:
3/4 cup plum tomato, seeded and finely chopped
1/4 cup red onion, minced
3 T fresh lemon juice
1 T olive oil
1 T pitted Kalamata olives or other brine-cured black olives, minced
1 T capers, drained and chopped
1 tsp fresh parsley, chopped
Salt and pepper to taste
Four 6-oz cod fillet pieces (2 inches thick)
Directions:
Preheat the oven to 425˚F. Measure the fish at its thickest part and calculate 10 minutes of cooking time for each inch of fish.
In a small bowl, mix together all ingredients except the cod.
Spray 13- X 9- X 2-inch glass baking dish with nonstick cooking spray. Pour vegetable mixture in bottom of dish. Arrange cod in prepared dish over vegetables and place in oven for 20 minutes.
Nutrient Analysis:
Calories: 180
Total fat: 4.5 g
Sat fat: .5 g
Trans fat: 0 g
Cholesterol: 75 mg
Sodium: 160 mg
Total carbohydrate: 2 g
Protein: 31 g
Fiber: 1 g