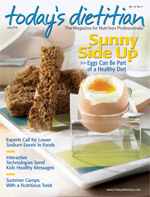 July 2010 Issue
Waste Not, Want Not — Recognize Ways to Act Responsibly for the Planet and Future Generations
By Melinda Hemmelgarn, MS, RD
Today's Dietitian
Vol. 12 No. 7 P. 20
Willful waste makes woeful want. — Scottish proverb
Andy Sarjahani, RD, signs his e-mails with a quote from farmer and philosopher Wendell Berry: "No matter how much one may love the world as a whole, one can live fully in it only by living responsibly in some small part of it." Living responsibly means conserving the Earth's natural resources for future generations and taking a close look at how we collectively manage our waste.
Figures on Americans' food waste range from between one quarter and one half of all food produced for consumption, or about 1⁄2 lb per person per day.1 According to the Environmental Protection Agency (EPA) and the USDA, Americans throw away more than 25% of the food they prepare, or about 96 billion lbs of food waste each year.2,3 In the United States, food waste is the third-largest waste stream after paper and yard waste, with food scraps accounting for close to 13% of total municipal solid waste.2 The most recent review of food waste reports that U.S. per capita food waste has progressively increased by approximately 50% since 1974 to 1,400 kcal wasted per person per day.4
Why Waste?
Speaking at the American Dietetic Association's (ADA) 2009 annual meeting in Denver, journalist Jonathan Bloom explained that he became interested in food waste while volunteering at the DC Central Kitchen, a food recovery operation in the nation's capital. "I kept looking around at all the hearty foods they'd recovered from various places that would otherwise have been cast away. I wondered what happened to all of the edible but unsellable food in cities or towns that didn't have a food rescue group," he said.
Bloom came to the conclusion that Americans waste food because it's cheap and abundant. "We're not taught to value food, and there's little cultural emphasis on avoiding waste. We figure why bother, there's plenty more," he said. Reinforced by expiration and sell-by dates, Americans expect their food to be fresh and cosmetically perfect; if it's not, it's discarded.1
Sarjahani, on the ADA panel with Bloom, became aware of excessive food waste during his dietetic internship at Virginia Tech. "It broke my heart," he said, to witness waste in the face of skyrocketing food prices, hunger-related riots, and news reports of Haitians eating mud laced with sugar and oil to avoid starving.
Virginia Tech's dining facilities consistently receive top national rankings because of freshness, variety, and abundance. However, the all-you-can-eat, tray-based dining service may promote waste because it enables diners to take as much as they want with no perceivable consequences or costs for tossing unwanted food in the trash.
Sarjahani felt "initially repulsed" by what he perceived as "students' lack of social awareness" regarding their food waste. But he later "came to understand that they are merely a product of the society we have manufactured."
Steering Toward Sustainability
From a societal perspective, Sarjahani describes food waste as "immoral." From an economic standpoint, waste indicates inefficiency.2 From an environmental viewpoint, wasted food flies in the face of sustainability.1,5
Consider the wasted water and fossil fuel inherent in food waste. Estimates indicate that our national food waste accounts for more than one quarter of the total fresh water consumed and approximately 300 million barrels of oil per year. In addition, methane emissions from decomposing food waste in landfills make a significant contribution to global climate change.4
The ADA's 2007 position statement on conserving natural resources and supporting ecological sustainability encourages dietitians to minimize waste and consider the global impact of all of our food system decisions.
Dietitians Making a Difference
By simply removing trays from one dining facility on the Virginia Tech campus, Sarjahani was able to significantly reduce total food waste. He hopes his efforts will "breed a new paradigm for college foodservice programs" and that rankings for campus dining will include points for sustainable practices.
Barbara Hartman, MS, RD, LD, chief of nutrition and foodservice at the VA Medical Center in Martinsburg, W.Va., also spoke at the ADA session on food waste. In December 2009, she added a Waste Watchers Program to her already existing Green Kitchen initiatives. "No one liked wasting food," she said, but it was her foodservice staff who both named and encouraged the new program. Working as a team, they sought alternatives, including source reduction, food donation, and composting, all based on the EPA's Food Waste Recovery Hierarchy.
Prior to Waste Watchers, Hartman's kitchen added more than 1,500 lbs of food waste to a landfill each week. With the program in place, less than 300 lbs of food waste enters the landfill weekly. Foodservice staff member Ron Bailey says he appreciates the program because he realizes he is acting in favor of the environment. Employee Harry Grantham adds, "I'm doing it for the grandchildren."
Each week, Hartman and her staff divert an average of 476 lbs of solid food waste to a local compost farm and donate about 135 lbs of food to a local nonprofit. Cost savings resulting from tracking food waste and more careful forecasting and production enable the hospital to provide higher-quality farm-fresh foods, special meals, and events to the veterans.
In April, Hartman and her staff received the 2009 VA Sustainability Achievement Award for their efforts.
The Scarcity Story: Produce More or Waste Less?
Rising food prices, along with local and global spikes in food insecurity, feed food scarcity fears. Savvy ad campaigns in major airports and national press warn that by 2050 we'll need to double our agricultural output to meet the needs of the world's growing population. Yet little national attention has been given to the issue of food waste.4 In fact, the Stockholm International Water Institute, the Food and Agriculture Organization of the United Nations, and the International Water Institute called on governments to reduce the amount of wasted food by one half by 2025.
The good news: Jean Buzby, PhD, an agricultural economist at the USDA's Economic Research Service, says she's witnessed an upswing in interest in reducing food waste during the past year, likely due to the weakened economy and a focus on climate change.
Dietitians are uniquely suited to connect the dots between food waste, hunger, obesity, the economy, and our global environment.5
Whittle Away Waste
The following are some resources and suggestions for raising awareness and reducing waste. Add examples from your own community and share your activities and successes with your local and state dietetic associations and the media.
1. Host film screenings and book discussions. Check out the following titles:
• Garbage Land: On the Secret Trail of Trash by Elizabeth Royte. (She also has a blog at www.royte.com/blog.)
• American Wasteland by Jonathan Bloom, which is due out in September. (He also has a blog at www.wastedfood.com.)
• Dive! Living Off America's Waste by Jeremy Siefert (www.divethefilm.com)
2. Use social media to spur action. Annie Leonard's The Story of Stuff Project (www.storyofstuff.com) and The Story of Bottled Water make complicated issues easy to understand.
3. Wield your power. Dietitians influence gatekeepers. The food industry recognizes our potential as purchase persuaders. Call, e-mail, and encourage your clients to voice concerns about excessive or nonrecyclable packaging and waste. Also suggest responsible alternatives to your clients.
4. Walk the talk and educate through action. When planning conferences or meetings, consider the quantity and packaging of meals, snacks, and beverages. Choose catering companies for their sustainable practices. Offer water pitchers and recyclable/compostable paper cups or reusable glassware instead of disposable plastic water bottles. Say no to Styrofoam and single-use plastics. Provide a compost bin to collect food scraps and plan ahead to deliver leftovers to the needy. Announce your actions to reduce waste.
5. Make gleaning and food recovery a top priority. The USDA's Citizen's Guide to Food Recovery remains one of the most comprehensive tools (www.usda.gov/news/pubs/gleaning/content.htm).
6. Become an advocate for diverting food waste. The law is on your side: The Bill Emerson Good Samaritan Food Donation Act removes unwarranted fear of liability and lawsuits. Learn more at http://feedingamerica.org/partners/product-partners/protecting-our-partners.aspx.
7. Follow the EPA's Food Waste Recovery Hierarchy. Visit www.epa.gov/wastes/conserve/materials/organics/food.
— Melinda Hemmelgarn, MS, RD, is a freelance writer, speaker, and radio host. She is a former Food and Society Policy fellow and serves on the Midwest Organic and Sustainable Education Service board.
References
1. Hartman B, Bloom J, Sarjahani A. Food recovery: Promoting food security by reducing waste. Presentation at the American Dietetic Association Food & Nutrition Conference & Expo; October 20, 2009; Denver, Colo.
2. Environmental Protection Agency. Basic information about food waste. Available at: http://www.epa.gov/wastes/conserve/materials/organics/food/fd-basic.htm. Accessed March 24, 2010.
3. Kantor LS, Lipton K, Manchester A, Oliveria V. Estimating and addressing America's food losses. FoodReview. January-April 1997. Available at: http://www.ers.usda.gov/Publications/FoodReview/Jan1997/Jan97a.pdf
4. Hall KD, Guo J, Dore M, Chow CC. The progressive increase of food waste in America and its environmental impact. PLoS ONE. 2009;4(11):e7940.
5. Sarjahani A, Serrano EL, Johnson R. Food and non-edible, compostable waste in a university dining facility. J Hunger Environ Nutr. 2009;4(1):95-102.