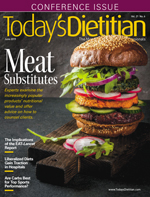 June 2019 Issue
The Retail RD: Technology Promotes Healthful Eating
By Barbara Ruhs, MS, RDN
Today's Dietitian
Vol. 21, No. 6, P. 14
Retail dietitians traditionally have provided nutrition education in stores; however, many of today's supermarket RDs also are leveraging the power of technology to connect with customers beyond the aisles. According to the 2019 Food Marketing Institute Foundation report "The Power of Health and Well-Being in Food Retail," consumers continue to look to retailers as allies in supporting their health.1 As technology continues to impact the evolution of food retailing, supermarket dietitians are using mobile apps, podcasts, and social media to improve nutrition knowledge and culinary skills. This article highlights how retail dietitians at Kroger, Giant Food, and Festival Foods are using these different modes of technology to promote nutrition.
Kroger's OptUP Mobile App
Based in Cincinnati, The Kroger Co. is one of the largest supermarket chains in the world, operating nearly 2,800 stores under a variety of banner names including Fry's, Dillons, King Soopers, Fred Meyer, Ralphs, and Harris Teeter, to name a few.
In July 2018, they launched OptUP (www.kroger.com/d/optup), a data-driven app that guides customers to make better-for-you shopping decisions using a food scoring system between 1 and 100. Based on nationally recognized dietary standards enhanced by Kroger's RDs, products are further classified using a traffic light color scheme. Products in the green category score 71 or better and are lower in saturated fat, sodium, sugar, and calories, and may be higher in fiber, protein, and fruit/vegetable or nut content. The yellow category score range is 36–70, while the red category ranges from 1–35. Kroger's RDs recommend customers have a cart mix that comprises at least 50% green category products.2
One of the unique attributes of this retail-based mobile app is that it links a customer's purchase history for the previous eight weeks to generate an OptUP score from 0 to 1,000, an ideal score being 600 or higher. Every time a customer shops, their OptUP score increases or decreases based on the nutritional scores of items purchased. Although the app isn't intended to replace the expertise of an RD, it offers the customer on-demand information that can help guide more healthful shopping decisions and help track nutritional progress over time. A customer can scan an item in the store to get suggestions for more healthful alternatives or find gluten-free, vegan, and other products qualifying for unique nutritional attributes. In addition, the app employs algorithms to provide recommendations for healthful swaps based on shoppers' typical behavior. For example, if a consumer usually buys a particular brand of cereal or yogurt, the app may recommend similarly branded products with more healthful nutrient profiles. With the ability to review the nutritional quality of purchases at any time, OptUP is a valuable teaching tool customers can use when visiting their local dietitian or a Kroger dietitian at The Little Clinic (Kroger's in-store health clinic, which was profiled in the March 2017 issue of Today's Dietitian) in select markets. 
Giant Food's Nutrition Made Easy! Podcast
Based in Landover, Maryland, Giant Food is a company of Ahold Delhaize USA that operates about 170 stores in Pennsylvania, Virginia, Maryland, Delaware, and Washington, D.C. In December 2018, Giant Food launched a biweekly podcast, Nutrition Made Easy! (https://giantfood.com/gf-wellness/#/podcast), which provides shoppers and the community free access to nutrition education as well as food news and trends. Giant's Nutritionist Mandy Katz, MS, RD, CLC, LDN, hosts the podcast, although the entire team of Giant Food retail dietitians is involved and offers a range of nutrition areas of expertise featured in various episodes. There are two series, clinical and consumer, with topics ranging from diabetes, weight management, and mindful eating to an insider's peek at the hottest new products.
Emily Craft, MS, RDN, CSP, LDN, a Baltimore-based Giant Food RD, who presented on the topic of using technology to make informed food choices at FNCE® in 2018 and shared insights on the podcast, says, "The podcast is a resource for everyone, especially customers that may not be in proximity to a store offering an RD. In addition, it provides a starting point for customers that may want information right away, such as strategies to lower cholesterol or how to manage blood sugar, but have an appointment scheduled in the future with an in-store RD—the podcast addresses some of the most frequently asked questions and is accessible 24 hours a day, seven days a week!"
An April 2019 episode, "Sustainable Seafood," featured the unique perspectives of a seafood sustainability expert as well as Giant Food's seafood category manager on sourcing seafood both locally and globally and insights on farmed vs wild-caught seafood. This behind-the-scenes information helps to inform the public about how supermarkets take sustainability, food safety, and nutrition into consideration when making decisions about which foods are sold in their stores. Nutrition Made Easy! is available for download on platforms including iTunes and Google Play and is a great resource for both dietitians and consumers who want to learn more about food and health topics from nutrition experts.
Festival Foods' Mealtime Mentors Facebook Live
Based in De Pere, Wisconsin, Festival Foods operates 32 stores in Wisconsin with a team of dietitians, referred to as the Mealtime Mentors, who are maximizing the power of social media to engage existing and potential new customers with compelling nutrition content that's accessible any time. In January 2019, Festival Foods launched a unique 100-day online health challenge entitled "Head Over Meals," with the goal to help everyone in the community to "fall in love with homemade meals" (www.festfoods.com/promotions/headovermeals). The 14-week challenge featured weekly video content broadcast via its social network channels, along with a sweepstakes offering a five-night trip to Jamaica for those who posted photos of at least three homemade meals throughout the challenge. (The video content and challenge are still available for consumers to try, even though the giveaway has ended.)
Each week, Festival's retail RDs introduced a new food challenge, such as prepping breakfast or lunch ahead of time or trying veggie noodles, via videos posted to Festival Foods' YouTube channel using a custom hashtag #HeadOverMeals19. Social networking channels, including Facebook, Instagram, Twitter, and YouTube, serve as the primary communication method for the Festival RDs to engage with customers. Because the content is free to post and access, it's a cost-effective and strategic way to promote nutrition and maximize engagement with existing and potentially new customers. Offering new fun, engaging content focused on simple strategies to eat more healthfully by preparing more foods at home each week and keeping that content available for years to come, the Head Over Meals challenge is a smart way for this small, family- and employee-owned retailer to compete with some of the biggest competitors in the business that may not be able to produce the same volume of content using qualified in-house nutrition experts.
As the grocery industry continues to evolve in the current digital age, retail dietitians who embrace technology improve the accessibility of trusted food and nutrition advice that drives the purchase of more healthful foods.
— Barbara Ruhs, MS, RDN, is a retail nutrition strategy expert and owner of MarketRD.com, a consulting firm that works with brands and supermarkets to promote health.

References
1. The Food Marketing Institute Foundation. The power of health and well-being in food retail: an in-depth look through the shoppers' eyes. https://www.fmi.org/forms/store/ProductFormPublic/power-of-health-and-well-being-in-food-retail. Published 2019.
2. Marchat A. Kroger launches OptUP app to help customers make healthy swaps. The Shelby Report website. https://www.theshelbyreport.com/2018/07/16/kroger-launches-optup-app/. Published July 16, 2018.