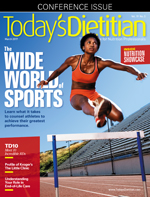 March 2017 Issue
Kroger's The Little Clinic
By Sharon Palmer, RDN
Today's Dietitian
Vol. 19, No. 3, P. 32
RDs are delivering remarkable nutrition services to shoppers in this unique supermarket setting.
Imagine that on your next grocery store run, you can make a pit stop at a full-on in-store health clinic to see a dietitian, where she may help you with several health issues, such as managing your type 2 diabetes, learning about your food allergies, or getting started on a weight loss program. Wouldn't that be a wonderful world—for both dietitians and consumers? Well, this vision isn't just a distant reality; it's already happening in some supermarkets that are part of The Kroger Co. chain, and it's called The Little Clinic.
Barbara Ruhs, MS, RDN, LDN, who helps coordinate the annual Oldways Supermarket Dietitian Symposium, invited dietitians from The Little Clinic to talk about the program at the most recent conference, which was held in New Orleans in March 2016. Ruhs says, "As one of the largest grocery retailers in the United States, with more than 2,700 stores nationwide, it's not surprising that The Kroger Co. is striving to be the leader in providing nutrition services to shoppers via The Little Clinic. When customers eat healthier, it's good for business. Supermarkets sell more high-margin, whole foods, and customers are engaged directly with dietitians who offer personalized nutrition recommendations right in the aisles! I think that takes customer service to a new level."
What Is The Little Clinic?
The Little Clinic opened its first site in 2003 in a Kroger store in Louisville, Kentucky, and soon expanded to other regions. The goal of the clinic was to provide quality health care services at an affordable cost in a convenient location for busy people. At The Little Clinic, nurse practitioners and/or physician assistants are on hand to diagnose and treat minor illnesses for patients 12 months and older (18 months and older in Ohio and Mississippi, and 24 months and older in Kentucky). Customer satisfaction ratings are good, and The Little Clinic has even earned accreditation from The Joint Commission.
In 2010, The Little Clinic became a wholly owned subsidiary of The Kroger Co. Now there are more than 200 clinics in select Kroger, Fry's JayC, Dillons, and King Soopers stores in Ohio, Kansas, Kentucky, Tennessee, Arizona, Georgia, Indiana, Virginia, Mississippi, and Colorado. The clinics are located next to the pharmacy in the stores, fully outfitted with comfortable exam rooms and waiting areas. Dietitians currently are available in four Little Clinic markets: Nashville, Columbus and Cincinnati (Ohio), and Denver.
"The Kroger Co. purchased The Little Clinic because it believed retail clinics would have a very prominent place in the future of health care delivery in America. Kroger is and always has been committed to the health and wellness needs of the communities it serves, and The Little Clinic is a great complement to the other health and wellness offerings in the store, including pharmacy," says Eileen Myers, MPH, RDN, LDN, CEDRD, FAND, vice president of retail dietetics and nutrition solutions for The Little Clinic, who spoke at the Oldways Supermarket Dietitian Symposium.
Dietitians Get on Board
The dietitian team at The Kroger Co. has gone through many iterations in the past five years, according to Myers. In 2011, some district dietitians were hired within The Kroger Co. In 2012, dietitians were providing free services such as consultations, store tours, and health fairs. By 2013, the dietitians had added to their job descriptions sampling on the sales floor, customer engagement, and wellness festivals. By 2015, the dietitians were assigned a focus area, such as vendors, advertising, customers, community, and health care. Up until then, nurse practitioners, pharmacists, and dietitians weren't working under one umbrella.
"The CEO of The Little Clinic sat down and asked us for a proposal about bringing nutrition into a team," Myers says of what happened next. In the fall of 2015, The Kroger Co. dietitians became associates of The Little Clinic as part of the health care team, along with pharmacists, nurse practitioners, and physician assistants. And in January of 2016, they hired eight additional dietitians as part of a dietitian services pilot program in select regions; four dietitians were transitioned to each of four regions in The Little Clinic—Denver, Nashville, Columbus, and Cincinnati—in Kroger and King Soopers stores. One dietitian director earned a spot at the Kroger corporate headquarters to interface with all things food, digital, merchandising, and advertising. And one dietitian (Myers) received the post of vice president of retail dietetics and nutrition solutions, based at the corporate headquarters alongside other senior leaders of The Little Clinic.
The keys for success of the dietitian program at The Little Clinic include the positioning of the dietitians as part of the health care team, providing patient-centered clinical nutrition counseling in the retail setting, establishing a collaboration throughout the organization, and collecting and analyzing data, such as loyalty and spending, food purchase healthfulness, and clinical outcomes, in order to establish return on investment. Local university hospitals also became affiliated with the program.
Why make this bold move? "Customers didn't understand where to find the dietitians. And there was increased perceived value when dietitians were part of the health care team. With a fee for service, people like to participate if there's a bit of skin in the game. When you have free classes, people don't show up," Myers said at the Symposium.
The Nutrition Services
The way the nutrition program works at The Little Clinic is orchestrated to perfection. "The dietitians work at the store level, covering two stores each. They provide nutrition counseling within our clinics, as well as aisle guidance for shoppers and special tours, cooking demonstrations, and events for stores, customers, and associates," Myers says.
Two of the dietitians' core offerings are individualized counseling sessions and group sessions. After scheduling an appointment, a patient will visit the clinic and register like any other clinic patient, and they're entered into the EMR system. If it's an individual appointment, the dietitian creates a progress note that includes goals and a care plan. If it's a patient who has been referred by another provider, the dietitians send an outgoing referral to keep him or her in the loop.
"Typically, during the first portion of the initial visit, time is spent discussing the patient's nutrition history and goals," says Kate Kanner, RDN, LD, a Columbus, Ohio-based retail dietitian coordinator at The Little Clinic. "Then, the fun part: We'll actually go out into the aisles of the store together. Patients really love this hands-on experience. They can shop as we go, and they get to put into practice what they've learned right away," Kanner says.
A group session may take the format of a supermarket tour or a cooking class. According to Courtney Kiang, RDN, a Denver-based retail dietitian at The Little Clinic, walking classes are offered at The Little Clinic, focusing around diabetes, family meals, and heart health. "We host in-aisle, walking classes to connect with our unique Colorado market. For example, our Broncos Tailgating Walk and Talk is a grocery store tour where customers can learn to incorporate Broncos' orange and blue colors while adding in fruits and vegetables to great-tasting tailgating snacks. This is a wonderful opportunity to provide nutrition education around a topic our customers love," Kiang says.
Kanner offers a disease-focused nutrition store tour. This is a hands-on, interactive shopping experience in which a small group of clients can explore the store together and, with the dietitian's guidance, identify products and techniques that will help them better manage their condition, whether it's diabetes, obesity, or celiac disease. "We also have tours geared toward other nutrition concerns, like plant-based diets or fueling for athletic performance. In addition, we offer in-store food demos to connect with customers while they're shopping," Kanner adds. For example, she started a series called "Local Food Love!" in which Kanner features her favorite locally made items.
Another offering the dietitians provide is wellness festivals. "All the dietitians in the region work together to plan a wellness festival featuring one or more food items, and we set up stations out in the store with a different nutrition focus at each station. For example, one station may focus on choosing and storing the food, and another might focus on a recipe using the food," Kanner explains. Shoppers get a coupon if they visit each station, and they learn something new in the process. Some dietitians have even been working with their store management and wine shop to organize food and wine events.
The dietitians also are able to share their knowledge and expertise outside the store in various venues. For example, the dietitian team regularly writes blog articles for The Kroger Co. and affiliated websites. And many have had the chance to appear on local news programs talking about nutrition. Kanner recently was a guest on a news segment talking about how to include more vegetables in your diet.
The dietitians' services extend beyond customers to store associates, too. Kiang says, "We care deeply about our associates and want to create a working culture of wellness within our stores. The Little Clinic is actively involved in the store. For example, the dietitian teams host associate-only contests and promotions to encourage store employees to proactively take charge of their health."
So what about reimbursement for nutrition services? Myers reports that the dietitians are enrolled in Medicare, which covers certain Medicare beneficiaries with diabetes and renal disease. Myers notes, "We are exploring our other contracts and looking to expand with payers and employer contracts in the future."
The Little Clinic dietitian team credits the efficacy of its program to the ability to provide nutrition guidance in the aisles, where people are shopping. Another benefit of the program is that this type of nutrition counseling is a form of preventive care, before chronic disease starts to take root. And the referral process for dietitians in this clinic setting is much more simplified for clients. For example, if the nurse practitioner puts a client on antibiotics, that patient immediately can be referred to the dietitian for counseling on probiotics, and if the nurse practitioner discovers high blood pressure levels during a visit, the client can receive counseling on a Dietary Approaches to Stop Hypertension diet right away.
Molly Hembree, RD, a Columbus, Ohio-based retail dietitian coordinator at The Little Clinic who also spoke at the Oldways Supermarket Dietitian Symposium, feels that the services provided by The Little Clinic are timely, relevant, and evidence-based. "The introduction of a retail nutrition program with a clinical mindset comes at an appropriate time when consumers want to make sense of nutrition and translate diet recommendations to simple food choices. The scope of our services is relevant as seen in our expanded offerings, which address diverse dietary interests and restrictions, various forms of nutrition education, and the team's heightened product knowledge for individualized patient concerns. Our leadership supports our continuing education, and we always deliver nutrition education rooted in science," Hembree adds.
Because the in-store dietitian program at The Little Clinic is new, the dietitians have been doing much work to get the word out to potential clients, according to Kanner. She reports, "Within the Kroger stores where the clinics are located, we have a really amazing opportunity to market our services to shoppers and clinic patients who could benefit from meeting with an RDN. A patient can self-refer if they wish. Our nurse practitioners and pharmacists also can refer patients our way. In addition, we've been working toward building good relationships with nearby physician offices to generate referrals."
Success in the Aisles
So, just how successful is the dietitian program at The Little Clinic? Myers says that the dietitian team measures success in many ways, including the following:
• patient outcomes over time;
• patient engagement in dietitian programs;
• changes in buying patterns of products promoted through dietitian tours and cooking demonstrations;
• impact on store satisfaction scores related to engagement with customers; and
• long-term impact on customer loyalty.
While Myers can't share numbers, she says, "I can tell you that as people and physicians become more aware of our services, we are seeing more patients for nutrition programs and services."
Hembree stresses that this program was built from the ground up in January 2016, and with that, the dietitians have found power in relationships. "Whether that be forming a strong rapport with store associates, taking part in select influential meetings and events with leadership in our respective divisions, illuminating the dietitian's unique expertise with other community and store health care professionals, such as physicians, pharmacists, and nurse practitioners, or nurturing our connections with customers, both potential or current, these ties have helped move the program forward," Hembree says. She adds that in particular, establishing a mutually beneficial partnership with store managers and comanagers, as well as chefs in several situations, has resulted in improved respect, collaboration, and even customer satisfaction survey data.
Kanner says it all boils down to the interactions she's had with patients, which she finds immensely satisfying. "This is the perfect environment to teach people about food. It's really cool that a client can show me the exact product they currently buy, and together we can review the label and compare and contrast with other options on the shelf," Kanner says, noting that this position has forced her to grow professionally and develop a stronger business acumen, too. Despite the fact Kroger is such a large company, Kanner has been encouraged to view her role with a "small business" mindset, and to take ownership of her activities to build her own practice within The Little Clinic. "To my patients, I'm just Kate the neighborhood dietitian, conveniently located inside their local grocery store, and I can offer a nutrition counseling experience they can't get anywhere else."
— Sharon Palmer, RDN, writer, nutrition editor of Today's Dietitian, and author of Plant-Powered for Life and The Plant-Powered Blog, is a strong supporter of dietitians in the supermarket setting and regularly attends the Oldways Supermarket Dietitian Symposium.