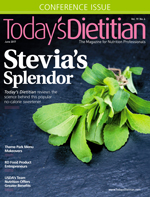 June 2017 Issue
Theme Park Menu Makeovers
By Lindsey Getz
Today's Dietitian
Vol. 19, No. 6, P. 22
Your clients' next vacation to various theme parks across the country can be filled with healthful food choices as well as fun and adventure for the entire family.
As we head full swing into summer, now is the time when your clients are taking trips with their families to theme parks across the country. While theme park fare hasn't been known for its healthful ingredients in the past, that has begun to change. These days, many theme parks are reevaluating their menus and offering more healthful choices so there's something for everyone to enjoy. Some of the menu changes that have occurred include more allergy-friendly and special dietary options as well.
For Disney, it's all about "managing to the YES," says Cheryl Dolven, MS, RDN, manager of health and wellness for Disney Parks & Resorts worldwide. It's that idea that they don't want to make people feel left out just because they have food restrictions or desire more healthful lifestyle choices. As a result, Dolven says there's a strong effort to have "something for everyone."
This also includes guests with food allergies. Domestically, Disney serves about 700,000 meals per year to people with food allergies and those with other special dietary needs. Most of Disney's restaurants have allergy-friendly menus that address many of the major food allergies and requirements. Guests who have special food needs always have the opportunity to consult with a chef or special diet trained cast member who can discuss their dietary requirements and help them find foods that meet their needs. Of course, guests also can call ahead and speak with the special dining team if they have questions before their visit.
While a trip to Disney—whether it be Disney World in Orlando, Florida, or Disneyland in Anaheim, California—is all about having fun in a land of make-believe, Dolven says promoting nutritious foods is one of the pillars of the Walt Disney Company's commitment to healthful living. And with many healthful-but-delicious options on Disney's menus, it's possible for guests to have fun while still eating healthfully.
One of the ways Disney promotes healthful foods in its parks is through its Mickey Check meal program that includes foods that meet Disney's nutrition guidelines, which place limits on calories, saturated fat, sodium, and sugar. An example is the Mickey-shaped Turkey Meatloaf served with broccoli florets and carrot ketchup at the Be Our Guest Restaurant in Fantasyland. At Cinderella's Royal Table, a character meal in Magic Kingdom Park, the Mickey Check meal for breakfast is a kid's cheese frittata served with a yogurt parfait. Over at Hollywood Studios, a Mickey Check meal includes Goofy's Salmon at the 50's Prime Time Café or the Whole-Grain Penne Pasta served with Baby Green Beans at The Hollywood Brown Derby. Or in Epcot, kids can meet with some of their favorite Disney princesses at the Akershus Royal Banquet Hall while dining on Grilled Chicken Breast with Steamed Rice and Seasonal Vegetables or the Junior Beef Grilled Beef Medallion with Steamed Rice and Seasonal Vegetables from the Mickey Check meal list.
Kids meals within the Mickey Check program also contain healthful options that may include default items such as carrot sticks or a side of grapes. The default beverage is low-fat milk or water. While kids always have the option to substitute for a less healthful side such as French fries, Dolven says that research has shown that more than six out of 10 meals were served with the default healthful option rather than the more unhealthful substitute.
Dolven says Disney also has a policy in place stipulating that every restaurant must have at least one vegetarian option available. At the Columbia Harbour House in Disney World's Magic Kingdom, the Lighthouse Sandwich, which features hummus, tomato, and broccoli slaw on toasted multigrain bread, is served. At Disney's Beach Club Resort, Beaches & Cream Soda Shop offers a Vegetarian Falafel that's served on flatbread with black olive hummus, cucumbers, tomatoes, and lettuce and topped with a soy tzatziki-style sauce.
The idea is that food should be healthful but also taste good, too. After all, families are on vacation and they want to enjoy themselves. Dolven says that with so many delicious-but-nutritious options, Disney visitors don't have to skimp on taste while visiting Disney World or Disneyland. Still, she says that guests may make a point to splurge on some foods, knowing they can choose something more healthful at their next meal.
"We do know that when people come here they want to indulge a little," Dolven says. "They might try that delicious fried entrée but choose a healthier side like steamed broccoli. Or if they indulged for breakfast, they might have a lighter lunch. We do find that a lot of our guests find a balance when on vacation—they still give in to some splurges but they know they have healthful options to fall back on."
Following Suit
Disney tends to be a leader in theme park innovation, and it's been no different when it comes to offering more healthful foods. In fact, Disney launched nutrition guidelines more than a decade ago when healthful eating wasn't on the radar at many theme parks. But since then, others have followed suit and have revamped their menus.
Hersheypark, a family theme park located in Hershey, Pennsylvania, about 15 miles east of Harrisburg, has made a big push toward developing more healthful menu items in recent years. Rob Gordon, Hersheypark's assistant food and beverage director, says he and his staff take much pride in offering healthful fare that also tastes good. As a result, he says many people purchase it, even if they weren't looking for healthful options in the first place.
"We always think about meeting menu item needs with a product that won't be bland and boring but will bring lots of good flavor and taste and ultimately be a good seller for everyone," Gordon says. "We challenge ourselves to come up with dishes that will meet a need but also be interesting for all of our guests to try."
That challenge is how they recently developed a quinoa rice noodle bowl that includes fresh stir-fry vegetables and a choice of tofu, chicken, or beef. Another healthful, tasty option that's popular at Hersheypark is the black bean burger.
Like Dolven, Gordon says he feels that a theme park visit should be focused on balance.
"If you splurged on some chocolate while here in Hershey, you can still make a healthful choice for your meal and walk away feeling good about your day," Gordon says. "I think most people expect to indulge a little during a vacation."
At Great Wolf Lodge, a chain of 13 indoor waterparks across the country, a marked effort has been made to include more nutritious foods on the menu. Chris Hammond, CFBE, corporate director of food and beverage, says that when he took on his role about four years ago, one of his key initiatives was to add more healthful alternatives to the menus at all 13 Great Wolf locations.
Under his leadership, Great Wolf started the process of making some exciting changes—going down the menu list food item by food item and seeking out wholesome ingredients devoid of additives and artificial preservatives. Even though some of the less nutritious choices, such as burgers, remained, Hammond says he wanted to know where food ingredients were coming from so he could ensure "cleaner" choices. Clean eating isn't the only food trend guests are following these days, but it's something in which Great Wolf feels good about participating.
"We changed from a frozen burger patty, of which we really didn't know the origins, to a fresh patty made in New York," Hammond says. "And we started making a lot of our own pizza dough instead of purchasing frozen dough. We basically went through all of our menus and cleaned up the labels along the way."
Hammond says that many of the changes meant going from something that felt like "carnival food" to choices that were minimally processed with few additives and preservatives. The theme park now serves free-range chicken, and Hammond says he has found a three-ingredient hot dog without all the preservatives. Plus, he's added several fresh salads and fruits to the menu.
"Guests can still indulge, but they can feel better about doing it," Hammond adds. "I think it's all about choices. People want to know that they have options—and they do. They can always substitute the fries for a side salad for no extra cost. We don't want people to feel like they have to pay more to be healthy."
That's the same stance Hersheypark has taken, Gordon adds. While it costs them more to offer gluten-free hamburger buns to guests who have celiac disease or nonceliac wheat sensitivities, Gordon says they don't charge guests more if that's what they choose. "That just feels like the right thing to do," Gordon says. "We don't think our guests should have to pay more for a gluten-free choice."
Plant-Based Changes
For some theme parks, the commitment to offering more healthful fare also involves an environmental component. SeaWorld, which has locations in San Antonio, San Diego, and Orlando, Florida, has partnered with food suppliers that deliver products that meet or exceed sustainable, healthful, and humane food standards. SeaWorld's recent partnership with the Humane Society of the United States (HSUS) also has provided an opportunity to work with its chefs on plant-based cooking techniques.
Ken Botts, food and nutrition manager for HSUS, says that along with Chef Wanda White, a chef and instructor for HSUS, he has been working with the chefs across all of SeaWorld's parks to help develop plant-based menus for their dining concepts. He says it was more than just an "advisory role." He was there in the kitchen working alongside the culinary teams to truly bring about change. And Botts says it's not "veggie dogs and burgers" like some might assume, but that the parks are truly "celebrating great food in a big way."
Siobhan Wright, corporate director of culinary operations for SeaWorld Parks & Entertainment, says that a popular example is the Chickpea Burger served on a plant-based focaccia potato bun (baked fresh daily in the bakery), which is now being served at SeaWorld's San Diego location. Wright says SeaWorld also offers plant-based side dishes such as BBQ cauliflower and a guacamole and hummus chip trio.
"Plant-based foods with vegetables at the core of the recipe allows us to offer healthful alternatives to energy-dense foods with higher calories, providing a wide variety of options for our guests to choose from and make the right choices for their family," Wright adds.
At Busch Gardens, which has locations in Williamsburg, Virginia, and Tampa, Florida, and is owned by SeaWorld Parks & Entertainment, the partnership with HSUS has had an impact on the introduction of many plant-based foods served. Chef Justin Watson of Busch Gardens' Williamsburg location says that with the large volume of people they serve they can't afford to keep items on the menu that aren't selling. That's why it's important that these healthful changes also taste delicious—and they do. As an example, Watson cites their popular Mediterranean Salad that's topped with a variety of vegetables and fruit and that changes with the season.
In their new restaurant, Marco Polo's Marketplace, there are "action stations" where guests can watch their food being prepared. There's a hearthstone oven where fresh flatbreads are made and rotisserie meat is roasted for those wanting a meat option. Watson says it's all part of a movement toward more fresh, prepared-for-you foods, which, in general, is a popular trend.
More Change on the Horizon
Looking ahead, Wright says SeaWorld Parks & Entertainment will continue to increase the number of plant-based meals and other healthful options they serve to guests and continue to source foods that are sustainable and from suppliers that use humane practices.
The other theme parks Today's Dietitian spoke with all expressed that they're continuously looking at their menus and finding ways they can make even more healthful changes. Gordon says Hersheypark is "always paying attention to food trends" and constantly thinking about new ideas. Though this year's season is in full swing, they're already thinking about next season.
In terms of those who are adding more plant-based options, Botts says these changes are an excellent response to increasing demand from theme park goers who expect these choices to be available. He says this is largely because more people are hearing the message that animal-based food choices are responsible for chronic preventable diseases like heart disease, cancer, and obesity. As more people commit to a plant-based diet, Botts says it's important that theme parks take note. As more theme parks make changes, he says there's a role for dietitians to be involved in the future of theme park menu development.
"Dietitians are playing a critical role in bringing healthier plant-based menus to the table," Botts says. "Most big theme parks and institutions have RDNs on their team. They're a critical part of the menu development process and have the power to make change. With great power comes great responsibility, and that responsibility is to put healthful food on the plate that tastes great while also educating guests on why this is the better option."
— Lindsey Getz is a freelance writer based in Royersford, Pennsylvania.