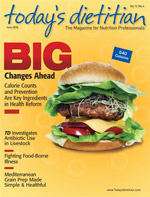 June 2010 Issue
Eco-Friendly Fast Food — What It Is and How It Stacks Up Against Its Mainstream Counterpart
By Mary Franz, MS, RD, LD  
Today's Dietitian
Vol. 12 No. 6 P. 12      
One of the hottest trends in the sustainable food movement is "green" fast food, or quick, tasty, and inexpensive food produced in an eco-friendly way. Although it may seem like a contradiction in terms, green fast food is providing what more consumers are demanding: appealing and economical fare that targets a healthy body and environment.
To some, the notion of green fast food may conjure up images of tofu burgers and salads piled high with sprouts. However, menu items may be surprisingly similar to the familiar cheeseburgers and fries that conventional fast-food eateries serve. So what exactly is green fast food and how does it differ from its mainstream counterpart?
Restaurant Ratings
According to GreenBiz.com, a media company that tracks green business trends, green fast food can be defined by a company's environmental footprint, ethical workplace practices, commitment to animal welfare and product safety, and responsible marketing to children. Green fast-food eateries may be involved in one, several, or all of these areas.
Consumers interested in going green can check a fast-food establishment's green rating using two resources: Greenopia, a clearinghouse that rates eco-friendly businesses; and the Green Restaurant Association (GRA), a national nonprofit organization that oversees green certification for all types of environmentally conscious restaurants—from the corner takeout to elegant five-star dining rooms.
Greenopia awards a "4-green leaf" seal of approval to fast-food restaurants that meet 90% or more of the criteria in the areas of sustainability reports, green building design, recycling, and green supply chain and stock.
To date, Greenopia has reviewed about two dozen U.S. fast-food franchises and bestowed a 4-green leaf rating on several. EVOS, a southwestern chain, boasts hormone- and antibiotic-free burgers, baked French fries called airfries, and low-fat organic milk shakes. At Le Pain Quotidien, diners sit at communal tables and enjoy bakery and breakfast items prepared entirely from organic ingredients. A third, Pizza Fusion, offers vegan and organic fare and gluten- and lactose-free menu items. The Washington-based chain Burgerville offers yogurt smoothies and kid-friendly meals (complete with interactive toys) and wins a 3-green leaf rating from Greenopia. The traditional fast-food mainstay McDonald's has been awarded a 1-green leaf rating for its efforts.
How are Greenopia's green leaf ratings calculated? Doug Mazeffa, Greenopia's research director, notes that differences in scores in each assessment category determine a restaurant's final rating. "The criteria and weights are the same for all the fast-food restaurants, but the scores vary significantly," he explains. "For example, McDonald's may get 15/30 in building design and get the icon (because it still may be in the top 25% for all chains in terms of score), but Pizza Fusion may get a 30/30 in building design and get the icon, too. The icons are merely to visually show people where the chain excels/does not excel, but the equations we use behind them are relatively complex."
Consumers can also look for fast-food restaurants that have been certified by the GRA. To qualify for GRA certification, a restaurant must accumulate a total of 100 points in the following areas:
• water efficiency;
• waste reduction and recycling;
• sustainable furnishings and building materials;
• sustainable food;
• energy;
• disposables; and
• chemical and pollution reduction.
GRA's point rankings for sustainable food range from 5 for the use of cage-free eggs and antibiotic-free meat and dairy products, 20 to 40 for locally produced food, 40 for certified organic foods, and 45 for a vegan menu. In addition, restaurants receive points if they offer smaller portions, donate to food banks, do not sell bottled water, and use ocean-friendly seafood approved by the Blue Ocean Institute or the Monterey Bay Aquarium, advocacy groups that monitor seafood sustainability.
Since its inception in 1990, the GRA has certified dozens of green fast-food restaurants throughout the United States, including large franchises such as Chick-N-Grill and Boloco, as well as many small owner-operated fast-food restaurants such as GustOrganics in New York City. A GRA-certified restaurant can be identified by the GRA seal displayed on the restaurant's premises; a list of certified restaurants is also available on the GRA Web site (http://dinegreen.com).
GRA-cited benefits to green certification include increased customer loyalty, cost cutting, improved employee morale and productivity, and access to a variety of fresh and nutritionally sound food choices.
Nutritionally Speaking…
How does green fast food stack up against its more mainstream counterpart when it comes to nutrition? The accompanying chart shows that a Burgerville cheeseburger contains about one half of the saturated fat of a McDonald's cheeseburger, while a medium order of Burgerville French Fries contains about 25% fewer calories, total and saturated fat, and carbohydrate than the McDonald's version after adjusting for the difference in portion size.
To keep its nutritional edge honed, Burgerville utilizes the services of Debe Nagy-Nero, MS, RD, a dietitian with more than 30 years of consulting experience in the foodservice industry. Nagy-Nero describes her diverse responsibilities and challenges as an RD at Burgerville: "I oversee cleanliness and food-quality standards, work with menu development and marketing, and maintain the nutritional and ingredient information of all Burgerville menu items. I also perform audits and research industry compliance with the new menu-labeling regulations, especially for restaurant chains that do not have RDs on staff. Monitoring food safety is a big challenge; the prevention of food-borne illness has become a priority in the restaurant industry and is changing the face of the restaurant business."
Bright Opportunity for RDs
Nutrition concerns aside, many consumers choose fast food for financial reasons. In a recession-battered economy, saving money is a prime concern. Although prices vary widely according to the location and the type of food, green fast food is generally more expensive than the mainstream. A meal of a burger, fries, and a drink may run double or triple the cost of a comparable regular fast-food meal. Despite higher costs, the GRA is confident that many consumers will make the switch to green fast food, citing as proof a 20% annual growth in the $11 billion organic food industry.
This growth, coupled with heightened consumer awareness of both nutrition and environmental concerns, promises new career opportunities for RDs in the green fast-food industry.
Nagy-Nero notes that the employment picture is particularly bright for dietitians who understand the importance of the financial bottom line. "Employment prospects within the restaurant industry as a whole are growing with the passage of the healthcare reform bill, which has a federal menu-labeling mandate for chains with more than 20 units," she says. "Since all restaurants are running on low profit margins, RDs must sell themselves to these more 'progressive' chains and show a restaurateur how hiring an RD will yield a good return on investment."
— Mary Franz, MS, RD, LD, is a research dietitian at Harvard University and freelance writer from Boston.
Menu Item

Restaurant

Weight (grams)

Calories

Total Fat

Sat Fat

Trans Fat

Chol

Carb

Cheeseburger

McDonald's

114

300

12

6

0.5

40

33

Burgerville

116

300

13

2.5

0

40

29

French Fries (Medium)

McDonald's

117

380

19

2.5

0

0

48

Burgerville

142

360

15

1.5

0

0

52
— Sources: Burgerville's and McDonald's Web-based nutrition facts