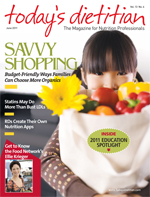 June 2011 Issue
Secrets of Success With Ceviche — It All Starts With Fresh Fish
By Bryan Roof, RD, LDN
Today's Dietitian
Vol. 13 No. 6 P. 64
I usually launch like gangbusters into the summer grilling season. As a result, I burn out quicker than bad charcoal. But I live in New England, where beautiful days are tragically limited, so to keep in the spirit of refreshingly simple food that should be eaten outdoors while sipping a mojito, I turn to ceviche.
Ceviche is a combination of impeccably fresh seafood tossed with fruit juice—occasionally vinegar—herbs, and aromatics and offers delicate texture and bright flavor that makes the most of the delectably sweet flavor of the seafood. The acidic fruit juice denatures the proteins within the seafood, essentially cooking it. It's a staple of South and Central American cuisines and is also prevalent in Polynesia and parts of Asia. Ceviche is the "meat and two veg," so to speak, of the nearly raw and a creative way to shuck your sashimi-phobic friends from their shell.
The key to great ceviche is absolute freshness. If you don't have a fanatical fishmonger at your disposal, your next best bet is a grocery store with a dedicated fish counter. Either way, it's important to tell them you intend to make ceviche with your purchase. My fishmonger guides me on all my purchases and, as a result, I almost never walk into the fish market set on buying a particular fish.
Fresh seafood should smell clean, almost devoid of scent, and never "fishy"; its flesh should be firm and rebound when poked with a finger; and it should look shiny, healthy, and, well, fresh. Seafood should be displayed on ice, with a thin barrier between the two. Don't buy fish that looks dehydrated or shriveled, with its layers of flesh beginning to separate. And if you're buying a whole fish, the gills should be fully intact with a bright red color.
While recipes for ceviche abound, Polynesian poisson cru incorporates the undeniably successful combination of coconut milk and lime juice for a uniquely rich flavor that still allows the fish—tuna in this case—to take center stage. To maintain its delicate texture, the fish is tossed only briefly in the lime juice before the remaining ingredients are added, a practice that bears repeating with all ceviche. Extended hour-long baths in citrus, like many recipes call for, overcook the seafood and leave it rubbery. While poisson cru often includes cucumbers, tomatoes, and carrots, I've taken a few liberties that pair equally well, and you should feel free to do the same. And don't forget your mojito.
— Bryan Roof, RD, LDN, is a chef, dietitian, and food writer living in Boston.
Poisson Cru
Serves 4
Ingredients
1 lb fresh tuna, cut into 1/2-inch dice (see note)
2 T fresh lime juice
1/2 cup coconut milk
1/2 cup finely diced mango
1/4 cup fresh mint leaves, coarsely chopped
1/4 cup fresh cilantro leaves, coarsely chopped
1 small shallot, sliced into thin rings
1 red jalapeño, seeded and sliced thin (see note)
11/2 tsp kosher salt
Black pepper
Directions
Combine tuna and lime juice in medium bowl and toss to thoroughly combine. Add remaining ingredients, toss to thoroughly combine, and serve.
Nutrient Analysis per serving
Calories: 250
Total fat: 12 g
Sat fat: 7 g
Trans fat: 0 g
Cholesterol: 45 mg
Sodium: 770 mg
Total carbohydrate: 7 g
Dietary fiber: 1 g
Protein: 27 g
Note: While tuna is used here, most any fresh seafood, such as sea bass, snapper, scallops, or shrimp, will work with this recipe. The seeds of the jalapeño—the source of its heat—can be reserved and added to the ceviche if you prefer it with a little spice.