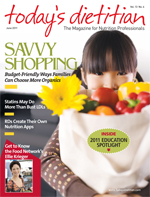 June 2011 Issue
Essential Equipment — Outfitted With the Right Features, Nutrient Analysis Software Can Simplify an RD's Job
By Maura Keller
Today's Dietitian
Vol. 13 No. 6 P. 48
Remember the hands-on, time-consuming, mistake-ridden method of analyzing a patient's food record or diet history by manually calculating nutrient data using a reference guidebook and calculator?
In the "old days," before nutrient analysis software became mainstream, RDs often had trouble precisely tracking their patients' nutritional intake as well as analyzing the nutrient content of foods and recipes. But thanks to technological advancements, today's nutrient analysis software has dramatically changed the accessibility of nutrient information and improved the way in which RDs manage their clients' dietary intake.
Today's Dietitian spoke with dietitians who regularly use nutrient analysis software in their practice to determine its biggest advantages and what features allow users to derive the most benefit.
Software's Positive Impact
Since 1995, Carol Ann Ackerman, RD, LD, a clinical dietitian at St. Mary's Medical Center in Evansville, Ind., has used nutrient analysis software in her work in the outpatient behavioral feeding program. "The software expands the 'products' that we can provide to patients and clients," Ackerman says. "Food intake records and food diaries can be quickly and efficiently analyzed. I cannot imagine doing that by hand using Bowes and Church's food values book like I did in my dietetic internship in 1974."
Ackerman is not alone. RDs everywhere are jumping on the software bandwagon, utilizing this technology in all facets of their practice. Marjorie Nolan, MS, RD, CDN, ACSM-HFS, a national spokesperson for the American Dietetic Association, says dietitians "are using these programs to expand and grow business. RDs can provide patients with immediate feedback regarding nutritional status, and there's little turnover time when doing menu development."
As Joanne Larsen, MS, RD, LD, founder of Dietitian.com, points out, nutrient analysis software has taken the guesswork out of analyzing patients' food records and histories. "Granted, we always have done ballpark estimates with exchanges or the Food Guide Pyramid for nutrient density, but nutrient analysis databases and software to manipulate those figures has resulted in improved nutritional assessments."
According to Debbie Petitpain, MS, RD, LD, a clinical dietitian at the Medical University of South Carolina/Sodexo, the primary advantage of nutrient analysis software is the speed at which nutrition professionals can determine the macro- and micronutrient composition of recipes and meals.
"Most programs are easy to learn [and] generate Nutrition Facts labels, graphs, and summary reports," Petitpain says. "However, the information you get out of a program is only as good as the database the software is drawing from—presumably the USDA database—and the accuracy of the information entered. As the micronutrient information continues to improve, RDs will be able to provide greater details of what constitutes the healthiest diets."
In Petitpain's weight management practice, the greatest advantage of these software programs are the Web- and phone app-based programs for laypersons. Clients can enter daily food records and receive immediate feedback; the programs also provide summary reports for Petitpain.
"While the data will not be as accurate as the type of information generated in a clinic or research center, it provides enough information to take my conversation about energy balance with my client to a whole new level, and it helps to empower my client to make better choices by putting one more tool in their toolbox," Petitpain says.

Key Elements
To provide the most benefit to an RD's practice, nutrient analysis software must have several key components, according to our experts, who consider the following nine elements some of the most important:
1. Good nutrient data: According to Larsen, solid nutrient data are the backbone of nutrient analysis software. "The nutrient database must be updated at least annually because foods enter and leave the marketplace," she says. "The software must use research-based algorithms to manipulate the user/nutrient data. It isn't just about crunching numbers."
 As Larsen explains, government and food manufacturers' data have missing values for some nutrients, so a dietitian using the software could underestimate the intake of a nutrient. "For instance, label data from food manufacturers may only contain two vitamins [A and C] and two minerals [calcium and iron]," she says. "When patients eat a lot of packaged foods that are not available in the USDA database, nutrition analysis software could underestimate nutrient values for all other nutrients—except A, C, calcium, and iron—leading dietitians to recommend changes in food choices or even dietary supplements if only two vitamins' and two minerals' nutrient data are available. Dietitians should ask software companies what nutrients have missing values—not true zero value—before buying nutrition analysis software."
2. Comprehensive energy estimates: When choosing software, RDs should pay attention to the comprehensive energy estimates it provides. "Assessing a person's energy requirements—BMR [basal metabolic rate], RMR [resting metabolic rate]—would depend on the formula used by the software," Larsen says. Does the software use the older Harris-Benedict equation or does it use one of the evidence-based formulas? How is exercise energy expenditure determined?
"The question is, would you base your professional reputation on software that doesn't have a validated nutrient database or doesn't use evidence-based formulas?" Larsen says. "Not me."
3. Easy to use: Nolan searches for software that is intuitive and user friendly. "Often people eat the same sort of foods on a weekly basis. So the ability to save and reuse menu items is very time efficient for the RD," she says. "Also, an ability to create and print an easy-to-follow menu for clients is helpful. I don't want my clients to see all the information that I see with regard to nutrition, as this tends to be overwhelming and confusing."
4. Extensive database: RDs want software that offers a nutrient database that's large enough so they don't have to enter new foods, including unique cultural food items.
"It is extremely important to me to have a comprehensive nutrition database, particularly one that incorporates the brand name and restaurant foods that my clients may purchase," says Amy Jones, MS, RD, LD, chief clinical dietitian and celiac support group facilitator at Mary Rutan Hospital in Bellefontaine, Ohio. "The software should include a very comprehensive nutrition database—particularly brand-name and restaurant foods—with a focus on common food allergies and intolerances."
5. Customization: Customization is a key consideration when selecting nutritional software. For example, the software that Ackerman uses includes personal food items (PFIs). "It needs to be fast and easy to add foods and their nutrient content," Ackerman says. "If I have a child who drinks vanilla Vital Jr [semielemental] formula, I quickly can add this product to the PFI file and then pull up this formula to add to a food diary analysis."
6. Recipe integration: Software must have the ability to calculate a range of nutrients for each recipe serving as well as detailed information on the nutrient content of each recipe ingredient. Ackerman appreciates the ability to create recipes and generate detailed information, including grams per serving and calories per serving based on the recipe ingredients.
7. Correct portion sizes: The right software may help mitigate the trend toward overconsumption. "I like simple-to-use recipe analysis that can easily show clients that changing the number of servings or portion control can really help control calories and sodium," Jones says.
8. Reasonably priced: The software should be priced so RDs can afford it for their practice. As Larsen points out, the software package price should include an annual update to the software and nutrient database.
9. High-tech options: Our interviewed RDs also seek software that offers "smart" bar codes so they can scan a food for easier importation. "Nutrient analysis software is a 'go-to' tool [that] practitioners and clients are using regularly," Nolan says. "As an RD, I believe it is important to educate clients on the practical uses of the software and how a professional can interpret the nutritional analysis and provide functional ways to use this info for better health."
— Maura Keller is a Minneapolis-based writer and editor.