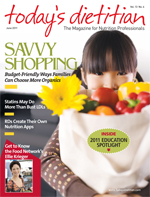 June 2011 Issue
Communicating Nutrition Messages — There's an App for That
By Lindsey Getz
Today's Dietitian
Vol. 13 No. 6 P. 28
By venturing into the world of app creation, RDs are realizing new ways to coach their clients and gain exposure for their practice.
There's no slowing technology. It continues bringing new products and capabilities to the table, making what was once impossible possible.
This wave of innovation has certainly swept over the food and nutrition industry, as RDs are increasingly launching their own websites and blogs, participating in social networking, conducting business from their smartphones, and otherwise taking advantage of all technology has to offer.
Now, the most inventive and determined among them are launching their own nutrition apps. This endeavor may require much time, energy, money, and patience, but RDs who have taken the plunge believe that, in the end, the payoff—greater professional exposure and the ability to help clients reach their goals, for starters—will be worth the effort.
On Track With Technology
Nutrition professionals may be tired of hearing it, but it's time for them to embrace technology. Doing so may seem intimidating, but it can open up a world of opportunities.
"Technology is important for RDs because it's ubiquitous, and we have a lot of very important information to continuously disseminate to large numbers of people," says Catherine Bricker Frederico, MS, RD, LDN, president of Frederico Arts LLC and a professor at Newbury College and Regis College, both in Massachusetts. "Technology is used on every continent, and it is how most people communicate in the 21st century. The ability to create messages with the capability to reach as many people as possible increases our effectiveness. Data from 2007 shows that there were 1.4 billion TVs in the world and 3.4 billion mobile phones—half of the world's population has a cell phone."
"Technology is crucial for dietitians to keep up-to-date, keep on the pulse, and to connect with the public," notes Rebecca Subbiah, RD, LDN, SRD. "Folks love the latest smartphones, iPhones and iPads sell out, and they hang out on Facebook and Twitter. [These sites are] also where they look for and get health information. By being on Twitter, blogging, and having a business Facebook page, you can share great and fun nutrition advice while also making connections."
Frederico and Subbiah are among some of the nutrition technology pioneers who have created their own apps. Lisa V. Bunce, MS, RD, owner of Back to Basics Nutrition Consulting, has also ventured into the world of app creation. The idea for Bunce's app came from a conversation she had with one of her clients.
"I've been in private practice for 20 years, and the biggest issue I've had to deal with is helping people stay compliant with good health behaviors," she says. "I had one particular client who was struggling with this, and he expressed that he wished there was a gadget that could help him do it. The idea was intriguing, and I did an online search but couldn't find anything like that on the market for him. It made me start thinking about the opportunity to create something."
Bunce mentioned the idea to her tech-savvy husband. "I talked about the need for some kind of text messaging device that would remind you 'It's time to take a walk' or '[It's] time to drink some water' or even "[It's] time to eat some fruit.' He liked the idea as well and started pursuing what was involved in creating it. I came up with the name 'Mylil'Coach,' and it stuck."
Now on the market, the Mylil'Coach application comes with a built-in pedometer to help users keep track of their daily, weekly, or monthly steps. It also helps people keep track of how many glasses of water they drink daily, how many pieces of fruit they eat, and other information, with the ultimate goal of helping people achieve a more healthful lifestyle.
After the successful creation and launch of Mylil'Coach, Bunce's husband created Bike101, an app offering cycling information, and HipRehab, which helps patients who have undergone hip replacement get through physical therapy and rehabilitation. Today, Mylil'Coach 2.0 is available.
Subbiah's app is designed to complement her blog, ChowandChatter.com. The Chow and Chatter app features more than 80 globally inspired recipes from Subbiah's blog and works like a searchable cookbook. Users can search by cuisine, dish, and ingredient and then e-mail recipes and read the blog from their phone.
"As a family, we love to travel and have been to many places," says Subbiah, who is also a stay-at-home mom. "This inspires my cooking and will ensure more great recipes are added to the blog as well as to future updates for the app."
Subbiah says her passion for cooking and encouraging others to prepare delicious and nutritious food from around the globe inspired her to create the Chow and Chatter app.
"I am thrilled when folks 'tweet' me that they enjoy it and have made dishes from it," she says. "To me, that's why I did it, even just to help a few. It's also helped to spread the word about my blog and to continue to build a fun community around global recipes."
Fun and Games
Nutrition apps can be entertaining and engaging tools that help people become more interested in adopting healthful eating habits, and dietitians can recommend that their clients use them for motivation to stay on track with a nutritious diet. In fact, Frederico took the idea of combining fun and nutrition even further by creating a game. She says her iPhone app game, Food Focus: Fruits, is a fun way for users to test their "fruit ID skills." It highlights 50 fruits in five levels (10 fruit photos per level) of scored and timed play. After a magnified photo of a fruit appears, players have 10 seconds to correctly identify it. Players must provide correct answers at each level to advance to the next level.
Frederico says the original idea for the game came from watching the television show Jamie Oliver's Food Revolution. Like so many viewers, she was disturbed watching first graders misidentify various types of produce. "I try to keep my teaching tools simple and thought I would start trying to fix that problem [many young and older people's lack of awareness of healthful foods] with a game app," she says.
With the help of a development team, Frederico spent about four months crafting the smartphone game app. "The week after it was accepted into the iTunes app store, it was downloaded in the U.S. and six other countries: Turkey, Thailand, Mexico, Australia, Hong Kong, and the U.K.," she says. "It started out as a game for kids, but I have found that the young-at-heart enjoy it as well."
Games can certainly be a creative way for clients to start embracing better nutrition, and Frederico hopes that playing her game will inspire users to adopt more fruitful diets. "I hope it reminds people of the large variety of fruits available to include in their daily diets to help meet dietary guidelines for good health," she says. "Food Focus makes a good clinical tool for RDs to recommend to clients who need to include more fruit in their meal plans. And it's also just a fun game."
The Realities of App Creation
Creating an app can be an enjoyable experience, but it also demands a lot of hard work. Frederico points out that with more than 350,000 apps in the iTunes store, the competition is exceedingly stiff.
"Apple posts their favorite apps on the first page of the app store, but most developers just hope their app will get noticed in some way and go viral," she says. (According to Merriam-Webster.com, viral means "quickly and widely spread or popularized especially by person-to-person electronic communication.")
The work doesn't end once the app is created. "I am just at the stage of developing a marketing strategy since mine has not gone viral yet," adds Frederico. "And I am also conducting a survey to determine its effect on players' fruit consumption."
In addition to being time consuming, creating an app can be costly. Subbiah says she paid $3,000 to a developer to help create her app, and she knows it may take a while before she breaks even. She tries to remain realistic, but she hopes the app will be profitable.
Still, Subbiah believes there's payoff in other nonmonetary areas. For starters, having a complementary app to her blog gives her more visibility and standing in the industry. "Like a movie or an album, I feel it gives you credibility and makes your brand stronger," she says.
Bunce has also spent a great deal of money—about $10,000—developing Mylil'Coach. Even though she found a developer who was able to guarantee acceptance through Apple, she agrees with Frederico that the competition is quite fierce. Two years ago, when she was creating Mylil'Coach, there weren't many apps on the market. But since then, the environment has changed drastically. As a result, Bunce is realistic about making a profit.
"Clearly, it is not a get-rich-quick situation," she says. "Most apps are anywhere from $0.99 to $7.99, depending on the complexity. The average cost weighs in around $1.99, so you need to have many downloads to recoup your initial investment."
Like Subbiah, Bunce believes the benefits of launching an app extend beyond the potential for profit. "[Creating an app] is similar to writing a book in that it helps add to your authority on a particular subject and can lead to other opportunities," she says. "Another benefit of an app is that you can become a global market overnight. I have people who have downloaded Mylil'Coach in Saudi Arabia, Japan, and Australia. Marketing becomes essential. The more people who know about it, the easier it can become viral."
Getting Started
For RDs who are interested in creating their own apps, these technology pioneers say their best advice is to do a lot of research and consider a variety of developers before selecting one for your project. "Make sure you select a good developer that you trust," advises Subbiah. "And make sure you retain full ownership of the app."
Frederico recommends the book Reality Is Broken by Jane McGonigal to dietitians who are interested in developing games. Frederico's website (www.foodfocusarcade.com) provides links to game organizations. Since the field of app and game development can be expensive, she recommends starting with a simple concept. "And if possible, I recommend working with students to build a programming and graphic art team," she adds. "The downside is that you can only create apps and games as complex as the students' skill set. Patience is the key."
A Little Help From Your Friends
Frederico hopes other dietitians will support RDs like herself who have already ventured into the world of apps. "If dietitians want to be successful in this field, it is imperative that they support each other in spirit and by recommending and downloading apps," she says. "Most will have a small charge, but this is necessary since the costs are very high. If we all support the RDs who have managed to find a way into this arena, they will become successful and then be able to bring others into the fold. Our profession needs to be a major player in this complex field."
— Lindsey Getz is a freelance writer based in Royersford, Pa.