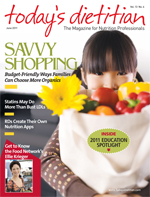 June 2011 Issue
Walking a Mile in Rick Davis' Shoes
By David Yeager
Today's Dietitian
Vol. 13 No. 6 P. 10
Describing Rick Davis as persistent is an understatement. In December 2000, Davis' right side and esophageal muscles were paralyzed by a stroke. At first, his rehab went slowly. Davis had to use a walker to get around, and he had difficulty talking. But every day he tried to do just a little more than he had done the day before. Before long, the walker was gone. He was soon able to walk down the hospital's hallway. Then his driveway. Then down the block. Each day, he walked a little farther than the last.
Davis applied the same principle of slow, steady progress to weight lifting. Six months after his stroke, he could lift his arm over his head. His walking regimen was several blocks long. The medical wisdom at the time was that after six months, a patient had regained as much physical ability as he or she ever would. Davis ignored that and kept on going.
"The litmus test was to be able to walk across the Grand Canyon, from the South Rim to the North Rim, which I had been able to do before my stroke," says Davis. "And, for me, it meant that I had regained the same level of strength and endurance that I had had before."
The first time he tried it, one year after his stroke, he went 2 miles. The next year, he made it halfway. The year after that, he got halfway and then climbed to the next trail leading to the North Rim. Four years after his stroke, Davis hiked 23.4 miles from the South Rim of the Grand Canyon to the North Rim.
As impressive as that accomplishment is, what makes it even more noteworthy is that his only means of nourishment and hydration was a feeding tube.
An Unexpected Complication
Initially, Davis hadn't worried about his inability to swallow. The doctors had told him it wasn't uncommon and would probably return within three to six months. But after six months, still unable to swallow, he decided he had to do something.
Davis saw otolaryngologists and gastroenterologists and had his upper esophageal sphincter (UES) stretched, but it kept closing. The director of the Swallow Physiology Laboratory at Northwestern University gave him several exercises to try, which he did regularly to no avail. He even tried BOTOX. An otolaryngologist at Columbia University injected his UES several times with increasingly stronger doses, but it kept closing.
When he couldn't find a muscular solution, Davis saw a highly regarded neurologist at Baylor University whose practice included six neurologists and three otolaryngologists. There, he underwent an extensive medical review. The doctors examined not only his UES but also all of the muscles leading to his stomach. The prognosis was that even if Davis had surgery to open the UES, the rest of the muscles in his esophagus were too weak to adequately perform peristalsis.
"The last thing he said to me was, 'I think, if I were you, I would get used to using a feeding tube,'" says Davis. "And so that was when I finally accepted that there was not going to be a solution to my swallowing problem, and I resolved that I would try and become the best tube feeder I could."
Around the time he realized he would need nutrition therapy for the rest of his life, Davis was referred by a dietitian to the Oley Foundation, a nonprofit organization that provides information and social support to home-based parenteral and enteral nutrition patients. Davis credits the foundation with teaching him how to manage his therapy more effectively, and he frequently shares his experiences with other nutrition therapy patients. Many still use the 6- to 8-inch Cook catheters the hospital gave them on discharge, which can leak and get tangled in bedclothes. Davis, who uses a low-profile catheter, tells other patients they have additional options.
He was so impressed with the foundation's work that he began volunteering and has been its president for the past five years. He says finding the Oley Foundation was one of the keys to his success. "It was the beginning of my comeback," says Davis.
Getting on With It
Davis applied the same slow, gradual approach to his feeding tube therapy that he used for his physical therapy. When he first got home from the hospital, he followed the instructions he'd been given, sitting beside an IV pole for 2 1/2 hours at a time, four times per day. He soon decided there must be a better way to do it.
Davis slowly learned to increase his flow of formula, decreasing the amount of time it took to feed himself. There was some trial and error involved because the calorie-rich formula can cause nausea if it's ingested too quickly. When he had digestion issues, Davis would slow it down until his body adjusted and then increase the flow again.
In about seven months, he was able to do feeds in a short amount of time. It currently takes about two minutes in the morning and two minutes at night, not including mixing time and infusing medications, for Davis to get all of his daily caloric requirements.
"It occurred to me that 10 hours a day didn't leave me much time for anything else," he says. "So I found that I have a lot more time to do the things that I want to do. I can manage my therapy so that it does not interfere with my life."
The stroke left Davis without the ability to feel hunger or thirst. For this reason, he must be constantly aware of his hydration level. Davis counts this as his biggest challenge. In addition to hydrating when he feeds himself, he tries to take water at least three more times during the day, 10 to 15 oz each time. When he exercises, he needs to be even more vigilant. Davis estimates that he consumed 3 gallons of water on his Grand Canyon hike.
Davis requires several medications to help manage his condition. Because he can't swallow, he has to spit his saliva into a cup. He says the drug glycopyrrolate, which reduces the flow of saliva, has helped him immensely, though many doctors aren't familiar with it. The medication allows him to keep his mouth moist while needing to spit only once or twice per hour. In addition, Davis takes medication to control his stroke symptoms and omeprazole to ease the effects of his formula on his stomach. And because he was physically and mentally depressed after his stroke, he takes Zoloft to help maintain his energy.
"I continue to take the antidepressant because my wife says it's the best thing that ever happened to her," says Davis. "I'm very easy to live with."
A less obvious challenge for Davis is the social consequence of his stroke. In nearly every culture, food is a central component of most social functions. When Davis could no longer eat, he had difficulty dealing with it, which is not uncommon among nutrition therapy patients; Davis knows people who avoid social functions because of their inability to eat.
As he struggled to come to terms with his feelings, Davis once again took the slow and steady approach. First, he would join his family for dinner. Then he went with them to fast-food restaurants. When he was ready, he graduated to diners.
Now, Davis is comfortable in any social situation involving food. In fact, he usually has to reassure people who don't know about his condition that he doesn't mind if they eat in front of him. And, he points out, while many people he knows are overweight, he maintains a BMI of 21.5.
"I was very angry and very frustrated at first when I would see other people eating and I could not," says Davis. "[But] if I let that bother me, I wouldn't have a social life, so I gradually learned to accept the fact that most people eat and, even though I couldn't, if I was going to have a social life, I needed to get on with it."
— David Yeager is a freelance writer and editor based in Royersford, Pa.
Get to Know the Oley Foundation
The Oley Foundation is a nonprofit organization that provides information and support to home-based parenteral and enteral nutrition patients. The organization hosts conferences; provides voluminous educational resources covering topics such as diet and nutrition, new products, and tube feeding tips; and hosts forums on its website. It also allows nutrition therapy patients to meet people who are facing similar challenges. But, although it was founded in 1983, it is still relatively unknown.
"The Oley Foundation is a wonderful resource that many people don't know about," says stroke survivor and nutrition therapy patient Rick Davis, who is currently the foundation's president.
Davis, like most patients, didn't know much about nutrition therapy when he was first put on it. Over the past decade, the Oley Foundation has provided him with the resources to manage his therapy more efficiently and, in his opinion, achieve a better quality of life. He often shares his experience with other nutrition therapy patients, telling them he learned most of what he knows from the foundation. His goal is to continue spreading the word.
"[It] makes me sad to realize that there are probably tens of thousands of people out there who are like I was for the first odd-year, and I didn't know about the Oley Foundation until I was referred to them by a dietitian," says Davis. "I do whatever I can to help the foundation because they helped me so much, and I see them helping other enteral [patients] all the time. I just wish that there were more dietitians who would refer their patients to the Oley Foundation, as quickly as possible, because it's such a great resource."
For more information, visit www.oley.org.
— DY