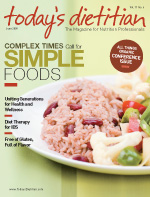 June 2009 Issue
Flour Power — Make Way for White Whole Wheat
By Chef Kyle Shadix, MS, RD
Today's Dietitian
Vol. 11 No. 6 P. 74
I don't know about you, but the terms "whole wheat," "whole grain," "multigrain," and "wheat flour" have me—and surely many consumers—perplexed. Now "white wheat" has emerged to further muddy the waters, so I did some research to clear up the confusion.
If a product's ingredient list contains the words whole wheat, then it is whole grain. But if it contains only wheat flour, durum wheat, or organic flour, then it is not necessarily whole grain. The laws allow a product to feature the term multigrain on its label even if it contains several refined grains, so multigrain is not always whole grain.
Advise your clients to check the first ingredient listed on a product label. Although there are exceptions, to indicate whole grain, the term should contain the word whole, such as whole wheat flour.
The new term "white whole wheat" sounds too good to be true. When I heard it, my first assumption was that it was genetically modified. But it is actually made from a naturally occurring albino variety of wheat. I do not recommend substituting 100% of this flour for recipes that call for flour. White whole wheat flour is also made from the entire kernel of wheat, and it has more fiber, vitamins, and minerals than white flour. However, it is more coarse and dense in baked goods, so I suggest combining white whole wheat and white flours. I aim for at least 40% whole wheat in a recipe.
You have probably had Ultragrain White Whole Wheat flour in foodservice but did not know it. Now it will be available for consumers under the brand name Eagle Mills 100% Ultragrain White Whole Wheat flour. Ultragrain has been around for a while in certain products, including Papa John's 100% Whole-Wheat Crust Pizza; Healthy Choice Paninis; Herr's Whole-Grain Pretzel Sticks; Pepperidge Farm Whole Grain Goldfish Crackers; Sara Lee Soft & Smooth 100% Whole Wheat Bread; Sara Lee Hearty & Delicious All-Natural 100% Whole Grain breads; and Sara Lee made-with-whole-grain White Hot Dog Buns, White Hamburger Buns, and English muffins.
It's exciting to see Ultragrain White Whole Wheat flour on the retail market. Now we can prepare whole grain foods with white flour taste and appeal.
— Chef Kyle Shadix, MS, RD, is director of Nutrition + Culinary Consultants, an advertising, marketing, and culinary full-service agency in New York City.
Old-Fashioned Chocolate Chip Cookies
Yield: 60 cookies
Ingredients:
1 1/2 cups all-purpose flour
3/4 cup white whole wheat flour
1 tsp baking soda
1 cup (2 sticks) trans fat-free margarine, room temperature
3/4 cup granulated sugar
3/4 cup packed brown sugar
1 tsp vanilla extract
2 large eggs
2 cups semi-sweet chocolate morsels
Directions:
Preheat oven to 350˚F. Using an electric mixer, beat both sugars and margarine in large bowl until light and fluffy. Beat in eggs and vanilla. Mix flours and baking soda in large bowl. Add dry ingredients to mixture and mix until blended. Stir in half of the chocolate chips.
Drop dough by heaping tablespoonfuls onto heavy, large baking sheets, spacing 2 in. apart. Place a few of the remaining chocolate chips on each cookie. Bake until golden brown, about 12 minutes. Transfer baking sheets to racks; cool 5 minutes. Transfer cookies to racks; cool completely.
Nutrition Analysis (per cookie):
Calories: 95
Protein: 1 g
Carbs: 12 g
Total Fat: 5 g
Sat Fat: 3 g
Trans Fat: 0 g
Cholesterol: 15 mg
Sodium: 86 mg
Fiber: 1 g