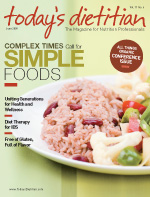 June 2009 Issue
Free of Gluten, Full of Flavor
By Maura Keller
Today's Dietitian
Vol. 11 No. 6 P. 28
In an effort to meet growing demand for gluten-free products and keep competitive, manufacturers are getting creative and delivering more variety, better textures, increased nutritional value, and, most of all, bigger tastes.
When Pamela Giusto-Sorrells established her company, Pamela's Products, in 1988, gluten-free food tasted terrible. "There wasn't much on the market, and what was available was really awful," she recalls. "When you think of 'health foods' from way back when, you think of dry, bland foods. Now pull out the gluten, and you've made them worse. That's what gluten-free foods used to taste like."

Giusto-Sorrells' first mission was to make great-tasting gluten-free foods. "It's been an amazing journey getting from there (1988) to here," she says. "In the last few years, with increases of [celiac disease] diagnosis and awareness, there are many more food options available. But what's made it the most exciting is that the food tastes good."
Pamela's Products is not alone. Thousands of food manufacturers, dietitians, professional chefs, and consumers are embracing gluten-free foods like never before. Thanks to advancements in product offerings, as well as improved taste, texture, and nutritional value, gluten-free foods offer something for everyone.
Where Taste and Texture Meet
Nature's Path Organic Foods has long recognized that taste is what consumers miss most when they make the switch to a gluten-free diet. "Gluten is the secret ingredient that makes baked goods bind and gives food that wonderful, airy, baked good cell structure," says Maria Emmer-Aanes, director of marketing and communications at Nature's Path. "Historically, gluten-free flour alternatives come from rice, pea, corn, tapioca, and potato. Even when finely milled, these flours are very gritty and/or rubbery in texture, making products taste substandard."

But, as Emmer-Aanes explains, the gluten-free product category has exploded over the past three years. "In fact, according to SPINSScan, 52 weeks ending November 29, 2008, the natural/conventional category is growing by a combined 27%," she says. "The increase in consumer demand and the ability for manufacturers to get premium margins from these dietary niche consumers has put new players on the competitive food manufacturing landscape. In this case, consumers have greatly benefited from better-tasting, more nutritious, more affordable, and more available options."
Indeed, with the demand for gluten-free products growing, manufacturers have been stepping up with better-quality products. "Using a variety of grains such as amaranth, millet, kasha, gluten-free oats, teff, bean flours, and nut flours in products provides better flavors and textures," says Marlisa Brown, MS, RD, CDE, CDN, president of Total Wellness Inc, past president of the New York State Dietetic Association, and creator of www.glutenfreeeasy.com. "In addition, the use of some gums like xanthan gum, guar gum, or Expandex has given textures more like what people are looking for."
As a result, the improvement in taste and the availability of gluten-free products has many people trying them, including those not following a gluten-free diet. "The variety and taste has been well received by all those on the diets, and the fact that there are many packaged products that can be easily prepared is a big incentive for those who don't cook," Marlisa Brown says.
Steven Bager, vice president of JK Gourmet, finds that many manufacturers attempt to find a gluten-free equivalent to foods that already exist, thereby using ingredients that are no healthier than those in the original non–gluten-free food (eg, gluten-free cookies or pastries made with hydrogenated or trans fats or empty-calorie starches such as potato flour and rice flour). "We'd like to think that the tide is turning and that more manufacturers are beginning to think like we do," Bager says.
In fact, JK Gourmet has never looked at its products as gluten free. The company uses "whole foods"—heart-healthy nuts, seeds, fruits, and honey—to create baked goods that taste better than the original by not trying to mimic the original.

"We've introduced the gluten-free community to a whole new way of eating, which is not just gluten free but rather 'grain free,'" Bager says. "By eliminating the use of grains (even gluten-free grains) in our baked goods, we've eliminated the problems commonly associated with gluten-free products—that they just don't taste great. We never felt that a potato in any form (starch or flour) was meant to make a cookie or a muffin or a waffle. And cookbooks requiring people to use 16 different ingredients not commonly found in the kitchen simply to make a batch of muffins are doing their readership a grave disservice. Nut flours have been used in European baking for centuries. We use almonds and honey as the basis for all our baked goods. With a combination like that, the results are delicious, nutritious, and healthy."

Product Expansion
From baby food to pizza to cake mixes, the gluten-free food categories are expanding as manufacturers continue to meet the needs of consumers on a gluten-free diet.
Alicia Brown, MS, RD, CSSD, LD, corporate dietitian for United Supermarkets and Market Street food stores, has developed an entire initiative around gluten-free foods for United and Market Street shoppers.
"In baked goods, gluten is essential in providing structure. During cooking and baking, the proteins in gluten (gliadin and glutenin) arrange to trap gas bubbles and provide viscosity and elasticity to the dough," Alicia Brown says. "The trapped moisture then evaporates, and the gluten stiffens to create a desired texture and composition. When gluten is absent from a recipe, the structure and texture of the product can suffer."
As Alicia Brown explains, gluten-free manufacturers were once limited to select flours: white rice, rice (ground superfine), tapioca, and potato starch flours. Today, the selection has expanded to include superfine brown rice flour, sorghum flour, bean flours, Montina, chestnut and other nut flours, coconut flour, mesquite flour, quinoa flour, and corn flour. "Some of the bean flours are not as popular because of the aftertaste and potential for abdominal cramps," she says.
Pastas have also come a long way. In fact, one of Market Street's most popular gluten-free products is Tinkyáda Brown Rice pastas. "Our Market Street guests are thrilled to have palatable and tasty pasta to select and eat," Alicia Brown says.
Gums are becoming very popular, too. "Xanthan gum, for example, retains moisture, traps air, thickens, and has a high heat tolerance," Alicia Brown says. "Sorghum is used to make 'sweet' products such as cake and cookies. With these ingredients, products are softer, lighter, and more flavorful." Other gums include locust bean, guar, gum arabic, and carboxymethylcellulose.
With so many gluten-free choices, consumers now have the power to determine which products thrive and which fall by the wayside. If a product isn't of high quality and taste, the consumer has another shelf of products from which to choose.
"This purchasing power has made the gluten-free market one of the fastest-growing divisions today," Alicia Brown says. "At Market Street, we've seen a dramatic shift in the number of products we're able to provide to our customers who require, or request, gluten-free products. We're now able to provide an entire section specifically designated for gluten-free products, and our customers have responded with overwhelming enthusiasm."
In addition to the experiences at Market Street, the Nutrition Business Journal and Packaged Facts have reported that 987 gluten-free products were introduced in the United States in 2008. "Research, and my experience with our customers, indicates this trend will continue," Alicia Brown says.
Many grocery stores are jumping in to help their gluten-free guests. Market Street has taken the initiative of identifying gluten-free products with nutrition tags. "Products manufactured in a dedicated gluten-free facility will receive a gluten-free nutrition tag right on the price tag," Alicia Brown says. "Nearly 400 products in the Market Street store carry a GF nutrition tag, from the bakery and deli to the gluten-free aisle and frozen foods. This category of products is growing at a rapid pace. Grocery stores are smart to both carry and easily identify these products for the gluten-free population."
Nutritionally Speaking
It is often discussed among the celiac community how a gluten-free diet is comprised of very refined grains and is therefore deficient in B vitamins, folic acid, iron, and fiber.
"At the Kogan Celiac Center of the Saint Barnabas Health Care System, support groups are educated about this fact, what manufacturers are beginning to enrich their products, and where to find naturally occurring sources of these nutrients to ensure that they are consuming as nutritionally complete a diet as possible," says Margaret Weiss Masiello, RD, clinical coordinator at the Livingston, N.J., facility. "A lot of progress has been made to find gluten-free alternatives that closely approximate their gluten-containing counterparts. However, there are still many gluten-free foods that are not very good. There have been a lot of successes with baked goods, cereals, and pastas but very few successes with bread."
As Marlisa Brown explains, many gluten-free products, especially those that don't contain the variety of grains, are lower in nutrients and fiber and higher in calories and carbohydrates.
"In addition, most gluten-free manufacturers do not fortify their products like other products, giving lower nutrient density," she says. "Therefore, it is especially important for someone following a gluten-free diet to use more fresh fruits and vegetables, to up fiber when they can, and to check the gluten-free products they are buying for the nutritional info. It is here that an RD is essential to help make sure a balanced diet is maintained."
For Giusto-Sorrells, nutrition does not have to be sacrificed, but her main concern is that if the flavor isn't there, people won't eat it. "I've talked to many people who should be on a gluten-free diet but won't do it because they are convinced that the food tastes bad," she says. "This equates to them eating poison. I want customers to be emotionally and physically satisfied because that will keep them healthy. As gluten is a concern in only products containing flour, part of a celiac's diet must be about choosing nutritious proteins, fruits, and vegetables. There's a balance that needs to be struck."
Ashley Koff, RD, founder of Ashley Koff Approved, a nutrition evaluation service, explains that she often provides a word of caution to her patients: "With these products tasting so good, we have to remember that a treat is still a treat," Koff says. "Portion sizes, nutrient balance, ingredient quality, frequency—all of these things need to be kept in mind when choosing a gluten-free product as with a non–gluten-free product."
With this in mind, Koff likes to remind her patients on a gluten-free diet that it is not about finding a replacement for every packaged product and sauce that they have been eating. "It is about modifying your food choices to be more real food and less [processed] food," she says. "And when you design a nutrition plan that way, gluten-free choices become abundantly available as they are in nature."
What the Future Holds
For a long time, anything that was gluten free was acceptable, as the range of choices was very limited. "At the beginning, it didn't matter whether a product tasted good or not—people settled for the fact that it was gluten free, period," Bager says. Consumers are becoming more discerning now, with more manufacturers bringing gluten-free products to market with improved taste. 
Marlisa Brown is excited about the future of gluten-free products from a sheer taste standpoint. "I've met bakers making everything from wedding cakes to cupcakes and macaroons gluten free, where the taste is on par with some of the best," she says. "With more individuals attempting a gluten-free diet, the numbers of consumers and individuals in foodservice (and related) fields will increase, which I think continues to exert pressure on the manufacturers to continually improve the taste profile."
Giusto-Sorrells predicts that the stigma of gluten-free foods will dissipate. "It probably won't disappear completely," she says, "but it will lessen, so that when someone in a family or group is gluten free, others will enjoy their food with them."
With new developments in food science, the potential for gluten-free foods is limitless. Those living a gluten-free lifestyle can look forward to the quality of gluten-free foods improving each year. In fact, as Alicia Brown explains, "The market for gluten-free food and beverage products grew at a compound annual growth rate of 28% from 2004 to 2008, to finish with almost $1.6 billion in retail sales last year, according to market research publisher Packaged Facts in the brand-new report 'The Gluten-Free Food and Beverage Market: Trends and Developments Worldwide, 2nd Edition.' By 2012, the market is expected to reach about $2.6 billion in sales.
"These are reports that I can personally attest to, as we are continuing to see gluten-free product sales rise at Market Street," she adds. "Awareness and demand for these products is continuing to grow, and it's up to manufacturers and retailers to ensure that this growing demand is met and that these products are easy for consumers to find."
— Maura Keller is a Minneapolis-based writer and editor.
Table 1
New Gluten-Free Product Introductions by Category, 2001 to 2006

Category

2001

2002

2003

2004

2005

2006

Total sample

Bakery

45

16

24

61

49

109

304

Snacks

0

2

28

26

72

106

234

Sauces & seasonings

0

10

7

26

37

80

160

Processed fish, meat & egg products

2

1

7

13

8

46

77

Beverages

0

1

0

5

21

44

71

Confectionery

0

0

1

1

2

37

41

Desserts & ice cream

7

1

4

7

23

37

79

Dairy

4

0

0

20

13

31

68

Meals & meal centers

4

2

5

7

15

30

63

Baby food

0

0

0

4

0

23

27

Healthcare

4

0

2

16

25

23

70

Side dishes

2

1

3

11

41

12

70

Spreads

0

0

1

9

5

9

24

Soup

1

0

3

4

3

4

15

— Table used with permission from Mintel