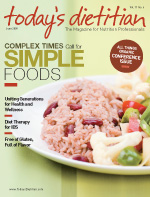 June 2009 Issue
Complex Times Call for Simple Foods
By Maggie Moon, MS, RD
Today's Dietitian
Vol. 11 No. 6 P. 24
Home is where the healthy foods are. Pantry basics such as rice, beans, and tea not only provide the basis for wholesome meals but also cost pennies per serving—good news for clients feeling the economic pinch.
The economy's downturn is the smart dietitian's upswing. Give clients something to smile about in these stressful times by highlighting what's interesting and healthful about the foods that may already be in their pantry.
Remember that the cost of food has long been the third largest expense for Americans, who spend more only on housing and transportation. As of late February, more than 80% of adults had reported cutting back on food spending in general, and 45% were making strong efforts to eat out less, according to a representative survey of U.S. adults that appeared in Marketing Daily.
While the economy may dominate the headlines, healthfulness is still one of the top three reasons why people choose to buy a certain food (the other two are taste and price), with more than 80% of Americans reporting that they want to eat foods to improve their health, according to the International Food Information Council.
This confluence of motivators presents a great teaching moment. Dietitians have the opportunity to excite their clients about healthy eating by showing them how it can be delicious, save them money, and, of course, keep them healthy.
The following are just a few of the many common pantry items that may seem ho-hum at first glance. Use the information below to give your clients something to sing about. Notably, they all cost mere pennies per serving.
Rice
Rice costs about 10 cents for a 1⁄2 cup cooked serving, making it an affordable base for healthy meals. Recent research shows that people who eat rice have a diet closer to the U.S. Dietary Guidelines, which makes sense, as rice pairs better with vegetables and lean proteins than, say, with French fries or bacon.1,2
The same research shows that rice eaters have nutrient-rich diets, with greater intakes of folic acid, potassium, and iron (nutrients found in rice). They also are less likely to be overweight or to have an increased waist circumference, have a 34% reduced risk of high blood pressure, and have a 21% reduced risk of metabolic syndrome.1,2

As the most popular grain in the world, rice is the chameleon of grains for world cuisines. The growing ethnic diversity in the United States means that talking about rice will become more relevant. Populations' preferences for white or brown rice may vary. And while whole grain brown rice is a great choice, the folic acid fortification program in the United States means that your clients don't have to feel guilty about enjoying white rice either. One cup provides more than 20% of the daily value for folic acid, a critical nutrient for women in their child-bearing years and one that is gaining attention for possible protective roles against heart disease and certain cancers.
Although encouraging whole grains is important, if a client does not seem receptive, offer guidance toward healthful cooking methods and food pairings. Rice is affordable and, whether brown or white, it can be part of a healthier meal than what's available at the corner fast-food joint.
The following are some strategies to use with clients:
• Expand the idea of rice as an entrée food and imagine a rice porridge breakfast, rice pudding dessert, cool rice salad, or rice ball appetizer.
• For festive occasions, rice is a fun canvas for colors. For green rice, mix fresh cilantro and a small amount of oil in a food processor and add to cooked rice. For red, try thinning tomato paste with a small amount of rice wine vinegar before adding to cooked rice.
• Use leftover rice to make rice balls filled with vegetables and/or lean ground meat. After shaping into a ball, roll in egg, then flour, before lightly sautéing or baking.
• Encourage the use of a rice cooker. It makes the process of cooking rice easy, and familiarity with the cooker can be leveraged to show how easy it is to steam vegetables.
Beans
At about 7 cents per serving, beans are especially affordable when considered as a meat alternative. Beans also boast a long storage life, and their sheer variety allows for great flexibility. The Dietary Guidelines includes beans in its list of foods to encourage and recommends 3 cups per week.
Like rice eaters, bean eaters tend to eat closer to the Dietary Guidelines.3 The soluble fiber in beans is known to lower cholesterol; the folate is related to lowering levels of the cardiovascular risk indicator homocysteine; and the potassium in beans may help lower blood pressure. In addition, beans provide iron, zinc, and folate and are an important source of plant protein for vegetarians and nonvegetarians alike.
The great thing about beans is that they are generally interchangeable, allowing for a host of options and the freedom to swap whatever beans are on hand for what's specified in a recipe.
To help your clients get their creative bean working, try the following:
• Talk about simple additions: Mix and match beans to customize chili, soups, and salads.
• Raise the idea of puréed beans and discuss creative ways to use them. Some starter ideas include puréeing a combination of beans for a dip to be used with vegetables or whole wheat pita bread, using beans as a spread on morning toast or mixed with fresh tomatoes for bruschetta, or adding beans to deviled eggs or tuna salad in place of mayonnaise.
• For a quick snack, suggest that your clients try sending cooked beans through the food processor for a coarse chop. Add spices and finely chopped veggies at will and bind by combining with an egg mixture, then shape into pancakes and lightly cook with a small amount of oil.
Tea
Tea is easy to make at home and costs only about 3 cents per serving. It can be enjoyed hot or cold, contributes to hydration, and provides antioxidants. Ongoing research is building the body of literature on possible benefits related to heart health, certain cancers, and cognitive health. More recently, intriguing findings connect tea to a calm mental alertness.
Theanine, an amino acid mostly found in tea, improved mental acuity and promoted a relaxed and calm state of mind, according to recent clinical research.4 Theanine produces this calm-yet-alert effect by positively influencing alpha wave activity in the brain. After being absorbed by the small intestine, theanine crosses the blood-brain barrier to increase alpha wave activity.
Your clients can get a perk without the jitters with a cup of tea, which contains an average of 20 to 25 mg theanine. In 20 minutes, they may enjoy results lasting three to four hours.
There are plenty of reasons to dust off that box of tea in the back of the cupboard, including the following:
• Suggest that your clients stuff fish with tea before baking or broiling to accentuate the fish's delicate flavors. This interesting preparation method may just get them to eat more fish.
• Add dry tea leaves to the mix when preparing rubs for meat, poultry, or fish.
• Brew tea and use as a braising liquid, a marinade, or the base for a sweet or savory sauce.
• Mix tea and fruit juice for a drink with a more complex flavor.
• When finished with the tea leaves, let them return to the earth. Tea leaves are highly biodegradable and can contribute to a compost pile or a garden's topsoil.
View From the Ground
Pantry basics are gaining increasing attention from individuals and organizations.
"At the Food Bank For New York City, we work with staple foods because they provide the best nutritional value per dollar," says Christina Riley, MS, RD, community nutritionist at the Food Bank For New York City. "I have been surprised by all of the new and unique ways our programs have discovered to use basic ingredients. I am thrilled to see high-quality, nutritious foods leave the food bank and end up as meals that people enjoy eating." (See sidebar for one of Riley's favorite food bank recipes, Pasta With Beans and Vegetables.)
"I'd say what is really important from a health, environmental, and cost-effectiveness standpoint is cutting back on processed and packaged foods. These types of foods produce unnecessary environmental burdens from the plastics, packaging, and manufacturing necessary for their production—close to 10% of a product's cost is associated with packaging," says Meredith Niles, coordinator of the Cool Foods Campaign at the Center for Food Safety, a nonprofit public interest and environmental advocacy membership organization in Washington, D.C. Niles recommends pointing your clients to the bulk food sections in health food stores and the growing number of supermarkets that offer whole foods at a discount price without the excess packaging.
"My family cooks at home to save money and for the pleasure of cooking. We tend to start with simple foods like rice, beans, and vegetables and then jazz them up with herbs and spices. And where there are healthier options available—whole grain cereal vs. sugar cereal, low-sodium anything—we try to choose the healthy variety," says Jennifer McDonald, a student at The New School in New York.
"I cook at home to save money and find that I get more satisfaction from cooking and eating," says Paul Berger, a freelance writer in New York. "I think with the current economy, people are cooking at home more often."
Berger adds, "I always enjoyed cooking, but I get a lot more out of it these days, now that I am thinking more carefully about what I am cooking and for how many meals I can make it stretch. Also, I have lost weight. I've been working out too, but I would say I have lost a few pounds largely from having more control over my own diet."
The Take Away
Concerns about saving money may help drive people back into the kitchen, a habit RDs know can also benefit the overall diet because preparing food at home offers more choice and control over what enters the body. As RDs, we can take advantage of client familiarity with pantry staples and concerns about eating healthy on a budget to help them eat well to be well. Next step: Expand their food horizons by adding new foods to their solid foundation of healthy eating.
— Maggie Moon, MS, RD, is a nutrition writer and a dietitian based in New York City.
Pasta With Beans and Vegetables
Makes 8 servings
Ingredients:
2 T oil
3 garlic cloves, minced
1 can (28 oz) tomatoes, diced or crushed
4 cups fresh spinach
2 cups cooked red kidney beans
2 cups pasta shells, cooked and drained
Salt and pepper to taste
Directions:
1. Heat oil in a large pot. Add garlic and cook until lightly browned.
2. Add canned tomatoes and spinach. Bring to a boil.
3. Cover and cook over medium heat for 10 minutes. Stir often.
4. Add kidney beans and cook for 5 more minutes.
5. Stir in prepared pasta and serve hot.
6. Refrigerate leftovers.
Nutrition Facts:
Serving size: 1/8 of recipe (266 g)
Calories: 284
Calories from Fat: 40
Total Fat 4.5 g, 7%
Saturated Fat: 0.5 g, 2%
Cholesterol: 0 g, 0%
Sodium: 320 mg, 13%
Total Carbohydrate: 54 g, 18%
Dietary Fiber: 8 g
Sugars: 4 g, 31%
Protein: 11 g
Vitamin A: 27%*
Vitamin C: 34%*
Calcium: 7%*
Iron: 15%*
* Percent Daily Values based on a 2,000-kcal diet
— Recipe used with permission from the Food Bank For New York City
Food Is Fascinating
Food is so much more than a vehicle for nutrients. Take advantage of a growing culinary awareness to make healthful, everyday foods something to talk about. Did you know:
• The humble bean has a noble past. Four prominent families in ancient Rome have names related to the major beans known at the time. Fabius relates to the fava bean, Lentulus to the lentil, Piso to the pea, and Cicero to the chickpea, according to the book On Food and Cooking: The Science and Lore of the Kitchen.
• Even though tea is millennia old, the black tea commonly consumed in the West was developed in China as recently as the 1840s, according to On Food and Cooking. The tea that made a big impression in England was actually closer to a modern oolong than a black tea, with consumption jumping from 20,000 to 20 million lbs over just 100 years (1700 to 1800).
• The word "pep" came into the English language as a shortened form of "pepper," a term that connected the plant's lively flavors with the personality trait of spiritedness. Pepper is native to India, where it was harvested and traded 3,500 years ago. More recently, in the past 500 years, the pepper trade has been controlled by the Portuguese, the Dutch, and the British. Much of the pepper we enjoy today is from India, Indonesia, and Brazil, according to On Food and Cooking.
• After 14 years of development, we may be seeing more "Jazzman" rice, a U.S.-grown jasmine rice developed through the Louisiana State University's AgCenter, on grocery store shelves in 2010. About 85% of the rice eaten in the United States was grown in the United States, but jasmine rice has typically been one of the bigger imports.
• Onions were the original scarecrows. Farmers took advantage of the characteristic sulfur aroma and flavor to keep animals from eating nearby plants. Onions soak up sulfur from the soil and transform it into natural defense chemicals, one of which is responsible for the infamous eye watering.
References
1. Betres-Marquez SP, Jensen HH, Upton JL. Trends in rice consumption and contribution of rice to the total diet of Americans. Abstract presented at Texas Dietetic Association Meeting. April 2005.
2. Fulgoni VL, Fulgoni SA, Upton JL, Moon M. Rice consumption is associated with a greater nutrient density, lower blood pressure, decreased body weight, smaller waist circumference and a reduced risk for metabolic syndrome in adults. FASEB J. 2008;22:1081.3.
3. Fung TT, Willett WC, Stampfer MJ, Manson JE, Hu FB. Dietary patterns and the risk of coronary heart disease in women. Arch Intern Med. 2001;161(15):1857-1862.
4. Kelly SP, Gomez-Ramirez M, Montesi JL, Foxe JJ. L-theanine and caffeine in combination affect human cognition as evidenced by oscillatory alpha-band activity and attention task performance. J Nutr. 2008;138(8):1572S-1577S.