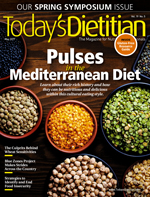 May 2017 Issue
Striving for Longevity
By Andrea N. Giancoli, MPH, RD
Today's Dietitian
Vol. 19, No. 5, P. 32
Blue Zones Project continues to make strides across the country as more people shed unwanted pounds and live more healthful lives.
People have been searching for the fountain of youth for centuries and haven't quite found it. Why? Because, of course, the fountain doesn't really exist; but is it possible for the majority of people to reach the ripe old age of 100 and still be in good health and full of vitality?
Leaders in 37 communities across the United States think so and are taking action to transform their local environments so healthful lifestyle choices become easy choices.
These communities have chosen to implement Blue Zones Project, a well-being initiative that promotes environmental changes and healthful lifestyle behaviors designed to improve residents' overall health and quality of life. Blue Zones Project is based on the environments and lifestyles of residents living in five regions around the world with the highest prevalence of centenarians: Loma Linda, California; Ikaria, Greece; Okinawa, Japan; Nicoya, Costa Rica; and Sardinia, Italy. These five areas, which came to be known as Blue Zones, have lower rates of chronic disease, and inhabitants have reported high satisfaction with their quality of life and well-being.
Dan Buettner, a National Geographic fellow and Blue Zones Project founder, says he and his team of researchers studied these locations and looked for evidence-based common denominators, and "they discovered nine common characteristics that all of the Blue Zones share, which we call the Power 9 [see sidebar]. They serve as the initiative's [Blue Zones Project's] foundation for enhanced well-being."
"Efforts are focused on environments within the 'life radius,' where people routinely spend time, so individuals are nudged into making healthful choices where they live, work, learn, and play," Buettner explains. Targeted interventions take place in schools, worksites, grocery stores, and restaurants, and within local governments.
For example, in the Southern California beach cities of Hermosa Beach, Manhattan Beach, and Redondo Beach, more than 100 restaurants serve healthier options and local grocery stores are marketing fruits and vegetables to customers. Employers in Fort Worth, Texas, have embraced employee wellness programs with organized walking groups, cooking classes, and stress relief breaks. To encourage active transportation, bike lanes have been installed around the city, and school routes are now planned so children can bike or walk to school.
And something seems to be working. Since the initiation of Blue Zones Project in 2010, the beach cities have seen overweight drop 15% and produce consumption increase 4% among residents. Just 18 months after Blue Zones Project began in Fort Worth, residents exercising more than 30 minutes per day three times per week rose 2.2 percentage points from 53% to 55.2%. Other communities that have adopted the project are experiencing similar results as measured by the Gallup-Healthways Well-Being Index, a scientific survey instrument that measures, tracks, and reports on the well-being of individuals and organizations.
Implementing Blue Zones Project and the Power 9
When it comes to health improvement interventions, "A lot of strategies tend to focus on individual behavior change," says Blue Zones Project Food Policy Expert Margaret Adamek, PhD. "Blue Zones also asks, 'What can communities do to foster the conditions that lead to healthful choices for people?' There needs to be policy and system changes that happen at worksites, in schools, and where people purchase their food," Adamek says. "It's far easier for people to eat more fresh fruits and vegetables, eat healthful proteins, [and] reduce their consumption of processed food and sugar-sweetened beverages if the environments in which they work, learn, and play reflect and offer those healthful choices as easy and affordable and accessible," Adamek continues.
Blue Zones Project provides communities with evidence-based policies, programs, and environmental changes designed to foster healthful behavioral choices and many of the Power 9 principles (noted in parentheses below) that their schools, worksites, grocery stores, restaurants, and local governments can implement.
For example, schools and school districts can choose to do the following:
• establish a health and wellness council that meets regularly at the school;
• discontinue using unhealthful food for fundraisers;
• integrate physical activity into daily lesson plans outside of physical education classes (Move Naturally);
• implement a Walking School Bus program (Move Naturally); and
• establish a breakfast-in-the-classroom program.
Community employers can decide to do the following:
• support an employee-led well-being advisory committee that meets regularly;
• train leaders to encourage the use of walking and/or standing meetings (Move Naturally);
• organize or promote a purpose workshop that encourages employees to articulate and connect with their own personal purpose (Purpose);
• ensure that at least 50% of food and beverage options in vending machines meet the Blue Zones Guidelines for Healthy Foods and Beverages for Adults (Plant Slant);
• offer and publish walking routes that include number of steps/distance markers throughout the internal work environment and external campus/parking areas;
• host plant-based cooking classes (Plant Slant);
• promote lunchtime walking groups (Move Naturally, Right Tribe); and
• establish a policy to only offer foods that meet the Blue Zones Guidelines for Healthy Foods and Beverages for Adults at meetings and special events (Plant Slant, 80% Rule).
Local restaurants can choose to do the following:
• offer half-size portions of top-selling entrées (80% Rule);
• price entrées with plant-based protein lower than meat entrées (Plant Slant);
• offer 100-calorie "nice bite" desserts for at least one-half of dessert offerings (80% Rule);
• train servers to mention only vegetables, fruit, salad, and 100% whole grains as side-dish options when taking orders (Plant Slant);
• not place a salt shaker on the table unless requested, and remove the shaker when bussing the table;
• not serve bread or chips before meals unless requested (80% Rule); and
• serve sugar-sweetened beverages in glasses that hold 12 oz or less (preferably tall, narrow glasses).
Grocery stores are encouraged to do the following:
• eliminate sugar-sweetened beverages from checkout lane coolers, or place nonsugar-sweetened beverages on top shelves and sugar-sweetened beverages on the bottom shelves of checkout lane coolers;
• create a Blue Zones checkout lane (with fresh fruit, nuts, and water instead of candy and sugar-sweetened beverage impulse-buy items) (Plant Slant);
• place a produce display near the entrance to the store (Plant Slant); and
• have an in-store dietitian available full or part time (Right Tribe).
Typically, local governments work to transform the built environment to become more walkable and bikeable by adopting Complete Streets policies and planning for developments that combine residential housing and retail businesses. Cities also are asked to consider tobacco-free policies.
While Blue Zones Project is largely focused on working with communities to create healthful environments, individual citizens are asked to take a personal pledge committing to actions that will conceivably improve their health and well-being. The menu of actions in the personal pledge also reflect some of the Power 9 principles such as the following:
• Keep a comfortable pair of walking shoes or a bike in plain sight to nudge you to Move Naturally daily.
• Attend a Blue Zones Project Purpose Workshop to help you define your Purpose.
• Remove all computers and electronics from the bedroom and limit screen time before bed to Downshift and destress.
• Designate a space in your home for quiet time, meditation, or prayer to help you Downshift.
• Stock your cupboard with 10-inch dinner plates to help you eat less and follow the 80% Rule.
• Remove TVs and computers from the kitchen and dining areas that can lead to mindless eating and forgetting the 80% Rule.
• Attend a plant-based cooking class to help you make a Plant Slant.
• Schedule a Wine @ 5 weekly happy hour (if you have a healthy relationship with alcohol) with friends to connect with your Right Tribe.
Dietitian Involvement
How are RDs involved with Blue Zones Project? Vahista Ussery, RDN, also known as Chef V, works with Blue Zones Project in Fort Worth, serving on the community Food Policy Council and Cooking Demonstration Committee. "It's everything a registered dietitian nutritionist should be promoting: eating more plant-based foods, more fruits, veggies, and legumes," Ussery says.
Dietitians interested in bringing Blue Zones Project to their own communities can contact bluezonesprojectUSA@healthways.com and visit BlueZonesProject.com to learn more. If Blue Zones Project is already in their area, Ussery recommends dietitians join or initiate a community food policy council to provide nutrition expertise and guidance as food and nutrition policies are developed for local institutions such as school districts and municipalities. Dietitians also can spearhead culinary demonstrations and grocery store tours.
"What we eat is a key aspect of our well-being, so it's critical to engage registered dietitians in this effort. Registered dietitians serve as subject matter experts and help guide food policy recommendations for our communities," Buettner says.
Ussery agrees: "I really encourage registered dietitians to get involved, especially if the project is already going on in their community, because I feel like Blue Zones Project really needs our expertise. Dan Buettner's research clearly shows that proper nutrition is the foundation for living a long healthful life. It's almost as if we're called to go help with this project. If you're passionate, it's a great opportunity and really important."
— Andrea N. Giancoli, MPH, RD, is a freelance health and nutrition writer and nutrition communications consultant in Hermosa Beach, California.
THE POWER 9
"The Power 9 are easy, small steps that everyone can take to live longer, feel better, and be happier," according to Blue Zones Project founder Dan Buettner.
Move Naturally: Incorporate physical activity into daily living.
Purpose: Identify your purpose in life.
Down Shift: Find strategies to help you shed stress.
80% Rule: Eat mindfully and stop when you're 80% full.
Plant Slant: Consume a plant-based diet.
Wine @ 5: If you have a healthy relationship with alcohol, enjoy it in moderation with food and friends. (According to the 2015–2020 Dietary Guidelines for Americans, moderation is defined as up to one drink per day for women and up to two drinks per day for men.)
Community: Participate in a faith-based organization.
Loved Ones First: Make family a priority.
Right Tribe: Surround yourself with people who support healthful behaviors.
---
FOODS OF THE BLUE ZONES
According to research by Dan Buettner, a National Geographic fellow and Blue Zones Project founder, 95% of the diet in the Blue Zones is composed of plant-based foods, with an emphasis on beans (about 1 cup per day). Popular foods for each Blue Zone include the following:
Loma Linda: Avocados, salmon, nuts, beans, oatmeal, whole wheat bread, and soymilk.
Ikaria: Potatoes, goat's milk, honey, beans, wild greens, fruit, feta cheese, lemons, and herbs.
Okinawa: Bitter melons, tofu, garlic, brown rice, green tea, and shitake mushrooms.
Nicoya: Beans, corn, squash, tortillas, papayas, yams, bananas, and peach palms.
Sardinia: Locally produced wine, sheep's milk, cheese, fennel, fava beans, chickpeas, tomatoes, almonds, and milk thistle tea.
When it comes to meals, "We like to use the old saying 'Breakfast like a king, lunch like a prince, and dinner like a pauper' because it applies perfectly to the way we have found centenarians eat," says Buettner, adding that "Breakfast consists of protein, complex carbohydrates (beans or veggies), and plant-based fats (nuts, seeds, oils). For instance, a common breakfast in Costa Rica is a corn tortilla with black beans and squash. Lunch and dinner contain lots of fruits and vegetables, with meat eaten mostly for celebrations, if at all."
---
Recipes From Blue Zones Project Kitchen


Peas and Rice Provencal
Serves 4
Ingredients
1/4 cup onion, chopped
4 T olive oil
1/2 clove garlic, finely chopped
1/2 cup green olives, sliced
2 cups peas, cooked
2 cups brown rice, hot cooked
Pimiento pepper, strips (as desired)
1/4 cup parsley, chopped
Directions
Sauté onion in oil until tender, about 10 minutes; add garlic and olives and cook 1 minute longer.
Combine with peas and rice; toss gently.
Garnish with pimiento strips and parsley.
Nutrient Analysis per serving
Calories: 216; Total fat: 11 g; Sat fat: 2 g; Cholesterol: 0 mg; Sodium: 179 mg; Total carbohydrate: 24 g; Dietary fiber: 5 g; Sugars: 0 g; Protein: 5 g
— Recipe courtesy of Blue Zones, LLC

---
Mini Blueberry Cheesecakes
Makes 18 mini cheesecakes
Ingredients
Crust
11/2 cups almonds, raw
8 to 10 Medjool dates, pitted
1 to 2 tsp water
Cheesecake Filling
2 cups raw cashews, soaked in water overnight
11/2 cups fresh blueberries (or frozen blueberries, thawed), plus more for optional topping
1/2 cup maple syrup
1/3 cup coconut oil, melted
1 lemon, juiced (or 2 T lemon juice)
1/2 tsp salt
Directions
In a food processor, combine the almonds and dates. Slowly add the water, 1 teaspoon at a time as needed, until the mixture clumps together.
Place liners in a muffin pan. Press a little bit of crust into each muffin cup. Place in the fridge while you make the cheesecake filling.
In a food processor, combine the cheesecake filling ingredients until the mixture is smooth, 1 to 2 minutes.
Spoon the cheesecake mixture into each muffin cup, filling it all the way to the top. Once all the muffin cups are filled, place the muffin pan into the fridge to firm up. It will take a good six hours until completely firm. You also can put the cheesecakes into the freezer for about 11/2 hours to speed up the process.
Serve topped with fresh blueberries, if desired. These can be kept in the fridge or the freezer.
Variations
To make one big cheesecake instead of mini cheesecakes, use a 6-inch springform pan.
Any berry can be used in place of the blueberries.
Nutrient Analysis per serving
Calories: 203; Total fat: 14 g; Sat fat: 3 g; Cholesterol: 0 mg; Sodium: 68 mg; Total carbohydrate: 18 g; Dietary fiber: 2 g; Sugars: 10 g; Protein: 5 g
— Recipe courtesy Blue Zones, LLC