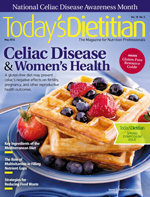 May 2016 Issue
Culinary Corner: Spring Peas
By Jessica Fishman Levinson, MS, RDN, CDN
Today's Dietitian
Vol. 18 No. 5 P. 66
"Eat your peas, please." That's a common refrain children hear at mealtime, which gives peas a bad reputation as a vegetable to be pushed to the side of the plate. I used to associate peas with the common side dish of peas and carrots that I ate as a child. But once I started seeing fresh green peas at farmers' markets and in the produce aisle at supermarkets at the start of spring, my whole view on peas changed for the better—and with good reason.
Green peas, also known as English peas, spring peas, and garden peas, fall under the starchy vegetable category, and per one-half cup serving they're an excellent source of fiber, vitamin C, and vitamin K, and a good source of folate and vitamin A. The combination of these nutrients means peas offer your clients numerous health benefits, including maintenance of cardiovascular, eye, brain, and bone health, and protection against cancer, diabetes, and blood disorders. Vitamin K in particular is a nutrient of note, given its significant role in bone health and blood clotting, the latter of which is important for wound healing.1,2 Blood-thinning medications like warfarin and vitamin K work against each other in the body, which is important to note for clients who are on these medications, as they need to make sure they consume a consistent amount of vitamin K.3
Green peas are in season during the early spring months, but can be found yearlong in the frozen aisle and in cans. Their slightly sweet flavor and bright green color make peas a great addition to side dishes and main dishes alike. In addition to eating peas simply steamed or blanched as a side dish on their own, peas can be added to soups, stews, or casseroles; puréed to make a dip or spread; and stirred into rice pilaf or pasta dishes. Green peas go especially well with other spring produce like mint and radishes, which is the combination you'll find in the following Spring Pea & Radish Farro Salad. Get ready to say, "Pass the peas, please!"
— Jessica Fishman Levinson, MS, RDN, CDN, is a New York-based nutrition consultant, writer, and recipe developer, and the founder of Nutritioulicious (www.nutritioulicious.com).
References
1. Testa G, Pavone V, Mangano S, et al. Normal nutritional components and effects on bone metabolism in prevention of osteoporosis. J Biol Regul Homeost Agents. 2015;29(3):729-736.
2. Vermeer C, Schurgers LJ. A comprehensive review of vitamin K and vitamin K antagonists. Hematol Oncol Clin North Am. 2000;14(2):339-353.
3. Vitamin K: fact sheet for health professionals. National Institutes of Health website. https://ods.od.nih.gov/factsheets/VitaminK-HealthProfessional/#h9. Updated February 11, 2016.
Recipe
Spring Pea & Radish Farro Salad With Lemon Mint Vinaigrette
Nutty farro, crunchy radishes, and sweet peas are tossed together in a tart, refreshing lemon mint dressing in this bright spring salad. Serve as a side dish or top with feta cheese for a main course.
Makes 9 3/4-cup servings
Ingredients
1 cup shelled English peas (or frozen peas)
11/2 cups pearled farro
1 cup thinly sliced radishes
1/4 cup chopped mint
Zest of 1 lemon
1/2 tsp kosher salt, divided
1/4 cup lemon juice
1 clove garlic, minced
2 T olive oil
Freshly ground pepper, to taste
Directions
Fill a small pot about three-quarters full with water and bring to a boil. Add the peas and blanch for 60 seconds. Using a slotted spoon, transfer peas to a strainer and run under cold water to stop the cooking process.
Add the farro to the pot of water and bring to a boil. Reduce to simmer, cover, and cook 15 to 20 minutes until the water is almost all absorbed and the farro is tender but not mushy. Cover and remove from heat for five minutes. Transfer to a large bowl to cool slightly, about 10 minutes.
Add peas, radishes, mint, lemon zest, and 1/4 teaspoon of salt to the bowl and toss with the farro.
To make dressing, whisk together lemon juice, garlic, olive oil, remaining 1/4 teaspoon of salt, and freshly ground pepper, to taste, in a small bowl or glass measuring cup. Pour dressing over farro salad and toss to combine.
Nutrition Analysis per serving
Calories: 160; Total fat: 3 g; Sat fat: <1 g; Trans fat: 0 g; Cholesterol: 0 mg; Sodium: 134 mg; Total carbohydrate: 26 g; Dietary fiber: 3 g; Sugar: 1 g; Protein: 6 g