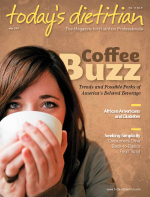 May 2009 Issue
Eating Omega-6 Fatty Acids for Heart Health
By Jenna A. Bell-Wilson, PhD, RD, CSSD
Today's Dietitian
Vol. 11 No. 5 P. 8
Dietitians are well aware of the literature pinpointing the ill effects of excessive saturated fat and trans fatty acid intake. Despite the plethora of research on fatty acids and cardiovascular health, the impact of omega-6 fatty acids has been elusive and controversial. A recent science advisory from the American Heart Association Subcommittee of the Council on Nutrition, Physical Activity, and Metabolism; Council on Cardiovascular Nursing; and Council on Epidemiology and Prevention sheds some much-needed light on omega-6 fatty acids and cardiovascular disease and may help put the controversy to rest.
Root of the Concern
Recommendations for omega-6 fatty acids have been cautious due to the nature of the omega-6 fatty acids we consume: linoleic acid (LA) and arachidonic acid (AA). The former is found in vegetable oils, is essential, and is the primary omega-6 fatty acid we consume; the latter is found in meats, eggs, and some fish and is nonessential. While we consume 85% to 90% of omega-6s from LA, the argument for lowering omega-6 intake—and subsequently LA—is based on the proinflammatory properties of AA, as inflammation is linked to cardiovascular disease (CVD).
The advisory reviewed a meta-analysis of randomized, controlled trials and more than two dozen observational, cohort, case study, and ecological reports. While the complete statement can be accessed in the March issue of Circulation, the following are the important take-home messages, findings, and recommendations from the advisory.
Omega-6 Take-Home Points 
LA can improve blood lipids.
• When substituted for carbohydrates, polyunsaturated fatty acids (PUFAs) improved the total-to-HDL cholesterol ratio in 1,672 subjects.
• An 18 mg/dL reduction in LDL cholesterol was demonstrated when omega-6 PUFA replaced saturated fat.
Omega-6 intake is associated with a lower CVD risk.
• The National Heart, Lung, and Blood Institute Family Heart Study observed a higher prevalence of coronary artery disease when LA intake was 1.8% of total calories compared with 5.3%.
• Omega-6 intake was inversely associated with coronary heart disease (CHD).
• A meta-analysis revealed that replacing saturated fat with PUFA (at 10% to 21% of total calories) lowered the risk of CHD by 24%.
How Much Omega-6?
As the scientific advisory points out, professional associations and expert guidelines have started to include "optimal" intake levels to help reduce chronic disease rather than simply denoting values for deficiency prevention. Drawing from the statements, guidelines, and recommendations by national governmental organizations and professional associations, the advisory panel concludes that 5% to 10% of total energy intake should be from omega-6 PUFA to reduce the risk of heart disease.
Your Clients' Kitchen
While these numbers are useful information for dietitians, our clients are looking for advice they can take to the grocer. Given the evidence, the first step is to begin replacing the dietary saturated fat food sources with PUFA. According to Pamela Nisevich, MS, RD, LD, a counseling dietitian at The Children's Medical Center of Dayton in Ohio, "Simple switches and tips help my clients of all ages make meaningful changes in their dietary habits."
Whether she is speaking to a child, a family, or an athlete, Nisevich provides clients with the following tips to replace the saturated fat in their diet with PUFA:
• Diversify your oils: While olive oil contains plenty of monounsaturated fat, oils such as soybean, corn, safflower, and sunflower have higher levels of PUFA. So mix it up and choose extra-virgin olive oil for distinct flavor or try a soybean oil or soft spread to add LA to recipes.
• Pass on butter: Butter contains a generous amount of saturated fat (7 g per serving), and healthier options are available that are made with PUFA-rich vegetable oils. Nisevich shows her clients food labels of common brands, such as Promise Buttery Spread and Country Crock, that have only 1.5 g saturated fat to demonstrate the marked savings. She explains that most soft spreads are substantially lower in saturated fat than butter and can be used just as easily in the kitchen.
• Dress for success: Dress a salad with canola-based salad dressings (light varieties are fine) and walnuts or seeds.
• Think both omegas: Nisevich encourages clients to take a broad look at their diet. The advisory does not recommend increasing omega-6s at the expense of omega-3s, so choosing foods that are also rich in these fatty acids is best. Enjoy fish and a variety of nuts and seeds.

Bottom Line: Omega-6 for Heart Health
The scientific advisory emphasizes consuming fruits, vegetables, high-fiber whole grains, lean meats, poultry, and fish twice per week as part of a long-term healthy diet. The report aims to make people aware that omega-6 fatty acids can not only be a part of a healthy diet but may also improve their CVD risk profile.
— Jenna A. Bell-Wilson, PhD, RD, CSSD, is cofounder of Swimbikeruneat.com and a nutrition communications consultant living in the Boston area.
Further Recommendations
Experts agree that essential fatty acids such as omega-6s and omega-3s should be consumed in varying degrees. The position of the American Dietetic Association and the Dietitians of Canada is to consume 5% to 10% of total calories from omega-6 polyunsaturated fatty acids (PUFAs) and 0.6% to 1.2% from omega-3s, and the 2005 Dietary Guidelines for Americans concurs.
Despite these recommendations, a Recommended Dietary Allowance or Estimated Average Requirement has not been determined for individual fatty acids. The National Cholesterol Education Program Adult Treatment Panel III sets the goal a little higher, combining omega-3 and omega-6 by recommending PUFA at 10% of caloric intake.
— JABW