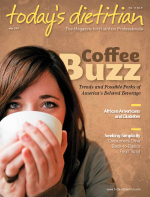 May 2009 Issue
Cooking for Our Palates and the Planet
By Chef Kyle Shadix, MS, RD
Today's Dietitian
Vol. 11 No. 5 P. 74
Going green is cool. So when I came across a way to be cool in the kitchen while helping keep our planet cool, my taste buds were eco-excited. This clever cuisine came by way of Big Green Cookbook: Hundreds of Planet-Pleasing Recipes & Tips for a Luscious, Low-Carbon Lifestyle by cookbook author and culinary nutritionist Jackie Newgent, RD.
I found myself savoring every seasonal page of full-flavored recipes such as Summer Fresh Peach Salsa; Watermelon and Arugula Salad With Feta Cheese and Pine Nuts; Pan-Seared Organic Poultry Breast Paillard With Fresh Blueberry Sauce; an Organic Bacon, Lettuce, and Tomato Sandwich; and Dark Chocolate-Fresh Raspberry Truffles. Take a taste now of one of her fresh delights: Cool Plum Turkey.
As an RD and a classically trained chef, Newgent marries her passions to create delicious, simply prepared food. She says, "I consider my book like a Prius—or a hybrid cookbook. There's something for everyone, whether an ecotarian [someone who eats based on environmental sustainability] or someone who enjoys good food and is just starting to implement green lifestyle changes."
Newgent focuses on lusciousness while still emphasizing good nutrition. She says, "To make sure every recipe offers good nutrition, not just good taste, I incorporate a seasonal fruit or veggie in every single recipe."
Another of the most intriguing aspects of this comprehensive, climate-conscious cookbook is the author's own creative green cooking techniques, such as "lid cooking" and "hyper-baking." Now that's not just thinking outside the box, it's cooking outside the box.
— Chef Kyle Shadix, MS, RD, is director of Nutrition + Culinary Consultants, an advertising, marketing, and culinary full-service agency in New York City.
Cool Plum Turkey
Tarragon Turkey Salad in Plum "Peel-Ups"
Makes 8 servings: 1 stuffed plum "peel-up" each
When roasted for Thanksgiving dinner, turkey can be so comforting. So if you enjoy turkey, it's okay to be comforted by it more than once a year. Try it in this cool, flavor-bursting summertime appetizer salad. The thin turkey cutlets will take just minutes to cook. Paired with plums, it's delightfully refreshing. Served in the plums, it's dazzling.
1 pound boneless skinless organic turkey breast cutlets
1⁄2 cup thinly sliced celery
1⁄4 cup minced Walla Walla or other sweet onion
3 tablespoons organic sour cream
3 tablespoons mayonnaise
1 tablespoon white wine vinegar
1 tablespoon chopped fresh tarragon
1⁄2 teaspoon sea salt, or to taste
4 large black or purple plums
1⁄4 cup raw (natural) sliced almonds
1. Choose thin-sliced turkey cutlets or pound the cutlets thin with a kitchen mallet (1⁄2 inch or thinner). Grill turkey cutlets in a panini grill on medium-high heat until well done, about 4 minutes total. Do this in two batches, if necessary. Alternatively, place turkey breast cutlets in a large stick-resistant skillet or grill pan over medium-high heat. Cover and cook for 5 minutes. Flip cutlets and cook covered for 2 more minutes, or until cooked through. Cool and cut into cubes.
2. Gently combine the turkey, celery, onion, sour cream, mayonnaise, vinegar, tarragon, and salt in a large bowl. Refrigerate until ready to serve.
3. Cut the plums in half and remove the pits. Carefully carve out the inside of the fruit, leaving about 1⁄8 inch of fruit, to create serving cups—plum "peel-ups." Set the 8 plum peel-ups aside. Finely dice the scooped out fruit. Stir the diced plum into the turkey salad.
4. When ready to serve, stir in the almonds. Stuff 1⁄3 rounded cup turkey salad into each plum "peel-up." Sprinkle with additional almonds, if desired. Serve.
Per serving: 150 calories, 7g total fat, 1.5g saturated fat, 0g trans fat, 40mg cholesterol, 200mg sodium, 9g total carbohydrate, 1g dietary fiber, 15g protein
— Recipe reprinted with permission from Big Green Cookbook: Hundreds of Planet-Pleasing Recipes & Tips for a Luscious, Low-Carbon Lifestyle by Jackie Newgent, RD (Wiley, 2009)