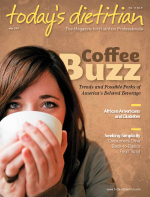 May 2009 Issue
Seeking Simplicity — Consumers Drive Back-to-Basics Food Trend
By Nadine M. Hasenecz
Today's Dietitian
Vol. No. P.
The people have spoken, and they want organic foods and products with ingredients they can pronounce.
Dietitians confirm what appears to be a growing consumer preference for food products that are more "natural," feature ingredients that are easily understood and pronounced, are less processed, and contain fewer "mystery" components, including additives such as artificial flavors and colors.
"There is a developing awareness that if you can't pronounce it and you don't know what it is, then you don't want it in your food," says Peggy Shannon, MS, RD, LDN, a private practitioner with offices in Pennsylvania's Whitehall Township and Walnutport and a clinical dietitian with Sodexo at Sacred Heart Hospital in Allentown.
It's what Pat Sullivan, MS, RD, LDN, refers to as an "old-fashioned, get-back-to-basics" trend. "It's what I'm seeing with my clients," says Sullivan, whose private practice is in Wescosville, Pa. "There is that segment of the population that wants to get back to simplicity."
Organics A-Go-Go
Owing to the trend, organic food is becoming mainstream, and selections once found only in health food stores are now widely available. Grocery stores are offering more organic products in their packaged food sections and fresh food areas, including organic fruits and vegetables in the produce aisle, organic eggs and milk in the dairy case, and organic, grass-fed, free-range poultry and beef in the meat section. "It's much easier today to find even canned foods that are organic," Sullivan says.
Quantitative evidence indicates that organic foods may be safer than their conventional counterparts because they contain fewer potentially negative components, such as pesticides and nitrates, and higher amounts of positive components, such as omega-3 fatty acids, vitamin C, iron, magnesium, phosphorous, and antioxidants, according to a review of 41 published studies in The Journal of Alternative and Complementary Medicine.
While more processed forms of food products remain available (eg, peanut butter with added sugar and hydrogenated oils), grocers are stocking more natural versions (eg, peanut butter consisting of only organic, dry-roasted, unblanched peanuts) that consumers can access without making a trip to a specialty store. Sullivan recalls the days when a health-conscious consumer would need to grind peanuts purchased at a health food store. "This [option of choosing a healthier selection in the grocery store] is much more economical today," she says.
East Coast chain Wegmans is just one example of a grocer that features organics, as well as healthfully prepared grab-and-go meals, in its stores. Whole Foods Market says it is the world's largest retailer of natural and organic foods and, according to its Web site, it operates more than 270 stores in North America and the United Kingdom. With supermarkets in Pennsylvania, West Virginia, and Maryland, Giant Food, LLC,  sells a large line of packaged, refrigerated, and frozen Nature's Promise brand foods that, according to Giant's Web site, is free of synthetic pesticides, growth hormones, hydrogenated oils, and bleached and bromated flour.
Food manufacturers are rising to meet the demand. Ragu, for instance, now offers three varieties of affordably priced organic spaghetti sauce. Companies such as Amy's Kitchen, Inc have raised the bar on frozen heat-and-serve vegetarian meals. "Based on what I've tasted," says Sullivan, "Amy's has done a good job of taking an organic product and seasonings and producing a tasty yet healthy frozen food item."
People are seeking new ways to consume vegetables, says Suzanne Ickes, RD, LDN, a clinical dietitian at Lehigh Valley Health Network's Muhlenberg Hospital campus in Bethlehem, Pa., and partner with Sullivan in private practice in Wescosville. Therefore, timely additions to the marketplace include vegetable items that can be popped into the microwave in their original packaging. Green Giant, for example, recently introduced its Valley Fresh Steamers vegetable line, created to allow the convenience of microwave steaming within the specially designed bag.
Fast-food chain restaurants have also gotten into the act. In its children's meals, for example, McDonald's offers the choice of milk instead of soda and apple slices instead of French fries.
Trend Drivers
Sullivan deduces that the informed, angry consumer is driving the back-to-basics trend. With access to 24/7 news channels, consumers are becoming increasingly educated and nutrition savvy and have begun to acknowledge the unhealthy nature of the standard American diet of processed meals devoid of fresh selections. "There's a swell of consumers that really want and are willing to support a higher quality of food," says Sullivan, who notes that health and wellness messages have been around for at least 20 years, but individuals are finally paying more attention to them.
She also points out that the price for an organic product is now comparable with the average price of a similar nonorganic product. "When Kashi cereal became more widely available and competitively priced," Sullivan says, "I watched, from a consumer level, other cereal makers start to compete with what Kashi was offering."
The availability of whole foods is on the rise in response to research indicating that certain vitamins and nutrients provide no health benefits when ingested in isolated form. "People are realizing there's a symbiotic relationship in the nutrients in foods, and our bodies evolved to take advantage of that symbiosis," says Shannon, citing research that indicates that isolated beta-carotene, for example, offers no health benefits.1 "Our bodies don't respond as well to nutrients when eaten alone."
Simple Yet Flavorful
The search for simplicity in food products does not mean a craving for less flavorful food but a desire to avoid chemicals and preservatives, notes Ickes. "We see people leaning toward Thai food and highly seasoned food," she says. "We like flavor, and people are becoming more sophisticated. It used to be that ketchup was the favorite condiment, and then it was salsa."
One flavor enhancer that remains out of favor is monosodium glutamate (MSG). Campbell Soup Company, for example, maintains that its Select Harvest soup line contains no added MSG, and Progresso Foods has vowed to remove MSG from all of its selections.
It's commonly known that MSG can cause headaches in certain individuals. It can also cause numbness at the back of the neck that radiates to the arms and back—a sensation dubbed "Chinese restaurant syndrome" because of MSG's wide use in Chinese restaurants in years past. In individuals who are sensitive to MSG, symptoms can range from dizziness, nausea, and cold sweats to the chest pain, pressure, and palpitations that can mimic a heart attack.
Getting Food and Label Savvy
Reading food labels is the most logical place to start for an individual who has become interested in discovering what food products contain and has become more discriminating about what he or she is consuming. Not surprisingly, consumer interest in label reading is increasing. "I've had clients bring in labels and say, 'Somebody else might be interested in seeing what I've found,'" says Sullivan, who maintains an educational collection of food labels in her office.
Learning to read food labels is part of Make Time for Health©, a nutrition education program that Sullivan and team created and are updating for the Pennsylvania Dietetic Association Foundation. Dietitians have presented the program to the parents of school-age children in approximately 75 school districts in Pennsylvania.
In response to consumer requests, labels now state from where a food product's coloring is derived. The label on a healthy selection today, for example, may indicate that its red color comes from beet juice. "People want to be able to look at a label and the more that they can recognize, the happier they are with the product," says Ickes. "The label-reading, health-conscious population is growing, and that's evidenced by what we see on the shelves."
Sullivan recalls being hired 20 years ago by a group of mothers seeking chemical dye-free foods to feed their children. "It was nearly impossible," she says, "unless you wanted to find obscure, really expensive foods." Today, she says, the same moms would more easily find food products that meet their criteria.
RDs do offer one caveat regarding the plethora of food products that claim to be natural: They suggest that the concept is moot because what's considered "natural" is unregulated by the FDA. "It's just a marketing ploy," says Shannon. "Obviously, it sells, and people are more interested in eating natural foods, but there are no regulations and standards as to what's 'natural.'"
"One hundred percent natural chicken? Well, let me ask you: 'What's an unnatural chicken?'" asks Ickes rhetorically, responding to the label of a particular brand of canned chicken soup. She points out that food companies aren't substituting other meats and calling them chicken, as is the case with imitation crab meat, which is usually made from pollock, a type of white fish.
However, she warns, "A phrase like '100% natural chicken' might make a consumer believe that it's organic, free-range, or white meat chicken, but it doesn't mean any of that."
Although unappetizing, chicken feet can be used as an ingredient and rightfully be listed on a label as natural chicken, adds Shannon.
"People have the idea that food companies should be looking out for our health and can get angry when they find out a product isn't what they thought it was or isn't as healthy as they thought," says Ickes, who has worked with thousands of individuals over the years by conducting the worksite wellness weight management program "Winning by Losing." "People don't understand why the government doesn't make them do that [look out for consumer health]. They don't understand that the government doesn't regulate food in the market or in restaurants."
Label readers must become educated to understand what is truly natural. "You almost have to have had chemistry and food science courses to know," says Shannon, citing "nitrate" as an example of a word with which the uneducated would be unfamiliar.
Even those who should know better can fall prey. "I buy more products that say 'natural,'" Shannon admits, "although I know in the back of my mind that it doesn't necessarily mean anything."
Because the word natural is open to individual interpretation, a consumer can become more confused as he or she reads labels, adds Sullivan. "Company A might define 'natural' one way," she says, "and Company B might define 'natural' in another way."
Furthermore, product names and advertising can be misleading. A cereal name, for example, can contain the word "fiber," yet inspection of the ingredients on the label can indicate that the product is actually a low-fiber food. "The sound bites in commercials are very deceiving," says Shannon.
The confusion may make one question the reason that people eat processed and convenience foods at all. But despite a plethora of cooking shows—and, for that matter, an entire food network—Americans still want convenience. Witness the popularity of fast food, which, in large part, remains unhealthy. "For most people, cooking is a spectator sport," says Ickes. "When they get home from work and they're tired, they need to just grab something."
When family cooks possess the luxury of time to achieve the ideal—fresh, unprocessed foods prepared healthfully at home and served on the dinner table nightly—they can be limited by a region's growing season. For example, while Southerners enjoy three or four growing seasons, Northeasterners have only one season in which to purchase fresh fruits and vegetables grown locally. The problem with fruits and vegetables that are shipped to a grocer, adds Shannon, is that the consumer doesn't know the length of time that the product languished from picking to arrival. That's why in winter, she prefers frozen vegetables to those available in the produce section.
Sullivan says she teaches her clients to consider foods on a continuum—from ripened, raw fruit plucked fresh from a tree, bush, or vine to a fruit-flavored snack that is far removed from a fruit's natural state. "Lots of things are right in the middle: frozen fruit, canned fruit, canned apple pie mix," she says. "I help someone move through that continuum to get to the healthiest choice."
Make Way for Simplicity
Whether they are organic, are worthy of sale in a health food establishment, or simply contain basic ingredients without chemical additives, an increasing variety of healthful, less processed foods are now readily available, allowing individuals to eat properly despite fast-paced lifestyles. Sullivan concludes: "Today you have many more healthful products to combine convenience and economics with staying healthy."

— Nadine M. Hasenecz is a freelance writer in Bethlehem, Pa.
Reference
1. Rock CL. Carotenoid update. J Am Diet Assoc. 2003;103(4):423-425.