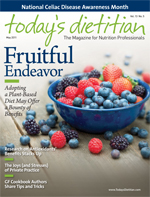 May 2011 Issue
Broad Appeal — Fava Beans Offer Versatility and Spring-Fresh Flavor
By Bryan Roof, RD, LDN
Today's Dietitian
Vol. 13 No. 5 P. 64
I showed up embarrassingly late to the fava bean party. It wasn't until I began working in seasonally conscious restaurants that I discovered their simple beauty and sweet, nutty, refreshingly clean flavor.
Like a welcoming nod toward warmer days, fava beans arrive on the scene in early spring. A member of the pea family, favas are also known as broad beans in some circles. On the plant, the beans grow in approximately 6-inch long pods, about six beans per pod. The interior of the pod is cottony, and moistness within is an indicator of freshness.
Once shucked from the pod, fava beans have a leathery skin that must be removed before eating, although some cultures (eg, the Portuguese) tend to leave this skin intact, softening it through extended cooking (with chorizo, of course). Mediterranean and Middle Eastern cuisines make use of dried favas. Aside from their use in stews, favas are also rehydrated and fried and seasoned with salt for a crispy snack. The crisp fried fava beans I've eaten taste eerily similar to pork rinds, my Achilles' heel. Could it be that the gods of food, in all their cunning, have secretly injected a porcinelike flavor into the food supply under the guise of plant? Um, obviously.
Like most spring produce, the favas of early spring tend to be sweeter with thinner skins, becoming starchier and heartier as the season progresses. Young fava beans can be peeled and eaten raw. The recipe that follows is really more of a strategy. Fava beans go extremely well with virgin olive oil, fresh herbs, hard cheese, and plenty of black pepper. They can also be mashed, puréed, tossed with pasta, or sprinkled on a salad. Throw your own party and figure it out.
— Bryan Roof, RD, LDN, is a chef, dietitian, and food writer living in Boston.
Fava Bean Salad With Mint and Pecorino
Serves 4
Ingredients
24 oz shucked fava beans (see note)
1 oz pecorino cheese, grated on the large holes of a box grater (about 1/4 cup)
1/4 cup fresh mint leaves, torn into small pieces
2 T extra-virgin olive oil
3/4 tsp ground black pepper
1/2 tsp kosher salt
Directions
Bring large pot of salted water to a boil. Add fava beans and cook until crisp-tender, one to two minutes. Drain fava beans and shock in ice-water bath. Once cooled, drain again and peel away their outer skins using your fingers.
Transfer fava beans to medium bowl and toss with remaining ingredients. Serve.
Nutrient Analysis per serving
Calories: 190
Total fat: 10 g
Sat fat: 2 g
Trans fat: 0 g
Cholesterol: 5 mg
Sodium: 410 mg
Total carbohydrate: 16 g
Dietary fiber: 6 g
Protein: 10 g
Note: If you're working with frozen fava beans that still have their skins intact, reduce the blanching time to 30 seconds.