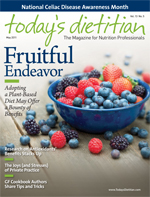 May 2011 Issue
Power Personalities — RDs Take to the Airwaves to Promote Good Nutrition
By Maura Keller
Today's Dietitian
Vol. 13 No. 5 P. 52
In the 1940s, Rosie the Riveter was the nation's premiere "poster girl." With her stoic face, flexed arm muscles, and clenched fist, she was an empowering symbol for a generation of women joining the workforce during World War II. She helped women everywhere recognize the role they could play in improving their families, their communities, and the nation.
Today, many RDs are becoming contemporary "Rosies," taking to the airwaves—namely television—to gain exposure for the profession and get the word out about the vital role that proper nutrition plays in Americans' lives.
Reaching the Masses
"TV exposure for RDs is where it's at," says Zonya Foco, RD, CSP, host of the weekly television show Zonya's Health Bites. "And not just news interviews but hosting personality-driven 'I-like-you-and-I-trust-you' TV shows. The feedback I'm receiving is that [viewers] are happy to see and hear from an RD. They are noticing."
Foco receives e-mails about her refreshingly simple and doable approach, addressing "one habit at a time."
"They love the attention-getting visuals [eg, filling an empty water cooler bottle with 75 cups of sugar to illustrate how much sugar a person would forgo if he or she gave up one can of soda every day for a year] and find them unforgettable," Foco says. "And the best part: They are getting results. And as a benefit to my business, they are visiting my website, purchasing books and my video seminar programs."
For Diane Henderiks, RD, her role as a national television personality places RDs as nutrition experts while showcasing the diversity of the profession. Henderiks provides nutrition/cooking advice on television shows such as Good Morning America and even on Martha Stewart radio. "As a personal chef and RD, my opportunities are numerous and add to the scope of advice I provide," she says.
Following her national appearances, Hendericks typically receives many e-mails with questions and positive feedback. "I am relatable, and my approach to healthy cooking and eating is 'gentle' as opposed to rigid, which makes it easier for my message to get across and for viewers to adopt new behaviors and changes," she says.
Jessica Setnick, MS, RD/LD, CSSD, who has a recurring segment on "Doctor to Doctor" on TBN, also strives to reach an audience that has never seen an RD regularly on air. "My hope is that viewers with emotional eating problems, questions about nutrition for their families, or medical conditions [who] require special diets will see my segments and learn to associate dietitians with helpful, practical information," she says.
Katherine Brooking, RD, MS, a frequent nutrition contributor for morning shows such as TODAY, LIVE With Regis & Kelly, The Early Show, and Good Morning America Health, hopes her presence in the media is helping raise awareness of the profession. "I hope that by being an RD who specializes in media communications, I will help the public come to associate the 'RD' credential with credible, science-based nutrition information," she says. "I think that people hear so much information about nutrition from various sources: doctors, magazines, TV, infomercials, food companies, personal trainers, and friends. Many people don't know [whom] to trust when it comes to getting up-to-date, evidence-based data about healthy eating."
Tanya Zuckerbrot, MS, RD, has appeared on The View, TODAY, The Early Show, and many other media platforms. "I have been able to provide the public with expert advice based on current nutrition science. Sharing this information with the public speaks to the wealth of knowledge in the dietetic community," she says. "On television, my main goal is to inform the public on how to make healthier decisions as well as to debunk common nutrition myths. If I can give viewers takeaways so that they can make small changes in their lives, then I feel that I am doing my part."
Creating the Message
Henderiks has a lot of creative control over her segments and is responsible for developing the concept of the programs she provides. "I like to take a subject that is trending in the news or media, put my own spin on it, then I 'set the record straight' on TV," she says.
Setnick's favorite strategy is to phrase her topic as an imaginary viewer question, such as "Why are we supposed to avoid eating XYZ?" and then answer the question as though she were talking to that particular individual. "This way, I am able to present the correct information in a friendly one-on-one manner to the viewer instead of a didactic teacher-to-student 'today I am going to talk about fiber' lecture format," she says.
While Ashley Koff, RD, enjoys being a regular contributor for news outlets, she believes being the dietitian for the CW's Shedding for the Wedding and Lifetime's Love Handles (debuting this June) allows viewers to see firsthand the value of the dietitian. "We can go beyond telling someone what to do and work with them in their home, at their store, or—in the case of Shedding—at a set location to create customized nutrition plans for optimal health," Koff says. "For Shedding and Love Handles, I am helping couples hand-pick brands, not just foods, so that teaches them how to read labels and how to sort through marketing messages to find what is true nutrition vs. marketing hype. I am really lucky because I get to talk about what people need to know and to show them the differences while the camera rolls. That information doesn't always make it on air, but then I follow up with blogs and tweets to make sure my information gets out there."
Foco likes starting her weekly program with the statement "You probably have heard…" "This gets them listening to you right away," Foco says. "Explain the 'grain of truth' in which that information is based on, followed by what the overall, real-life answer really is. It's a great way to 'ride the media wave' and teach in today's media-driven market."
While many RDs strive to educate the public through their media efforts, for Lisa De Fazio, MS, RD, it is about making the public more aware that RDs are the "real deal." De Fazio has been a diet expert for Perez Hilton's celebrity website www.fitperez.com, Us Weekly magazine, Star magazine, and KFWB 980 News Talk Radio and KABC 790 Talk Radio, both out of Los Angeles. She has also hosted segments for Channel 7 Eyewitness News, CBS, and FOX. "Producers, casting directors, and public relations professionals do not know the difference between a dietitian and a nutritionist," she says. "Therefore, personal trainers, reality stars, chefs, and 'quickie online course nutritionists' are all over the media as so-called diet experts, giving nutrition advice and making millions of dollars. I plan to change that. I hope my presence makes the public and entertainment industry aware that registered dietitians are the true, qualified … nutrition experts."
What RDs Can Do Out of the Limelight
Of course, not everyone aspires to be a television personality. So what can RDs who don't want to be in the limelight do to promote themselves and the profession? Hendericks recommends contacting local newspapers and offering to write a column, approaching the local gym about availability to offer consults, starting a nutrition blog, using social media to develop a following, or conducting demonstrations in supermarkets and health-food stores.
"You will never regret time spent enhancing your speaking skills so you can do a fabulous job for any group anytime," Foco says. "Also, take media training just to learn to speak in brief, punchy sound bites. Even if you never plan to speak to groups or do media, I tell you [that] it will make you a better communicator in every situation, drawing people to you and your ideas."
De Fazio does not believe RDs on the whole have done all they can to inform the public that they are the nutrition experts. "I am so proud to be a registered dietitian, and it is time to really let the media know that they should be calling and quoting registered dietitians when they are doing diet and nutrition stories," she says.
Zuckerbrot would like RDs to recognize that whether they are counseling in a private practice setting, working in a hospital, or contributing to a newspaper, they are making a difference in helping Americans get healthier. "A great way to reach the masses is through the Internet. Social media platforms such as Twitter and Facebook help spread dietetics to a broader audience," she says.
Mitzi Dulan, RD, CSSD, the team nutritionist for the Kansas City Royals baseball team who has discussed wellness and nutrition on numerous TV programs, believes all dietitians who have a private practice or want to grow their speaking business should have a website. "It is the first image people have of you," she says. "Always work to improve your skills, such as speaking. I'm always trying to see how I can do better."
Koff agrees: "I didn't become an RD to be on TV. I am using TV to help me get a bigger reach for my RD message, and I think every RD can find a way to get their message out there. Today, we are so needed—working in a school, starting a food company, collaborating with doctors, or working at a spa. There are so many ways for you to make a difference if you focus on what is meaningful to you and share that with others."
— Maura Keller is a Minneapolis-based writer and editor.