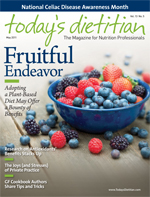 May 2011 Issue
Rising to the Challenge — Help Celiac Clients Get Cookin' With These Gluten-Free Tips
By Juliann Schaeffer
Today's Dietitian
Vol. 13 No. 5 P. 24
They can have their bread and eat it, too, using suggested substitutions and other tricks from our GF cookbook authors and experts.
Whether at a fast-food eatery, chain restaurant, or mom-and-pop bistro, eating out today isn't without its pitfalls, as any dieter can attest. Discerning the healthfulness of one restaurant's roast chicken sandwich vs. chicken and walnut salad can be challenging. Fats hide in dressings, nuts, and cooking oils, and breads can house the majority of a meal's calories. The circumstances get even stickier for people with celiac disease or gluten sensitivity, who are forced to pare down their menu selections even further just to steer clear of sickness.
"The biggest challenge to eating out is to find restaurants that can serve safe, uncontaminated gluten-free [GF] food," says Annalise Roberts, who has written several GF cookbooks, including Gluten-Free Baking Classics and The Gluten-Free Good Health Cookbook. But beyond safety concerns, she says the real key to eating a healthful GF diet is in not replacing processed foods of refined wheat and sugar with GF processed foods.
"For the most part, these foods are calorie dense and nutritionally light…," she explains. "Those on a gluten-free diet need to educate themselves about all the fresh vegetables, fruits, nuts, seeds, and lean proteins available at local grocery stores and food markets. It is these foods that comprise the basis of a healthy gluten-free diet."
"Overall, both those who [have] celiac disease and those who [do] not often are running around and trying to make the best choices they can that fit within the confines of their schedules and budgets," says Marlisa Brown, MS, RD, CDE, CDN, author of Gluten-Free, Hassle-Free and Easy, Gluten-Free. "The biggest concern for those with celiac disease is trying to have foods that are safe from cross-contamination or hidden ingredients. You can't just look at a menu or buffet and tell what is safe to eat," she says of the intricacies of eating out for those with gluten sensitivities.
For clients with celiac disease, eating in instead (and cooking for oneself) might seem like an easy solution most days of the week, if not for families' packed-to-the-brim schedules, squeezed budgets, and overall lack of Top Chef cooking skills.
Yet learning to put together GF meals at home is worth the time and effort invested, say experts. Here, a sampling of GF cookbook authors and experts offer their thoughts on the importance of home cooking and their best tips and tricks for making meals nutritious, delicious, and safe for the celiac set.
Benefits of Home Cooking
According to Gayl Canfield, RD, director of nutrition at Pritikin Longevity Center + Spa in Miami, the benefits of GF cooking at home are many: "You have complete control over what goes into your food and how it is prepared. You can choose the freshest ingredients, prepare them in a way that is healthy, season them with beautiful herbs/spices, and enjoy the satisfaction that comes with doing something healthy for yourself."
"Additionally, home baking allows people living gluten free to have control over their fat and fiber intake, since lack of fiber can often be problematic for people on a gluten-free diet," says Beth Hillson, a professional GF chef, cookbook author, and founder of Gluten-Free Pantry.
Add money savings to that list, as Jennifer Cafferty, a GF culinary instructor and founder of The Gluten & Allergen Free Expo, explains that GF prepared foods often cost more than their standard counterparts (if they're even available at the local store). "Those on restricted diets, especially a gluten-free diet, most likely cannot afford to buy all of their food already prepared," she says, noting that for GF-ers, not cooking/baking at home can lead to quickly skyrocketing food costs.
Carol Fenster, PhD, president and founder of Savory Palate, Inc and author of 10 GF cookbooks, including 100 Best Gluten-Free Recipes, lists developing a greater understanding of and appreciation for food as another reason to regularly cook at home. "People who prepare their own food have the opportunity to appreciate where their food comes from and to enjoy the sensory process of food preparation: the snap of asparagus stalks, the sizzle of bacon frying in the pan, the routine of peeling potatoes," she says. "These activities, though rote at times, can be soothing and mind calming, setting the stage for a calmer, less rushed eating experience."
Fenster and other experts note that many people in today's society were never taught cooking and/or baking skills when they were growing up and thus don't have even a basic skill set on which to fall back—not to mention the intimidation that GF cooking presents. "Even if they had a limited exposure to cooking as a child, having to relearn the process with a completely different set of ingredients can be daunting," she says.
In a society where eating is seen more as a "chore that can be addressed with shortcuts and the least amount of time investment so that we can move on to doing something else," according to Fenster, devoting just 30 minutes to preparing a meal can sometimes seem too unreasonable an expectation on a weeknight. Fenster says dietitians should remind harried clients "that eating is the most profound thing we do to our bodies every day. So what we eat is vitally important to our overall health and well-being."
Indeed, if clients put in the necessary time to solidify some basic GF skills, a sky of possibilities could open up. "If you learn how to cook GF and do so regularly, you are only limited by your imagination," says Brown. Whether a client's fancy is for quick and easy one night, gourmet another, and budget-friendly the next, "On a GF diet, if you cook at home, you can virtually find a way to replace almost all of your favorite foods," she says.
"For those diagnosed with celiac disease, the simple act of eating can become stressful," notes Kimberly Mayone, coauthor with Kitty Broihier, MS, RD, of Everyday Gluten-Free Slow Cooking. But she says learning just a handful of safe go-to recipes can make all the difference in the world to those eating GF.
Broihier has also noted this hesitancy to cook among newly diagnosed patients. "After an initial diagnosis of celiac disease, some people basically stop cooking because they are fearful of eating the wrong thing or cross-contaminating their food. That's understandable," she says, but offers GF consumers the following advice: "Know that in time, everyone with celiac becomes more comfortable with the ingredients and label reading. Walk back into your kitchen and reacquaint yourself with your pots and pans. Make sure you have some dedicated gluten-free equipment and utensils [toaster and pans/equipment for home baking] and then go for it."
Experts' Secrets to GF Success
Safety First
While experts agree that safety concerns should not deter anyone from trying their hand at cooking, they say there are some things to take into account to avoid cross-contamination, especially when only certain members of a household have gluten sensitivities.
In general, labeling is a must to keep things straight in the kitchen. "Be sure to clearly label all foods and keep doubles of foods like peanut butter [and other spreads] because a dip with a crumb-covered knife can contaminate a jar," says Lisa Lewis, PhD, author of Special Diets for Special Kids.
Brown suggests households buy just one GF version of stocks, broths, salad dressings, soy sauce, and other cooking staples that often contain gluten. The taste difference, she says, is often negligible and is not worth the risk of cross-contamination that comes from having two of everything.
Lewis recommends using a toaster oven instead of a toaster, which can collect crumbs more easily, and dedicating hard-to-clean appliances (eg, a waffle iron) to preparing only GF foods to further lessen the chance of cross-contamination.
Working With Alternative Grains
When diagnosed with celiac disease, patients must bypass the most widely available and well-known whole grains—namely wheat in the form of wheat berries, wheat bran, and bulgur—and instead turn to less familiar varieties. Supermarkets do offer these alternative choices, but many restaurants do not.
"Finding alternative whole grains in restaurants is hard. Except for brown rice and the occasional quinoa dish, one won't find whole grains," says Fenster. "Therefore, we have to cook amaranth, buckwheat, quinoa, sorghum, and teff at home in order to meet the daily goal of three to five servings."
But how can you help clients get started with alternative grains they can barely pronounce, let alone cook? Tricia Thompson, MS, RD, the "Gluten-Free Dietitian" and author of The Gluten-Free Nutrition Guide and The Complete Idiot's Guide to Gluten-Free Eating, suggests telling clients to be undeterred and get experimental. "Purchase a variety of whole grains. Look at the size and shape. Cook them up as you would rice. Observe how much water the various grains and seeds absorb. Really taste them and think about the other flavors that would go well with them," she says.
Nicole Hunn, author of Gluten-Free on a Shoestring, uses whole grain brown rice or wild rice instead of white rice and suggests trying dried brown rice pasta (which she says is widely available today) over corn pasta.
"Quinoa is also a popular gluten-free grain, and it's packed with so much protein and other nutrients that it's considered a 'super' grain," she adds. "Teff flour is also a popular alternative, gluten-free grain that is very nutritious as well and is useful as a thickener for soups and stews and can replace a portion of the other gluten-free flour in baked goods to increase their nutritional content."
If clients return your alternative grain recommendations with a suspicious glare, simply refer them to the back of a product's box for cooking instructions. "To start, I would use the manufacturer's directions on the back of the packaging," says Brown, explaining that while cooking alternative grains requires a different water-to-grain ratio, there aren't many other differences in preparation, and the instructions for preparation are always listed on the back of the box, as with most rices and pastas. Of note, Brown steers clients with celiac disease away from grocery store bulk bins, which she calls a climate ripe for cross-contamination.
In general, "More liquid is the key to cooking anything that has more fiber and is less processed," says Pamela Giusto-Sorrells, founder of wheat- and gluten-free food line Pamela's Products.
GF Baking Basics
If cooking GF is intimidating, baking without gluten likely seems near impossible to those without the basic techniques. Even so, experts say it may take a little work, but it's definitely possible with the right tools.
What is one tool to recommend to those baking GF? A good GF cookbook. "Baking with gluten-free flours can be very daunting at first. Gluten-free bakers may experience their share of flops. This is where a good gluten-free cookbook comes in handy," says Thompson. "A willingness to experiment is useful when trying to convert gluten-full recipes to gluten-free recipes. Consumers may find it easier to work with commercial gluten-free mixes in the beginning.
"Also purchase a variety of flours," she suggests. "Feel the texture of the flour. Use a basic muffin recipe and start experimenting. Start with a cup-for-cup substitution of gluten-free flours for wheat flour. Use 3/4 cup gluten-free flour—teff, brown rice, etc—and 1/4 cup gluten-free starch—cornstarch—at first and go from there."
Cafferty says, "Once you get the basics," after experimenting with already-tested recipes, "then you can create your own recipes," suiting ingredient substitutions and add-ins to individual tastes.
Roberts' tip for baking GF is to mix it up: "The trick is to mix whole grains for nutrition, taste, and character with starches to lighten and add chew and texture." For cakes, cookies, muffins, and pie crusts, she mixes brown rice flour with potato starch and tapioca starch for an all-purpose flour mix. For bread flour mixes, she suggests using millet and sorghum with potato starch, tapioca starch, and cornstarch. "I also use a little teff flour or ground oats in my multigrain breads," she says.
"Try to use extra finely ground brown rice flour because otherwise your baked goods will be heavy and gritty. For breads, it doesn't matter, and the larger grinds aren't noticeable once the bread is baked," Roberts adds. "You'll need xanthan gum and sometimes guar gum to replace the gluten in wheat. They help hold baked goods together, give them elasticity, and improve mouthfeel."
Dietitians may want to forewarn clients that GF dough is typically not as firm or smooth as conventional dough, according to Hunn. "If you are making a loaf of bread, you will be scraping it into a loaf pan with a spatula and then smoothing the top," she notes. "You can still make formed bread, like French bread, rolls, bagels, and anything else you can imagine. But you will need to be a bit more delicate when handling the dough, and you should expect the dough to be stickier. Doughs and crusts can still be rolled out, but it's usually most convenient to roll them between two sheets of plastic wrap."
According to Hillson, who authored the cookbook Gluten-Free Makeovers (due out this fall), texture is the biggest challenge in baking without gluten, as many GF baked goods can become dry and crumbly. "To create moisture and texture, use pumpkin or banana purée or add yogurt, honey, eggs, xanthan gum, or vinegar for their tenderizing qualities," she says. "Adding these ingredients as part of the equation helps to improve gluten-free baking and is also good for reducing fat content in a recipe."
Giusto-Sorrells' trick to creating a lighter texture lies in baking in small portions. "I think that making smaller portions helps with many gluten-free recipes—many cupcakes instead of a sheet cake, small pancakes instead of large, oversized ones," she says, also recommending consumers with celiac disease try out a bread maker for fast and easy at-home bread.
Lewis says most bean flours, mixed with GF grains, work well for baked goods and breads. While these flours add protein to a food's nutritional profile, beware of using too high a proportion, which can result in an overwhelming taste. "I like to use two parts grain flour to one part bean flour," says Lewis.
Shelley Case, RD, a nutrition expert on celiac disease and the GF diet who authored Gluten-Free Diet: A Comprehensive Resource Guide, recommends yellow pea and bean flours as healthful GF baking options. "Yellow pea flour has a more neutral flavor than bean flours, so you can use a larger percentage of this flour in the recipe, whereas bean flours have a stronger flavor and need to be used in smaller portions so that it does not overpower the baked good." Because yellow pea flour is not widely available yet, Case sends clients to www.amazon.com or www.bestcookingpulses.com to purchase it.
Taste, Texture, and Other Tips
For a more pronounced flavor, Giusto-Sorrells uses GF chicken broth as her all-around flavor amplifier: cooking vegetables in it, adding it to sauces, and whipping it into potatoes. She also utilizes her freezer to make meals in a pinch. "I have cooked brown rice in my freezer at all times, so I don't have to wait an hour for it to cook." Several experts also recommend freezing GF baked goods to extend their shelf life.
Case looks to legumes to add some nutritional pizzazz to a number of GF dishes. Along with Pulse Canada and Fenster, she came up with a GF guide for cooking with legumes, Pulses and the Gluten-Free Diet, available free of charge at www.pulsecanada.com. In the guide, Case recommends mashing cooked white beans and mixing them into chicken, egg, or tuna salad for extra protein and fiber and a creamy consistency and mixing rinsed canned black beans into a GF salsa for a quick snack. For baking purposes, Case and Fenster suggest puréeing canned lentils or beans in a food processor with a bit of hot water and then adding to any baked recipe for an unparalleled moistness.
Although Mayone has found thickening without flour to be somewhat challenging, she recommends GF consumers learn to work with cornstarch, "which most people have on hand. We used cornstarch to duplicate traditional Thanksgiving gravy and also roasted pork gravy with much success. Cornmeal and tapioca products such as flour and starch are also effective thickening agents."
A Positive Outlook Is Invaluable
No one learns to cook overnight, and people with gluten intolerance or sensitivity will likely have some kitchen disasters along the way to culinary accomplishment. But Broihier says success lies in clients' outlook about cooking and celiac disease in general.
"Following a gluten-free lifestyle doesn't have to be about what you can't have anymore. Instead, try focusing on your lifestyle as one that allows you to have more of lots of great things—all manners of vegetables and fruit, interesting grains, a vast array of beans, for example. Bulking up your meals with these things will bring more nutrition to your diet and more variety to your plate. There are so many things that people with celiac disease can eat. Learning to work with the abundance of safe foods available can make a huge difference in your outlook and satisfaction."
As Roberts so aptly wrote in Gluten-Free Baking Classics, "Make the time to cook and bake. If you are too busy to cook, maybe you are too busy."
— Juliann Schaeffer is an associate editor at Great Valley Publishing Company and regular contributor to Today's Dietitian.
Baked Kale Chips
From 125 Gluten-Free Vegetarian Recipes by Carol Fenster, published by Avery, on sale July 5, 2011
Serves 4
Ingredients
4 cups kale (1 bunch), stems removed, torn into chip-size pieces
1 T olive oil
1/4 tsp sea salt
Directions
Place a rack in middle of oven. Preheat oven to 350˚F. Line a 10- X 15-inch baking sheet (not nonstick) with parchment paper.
Wash kale and trim stems from each piece. Spin dry in a salad spinner and blot any remaining moisture with paper towels.
In large bowl, toss kale with olive oil until thoroughly coated. You may need to use your hands to get every piece thoroughly coated. Toss with salt. Spread in a single layer on baking sheet.
Bake until chips are crispy, about 15 minutes. Watch carefully so they don't burn. Cool pan on a wire rack until chips are cool. Serve immediately.
Nutrient Analysis per serving
Calories: 65 
Fat: 4 g
Protein: 2 g
Carbohydrates: 7 g
Cholesterol: 0 mg
Sodium: 146 mg
Fiber: 1 g
Spring Nicoise Potato Salad
Provided by Jennifer Cafferty on behalf of the United States Potato Board, www.potatogoodness.com
Serves 4
Ingredients
8 small red potatoes, uniform in size
1 6-oz can white tuna in water, drained
12 steamed asparagus spears
8 radishes, sliced
1/2 cup pitted Kalamata olives
2 T minced red onions
3 T red wine vinegar
2 T chopped fresh parsley
4 tsp olive oil
Salt and pepper
Directions
Leave skin on potatoes, quarter, and place in large pot and cover with water. Set over high heat and bring to a boil. Boil 10 minutes, or until potatoes are tender. Drain.
Arrange potatoes on a platter with tuna, asparagus, radishes, olives, and onion.
In small bowl, whisk together vinegar, parsley, and oil. Drizzle over salad. Season with salt and pepper.
Nutrient Analysis per serving
Calories: 216
Cholesterol: 13 mg
Sodium: 451 mg
Fat: 8 g
Carbohydrates: 24 g
Fiber: 3 g
Protein: 14 g
Gingerbread Cupcakes
Recipe reprinted with permission from Pulses and the Gluten-Free Diet by Pulse Canada in collaboration with Shelley Case and Carol Fenster, www.pulsecanada.com/pulses-and-the-gluten-free-diet
Makes 12 cupcakes
Ingredients
1 cup brown rice flour blend*
1 tsp baking soda
2 tsp ground ginger
1 tsp cinnamon
1/2 tsp ground cloves
1 tsp xanthan gum
1/2 tsp table salt
1 cup lentil purée*
2 large eggs, room temperature
2/3 cup packed light brown sugar
1/3 cup canola oil
1/3 cup molasses (not blackstrap)
1 tsp vanilla extract
1 tsp apple cider vinegar
Directions
Place rack in middle of oven. Preheat oven to 350˚F (180˚C). Generously grease standard 12-cup muffin pan or line with paper liners.
In medium mixing bowl, whisk together flour blend, baking soda, ginger, cinnamon, cloves, xanthan gum, and salt until well blended. Add lentil purée, eggs, brown sugar, oil, molasses, vanilla, and vinegar and beat with an electric mixer on low speed until blended. Divide batter evenly in muffin pan.
Bake until toothpick inserted into center of cupcakes comes out clean, about 20 to 25 minutes. Cool cupcakes in pan 10 minutes on wire rack. Remove from pan and cool completely on wire rack.
*Note: To make brown rice flour blend, combine 11/2 cups brown rice flour, 11/2 cups potato starch, and 1 cup tapioca flour (also called tapioca starch). To make lentil purée, visit Pulse Canada and refer to the instructions on page 16.


Nutrient Analysis per serving (1 cupcake)
Calories: 224
Protein: 3 g
Fat: 8 g
Saturated Fat: 1 g
Carbohydrates: 37 g
Fiber: 2 g
Sodium: 199 mg