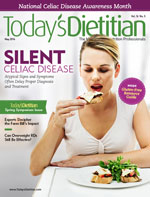 May 2014 Issue
Lights, Camera, Action!
By Lindsey Getz
Today's Dietitian
Vol. 16 No. 5 P. 36
Making and posting videos on the Web can help build your business and brand. Here's a guide on how to get started from colleagues who are already doing it.
Over the years, the Web has exploded with videos. People are hungry for information, and they want to receive it quickly, efficiently, and visually. That's why outlets such as YouTube and Twitter-owned Vine, a network of shared videos that are only six seconds long, have become increasingly popular.
Most people prefer to watch a short video to get instructions or receive information than read large quantities of text. According to comScore, a global digital market measurement service, the average Internet user watches around 186 videos per month.
Video can be a great way for dietitians and other nutrition professionals to promote nutrition messages and build their business and brand, but many haven't taken advantage of this opportunity. They often believe it will be difficult, costly, and time-consuming. While it does take a little bit of an investment, making and posting videos online generally isn't as daunting as many believe.
Making Connections
Many RDs who previously didn't give video much thought beyond entertainment are realizing that it's a wonderful business tool. Jennifer Neily, MS, RDN, CSSD, LD, chair of the Academy of Nutrition and Dietetics' (the Academy) Nutrition Entrepreneurs Dietetic Practice Group, admits she originally thought YouTube was silly and never thought of it in terms of promoting her business or her message.
Many nutrition professionals viewed YouTube in its early days as a place to post funny animal videos or share clips with friends and family. But like many other RDs, Neily now sees YouTube as a powerful marketing tool for her business. Today, her YouTube channel is a large part of her brand, and making and posting videos has become a regular activity. In the last two years, the Neily on Nutrition channel has grown to more than 100 videos. YouTube is one of the largest search engines out there, she says, and is an excellent place to post videos, build her brand, and promote her nutrition messages.
Neily says her motivation for producing videos came when she hosted some interviews for a start-up company for which she was consulting. She interviewed other dietitians and posted the videos on the company's YouTube channel. Through the process, she recognized it was easier to do than she'd thought. That's when she realized it was something she could be doing on her own. It's a way to connect with people quickly and effectively, she says.
Many dietitians turn to video because of its ability to share information in a creative and meaningful way. Angela Grassi, MS, RD, founder of the PCOS Nutrition Center in Haverford, Pennsylvania, says she got started with video because she wanted to share more information with her followers. She didn't feel that listening to recorded interviews was as interesting as watching a video. When she attended the American Society for Reproductive Medicine international conference last year, she wanted her followers to actually see the information she was receiving there. So she interviewed experts and shared the resulting videos. Grassi says the feedback has been very positive.
"My followers find that watching a video is more interesting than just listening to the information," she says. "I also find that a video interview gives viewers more of a connection with the people in the video. People get to see more of me and my personality, for example, and that helps build trust and relationships. In that sense, video interviews can be good for marketing purposes and establishing a credible brand."
Laura Oliver, MS, RD, CDN, a dietitian in private practice, says she appreciates video for its altruistic opportunities. "I've always had a desire to reach a larger population than my daily clients," she says. "Making videos allows me to educate individuals who are searching for nutrition answers but sadly may not have the money or resources to meet with an RD. I like for my viewers to know they can ask me anything and I'll respond. It also forces me to continue self-educating and to stay updated with dietary trends."
For Toby Smithson, RDN, LDN, CDE, a spokesperson for the Academy and the founder of DiabetesEveryDay.com, video has been a great replacement for handouts. Smithson says that after many years of seeing clients one-on-one or in group settings, she repeatedly was hearing that they didn't want any more handouts—they just wanted someone to show them what to do to manage their diabetes. That's when Smithson realized video was the answer. Smithson says she's found that teaching in video format brings the information right to the client within their comfort zone (at home). "They also can pause or replay a video unlike they can in a one-hour counseling session," she adds.
Getting Started
The first step in making a video comes before any filming begins, and that's devising the content. Videos can be made in many different styles, and you must consider what will work best for you. Do you want to make videos where you do all the talking? Do you want to interview other experts? Are you going to be creative and use props or jokes or do a little bit of acting? Deciding whom you're targeting with your videos will make answering these questions easier. The intended consumer of your video should help determine the message your videos will convey.
For example, Smithson produces videos for clients who have specific questions, such as how to manage diabetes when going for a medical test such as a colonoscopy or what exercises could help them most. "The videos on my website are produced to meet these specific needs," she says. "My target audience is people with diabetes who often become overwhelmed with all of the information on changing their lifestyle."
Janis Jibrin, RD, lead nutritionist for Best Life and author of The Pescetarian Plan, says she develops video content based on current trends and hot topics. The videos are posted to the diet and fitness website TheBestLife.com and are meant to creatively break up the ongoing written blogs she produces.
In addition to videos where Jibrin does all the talking, she hosts "man on the street" videos where she asks random people for their thoughts. But her favorite video was one in which kids were cooking while she provided nutrition commentary. "Each child made a quick dish," she recalls. "They were so enthusiastic, and it made for some funny and cute moments."
When thinking about content, if you're going to get creative, visuals are important. "I make sure there are always plenty of visuals instead of just talking heads," Smithson says. "My scripts usually contain a hook. For instance, I literally painted myself in a corner with paint on the floor to discuss how people with diabetes can feel trapped."
It's also important to think about the video's length. One reason many turn to video for information is to receive it quickly. The video's length depends on the content. If you're filming an interview or a speaker, it's obviously going to be longer. But if you're looking to make your own informational piece, the more concise, the better.
Jibrin says that while some of her videos are five minutes or longer, she believes most should fall within the one-minute span. "Honestly, that's about the limit of people's attention spans for this kind of material," she says. "When I started this, I didn't have a shred of experience. But it started to dawn on me that my videos should either be shorter or broken into several short videos. As I plan ahead to shoot videos for my new book, I'm going to try mightily for that one-minute max."
Roll the Video
When it comes time to film, you'll need to have all the equipment ready. In terms of an investment, it's fairly minimal. A camera (or a smartphone with a camera) and a few small pieces of equipment are all you really need to get started. The small size of today's equipment makes it easy to shoot video on the go. Neily says she got started using a Flip Video camera but ultimately moved to the iPhone, which she says simplifies the process. "The quality of smartphones makes this so easy," she adds.
Neily's biggest investment was a full-size tripod and mount designed for smartphones, but she began with a tabletop tripod and the Flip camera, which she says can work just fine. Since she got started, the options for tripods have increased and the prices have come down, so there's more from which to choose.
Neily also purchased microphones and a portable light attachment for her iPhone to improve video quality. "The mics are really important," she says. "Unless you're in a super quiet room, it really makes a difference. Even if you're in a quiet space, the mics block out sound. I use two mics so that I can do interviews."
Many RDs who have used video say it's something they can do on their own. Grassi believes one person can do the filming and production pretty easily. Neily agrees: "It does require back and forth checking of the lighting and making sure the picture is correct, but I don't have the luxury of help. It's certainly doable alone."
While filming can be done relatively easily with the use of a tripod, editing is a skill RDs must learn if they're not familiar with the process. "After being filmed, videos can then be immediately sent to YouTube or uploaded to a computer for editing and special effects or text," Grassi says. "But the editing process does take some time to get used to and is harder than making the video itself."
"One needs editing software and needs a huge hard drive since video files go into gigabytes pretty quickly," Smithson says. "Adding video to your website also requires embedding an HTML code. We do this on the back side of the website and use a professional video server for some videos and YouTube for others."
YouTube is an excellent outlet for posting video, but the ultimate hub should probably be your own website. Sarah Krieger, MPH, RDN, a spokesperson for the Academy, says she uses her personal website and SarahRD.tv as the video hubs and then syndicates her videos on other outlets, including Vimeo, Blip, ifood.tv, and YouTube.

Krieger says it's best to be on multiple sites. "An RDN should be where people are searching for a topic," she says. "Online TV is replacing cable, so to have an RDN show on Vimeo or Hulu is pretty cool. That's where people search for topics such as cooking or something very specific like eating fish during pregnancy. My goal is to be on that first page of their search."
But building visibility and credibility takes time. Krieger says her husband is in the information technology field and has partnered with her to not only make videos but publicize them. She admits it can be a time-consuming process. "My husband does most of the pitching to different sites," she says. "It takes time to build it up—we've been doing this for three years now—but it does build your brand."
Incorporating reliable information into your video content will help build credibility, Krieger says. "Different sites are looking for credible information, which is another reason we've been successful," she says. "One of my videos, 'Tomatoes,' was actually on the home page of ifood.tv. But it took time to get to that point; it doesn't happen overnight."
In terms of quality and viewership, Neily says that even poor-quality videos can get views, so you don't have to be a professional to be successful with video. "I have seen some poor-quality videos on YouTube that still get thousands of views, so quality is obviously not affecting viewing," she says. "I think it has more to do with content."
Of course, the more professional and polished your videos are, the more likely people will share them and additional sites will pick them up. If this is something dietitians are serious about, investing time and money in video production can contribute to success.
Further Considerations
According to Neily, even if RDs produce video to build their own brands, they're still representing the dietetics field as a whole. She recommends dietitians make sure they're producing videos that contain credible information.
Neily also says RDs should give some thought to the issue of disclosure. She's a member of RDs4Disclosure, a community of dietitians expressing their commitment for full disclosure in all forms of media and online communications, and she believes all RDs should do this as well. "To maintain our integrity, I think it's critical that it's disclosed if there's any compensation, if we've been given product, or if someone is a brand ambassador," she says. "So many less-than-credible nutrition videos are basically infomercials. When I was doing omega-3 videos, I looked at some other videos made on the product and found that many of the YouTube videos were basically just product marketing."
As dietitians begin producing videos, they'll likely find that viewers appreciate the effort. Smithson says her clients tell her it's helpful to see the information she shares presented in video format. Often, it helps them not only retain the information but put it to good use. "A picture paints a thousand words, and video helps take a picture and make it reality," she says.
— Lindsey Getz is a freelance writer in Royersford, Pennsylvania.
Equipment Needed for Making Videos
• Camera (eg, a point-and-shoot or DSLR) or smartphone with built-in video features
• Tripod or secure, flat table
• Microphone (two mics for interviews)
• Portable light attachment (eg, The Pocket Spotlight by Photojojo.com)
• Video editing software or a digital camera with built-in movie editing features
• Props (optional)
— LG
Books
• 500 Social Media Marketing Tips: Essential Advice and Strategy for Business, Plus Over 180 Free Step-by-Step Video Tutorials by Andrew Macarthy
• Video Marketing for Dummies by Kevin Daum, Bettina Hein, Matt Scott, and Andreas Goeldi
• YouTube Marketing Power: How to Use Video to Find More Prospects, Launch Your Products, Reach a Massive Audience by Jason G. Miles
• YouTube and Video Marketing: An Hour a Day by Greg Jarboe
• Get Seen: Online Video Secrets to Building Your Business by Steve Garfield
• How to Shoot Video That Doesn't Suck by Steve Stockman