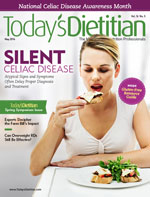 May 2014 Issue
Achieving Optimal Food Safety in Schools
By Lori Zanteson
Today's Dietitian
Vol. 16 No. 5 P. 18
Dietitians discuss best practices to maintain exemplary food safety programs.
There's much more to school foodservice than what's served in the lunch line. It's what happens behind the scenes that ensures our nation's school children are eating fresh, nutritious, and tasty meals and, most importantly, that the food is safe.
Food safety is at the core of every school foodservice program, but what does it take to develop a program that isn't just effective but also exemplary? Dietitians and school foodservice leaders around the country shared the strategies and tools that have helped establish their programs.
Make It Relevant
Training is the foundation of any school food safety program, but the most effective schools reach beyond lectures on food safety policies by presenting them in ways that make them meaningful and relevant. It's "not just the training but taking it a step further," says Debbi Beauvais, RDN, SNS, district supervisor of school nutrition for Gates Chili, East Rochester, and East Irondequoit schools in western New York.
A self-professed "food safety guru," Beauvais also is a certified food safety instructor. Using real-life examples is one way she makes food safety relevant to students and her foodservice staff, and she does this by bringing in outside speakers. For example, when teaching about allergens, Beauvais had a Food Allergy and Anaphylaxis Network member discuss her experiences as a mother of a child with allergies and the many bad experiences they had, even among well-trained people. Because the speaker lived and experienced these things in the community, her stories had more impact.
Some of what speakers have shared leaves a deep, lasting impact, such as the story of a teenager who died after experiencing an allergic reaction from contaminated tongs. Due to cross-contamination, there was no way to determine the source responsible for the reaction and, therefore, the correct treatment. Beauvais has gathered many stories like these, knowing they resonate with people and reinforce the importance of their role in protecting children's safety at school.
Telling her own story has proven effective for Lauren Loper, RD, procurement supervisor for Lee County Schools in Florida. She had the opportunity to attend Produce Safety University, a one-week training course developed by the USDA's Food and Nutrition Service and its Agricultural Marketing Service to help school foodservice staff identify and manage fresh produce food safety risks. Made possible by a USDA grant, the weeklong event covered produce from ground to table. Watching the number of handlers who touched produce had a big impact on Loper—so much so that she found herself questioning the cleanliness of the produce on her plate while dining in a restaurant after the event. Loper brought that eye-opening experience back to her school and continues to draw from it when sharing the importance of washing food before it touches the counter or knife.
Get Buy-In
"It's hard to make food safety interesting," says Dora Rivas, RD, executive director of food and child nutrition services for the Dallas Independent School District in Texas. One way she makes it more appealing is by encouraging employee buy-in through a manager training program. The program is open to staff members who want to advance their position. Once they become managers, they're eligible to become cafeteria supervisors who are formally trained through the ServSafe food safety program. This has been effective in grooming more people to become supervisors, Rivas says. She emphasizes the importance of having a continual flow of "people coming in fresh, with current information," she says, as food safety constantly is evolving.
To ensure all cafeteria staff members learn the basics of food safety, a substitute pool of employees participates in the food safety training program. The substitute staff is included in all school training sessions and conferences when possible. "We know we're giving them that consistent message and reinforcing that they're part of the school district team and that their role in serving our children is important," Rivas says.
An impressive 90% of Rivas' schools score a 90 or higher on biannual health inspections, and some score a perfect 100. "We have the cleanest kitchens in the city," she says. Cafeteria supervisors receive a coveted certificate from the district, recognizing all cafeteria staff members in front of the entire school. In addition, she uses a five-star rating program that includes categories such as nutrition, education, customer service, and food safety. A school can't be recognized without food safety because it's so critical, Rivas says. Once a school earns this recognition, it's posted publicly. "That's a big incentive that we're doing something right," she adds.
Supply It
But training loses effectiveness if the staff doesn't have the tools to carry out its responsibilities. "I don't skimp on the supplies they need to do things right," Beauvais says. Something as basic as sanitizing requires a container specifically designated for a sanitizing solution. She says there's no need to get fancy about it. A few buckets in different colors from the dollar store are all it takes for staff members to know which is for soap, clean water, and sanitizing solution. If it's simplified and made convenient, it's more likely they'll do a good job.
Simplify It
Burke County Public Schools in Waynesboro, Georgia, led by Donna S. Martin, EdS, RD, LD, director of the school nutrition program, takes it one step further. The schools use automatic sanitizer, soap, and water dispensers to further ensure proper cleaning and sanitizing. Autodispensing fixtures are attached to the wall at different locations in the kitchen, such as the chemical closet, pots and pans sink, and dishwasher. Each fixture is programmed to dispense the sanitizing solution or soap at the exact parts per million, leaving no room for human error.
Before the schools had the dispensers, the staff members didn't always adhere to measuring exact amounts. They'd just pour the solution or the soap into the sink, bucket, or dishwasher, Martin says. "It gives me a level of comfort, and it encourages them to wash and sanitize because it's right there," she says.
Keeping food at the correct temperatures is an ongoing effort. It can take a great deal of time to test the temperatures of every food on the menu each day and record them. Burke County schools use a thermocouple thermometer, which has streamlined this process. The device uploads the school menus daily, providing the proper temperature for each item. It works much like an instant-read thermometer, revealing each food's temperature as it's tested. Then it automatically records the temperatures into the equipment, removing the need to manually chart them. Martin says the technology is as helpful during food preparation as it is on the line when foods must be checked at the beginning, middle, and end of the meal period to ensure they're kept at the proper temperature.
Have a Contingency Plan
Even when foodservice personnel take the necessary steps to keep stored food chilled at the correct holding temperature, systems sometimes fail. It's part of the daily routine to check cooler and freezer temperatures, but there are plenty of nights, weekends, and holidays when nobody is on site to check. Power outages can happen as well.
Temperature control safety devices have been installed on coolers and freezers in Martin's and Loper's schools to provide extra protection. Wirelessly connected or hard wired to the Internet, the coolers and freezers send alerts by e-mail or text message to a foodservice supervisor if temperatures veer outside the programmed parameters. "My biggest fear is to have a child or whole school sick," Martin says. Coolers and freezers can shut off and then come back on, and the staff won't know if that happens, she says.
Prove It
No matter how strong a school's food safety program, there's always the chance it could be compromised. When a child gets sick, the foods eaten at school often are called into question. To prepare for this scenario, Martin's schools keep what she calls "dead man trays," a collection of all of the leftover food from the day's meals. It's dated, held in the cooler, and discarded after one week. "If someone gets sick, we can send it to the health department to check if it was something I served," Martin says. A parent once blamed the school's food for making her child sick, and the school was able to prove otherwise. The effort it takes to store the dead man trays is worthwhile, Martin says, because it gives her peace of mind.
Foodservice supervisors and personnel agree that developing stellar food safety programs involves ongoing training, effective strategies to make food safety important to staff members, and the use of creative cutting-edge tools to streamline critical food safety tasks. Just one new way of presenting information or performing a routine duty can make a marked improvement in any school food safety program, Martin says.
— Lori Zanteson is a food, nutrition, and health writer in Southern California.