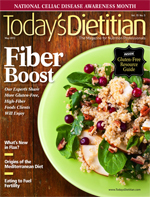 May 2013 Issue
Quinoa — A Grain of Simplicity
By Bryan Roof, RD, LDN
Today's Dietitian
Vol. 15 No. 5 P. 66
Each of my three children shares at least one strong food passion with me. The oldest loves nearly all varieties of vegetables and cheese (not together) and is always looking to add to his repertoire. The middle child loves meat, whether it be lean, rich, cured, smoked, or on or off the bone. The youngest has an addictive enthusiasm for juicing fruits and vegetables, and often wears a near-permanent beet juice mustache to prove it.
When I was a child, most of my family's meals were made from scratch. But television, with its genius marketing campaigns, made Chef Boyardee look more than edible, microwave stir-fries seem tasty and authentic, and those compartmentalized fried chicken dinners appear incredibly crisp.
I began requesting that my mom buy processed foods for me to sample. This side-by-side experiment of homemade vs. processed foods went on for about one year, and I soon realized that the latter was utter junk. It was a great opportunity to see for myself at a young age that the way food was prepared actually made a difference in how it tasted. It made me understand that there may be convenient food products out there that potentially can save me time and spare the clean up, but these products also lack freshness and nutritional content.
It was during my year of experimentation and reckoning that I grasped the fact that cooking is essential to my existence and, more so, my happiness. Simple math led me to the realization that I'd probably eat three meals per day for the rest of my life, so how could I not learn to cook at least some of those meals myself?
Enter quinoa, a grain whose simplicity of preparation easily is underscored by its well-touted nutritional benefits: an excellent source of protein and amino acids, high in fiber, and rich in B vitamins, iron, magnesium, phosphorous, zinc, and potassium. Quinoa is a true "just add water" ingredient, prepared by bringing one part quinoa and two parts water to a boil, then removing it from the heat to rest for 20 minutes—perfect for stove-shy cooks and so easy even a child could prepare it.
I wonder how my kids will one day reflect on their childhood meals. I have several lifetime parenting goals, including instilling a fondness for good food. Which leads me back to quinoa and a recipe I make from scratch: Quinoa Tabbouleh. I use the term "tabbouleh" loosely, intending it (in my kitchen, anyway) to denote a lemony salad chock-full of vegetables and herbs. You may argue that this isn't a real tabbouleh with its olives, sundried tomatoes, etc, and that's OK. I might argue back that microwave dinners aren't real food.
— Bryan Roof, RD, LDN, is a chef, dietitian, and food writer living in Boston. Follow him on Twitter @bryanroof.
Quinoa Tabbouleh
Serves 4
Ingredients
1 cup water
1/2 cup quinoa
2 cups baby arugula, chopped
1/2 English cucumber, peeled and cut into 1/4-inch dice (1 cup)
1 red bell pepper, cored and cut into 1/4-inch dice (1 cup)
2 medium carrots, peeled and shredded on large holes of box grater (1 cup)
1/2 red onion, sliced thin (1/2 cup)
1/4 cup pitted kalamata olives, chopped
1/4 cup sundried tomatoes, rehydrated in hot water for 10 minutes and chopped
3 T extra-virgin olive oil
1 T fresh lemon juice
2 garlic cloves, minced
1 tsp ground cumin
1 tsp ground coriander
1/2 tsp smoked paprika
1/2 tsp fine sea salt
1/2 tsp pepper
1/4 tsp ground cinnamon
1/4 tsp ground ginger
Directions
1. Combine water and quinoa in a small saucepan and bring to a boil over medium-high heat. Once boiling, remove from heat, cover, and let sit for 20 minutes. Transfer quinoa to a large bowl and let cool to room temperature, about 20 minutes.
2. Add remaining ingredients to cooled quinoa and toss to combine. Serve.
Nutrient Analysis per serving
Calories: 260; Total fat: 15 g; Sat fat: 2 g; Trans fat: 0 g; Cholesterol: 0 mg; Sodium: 650 mg; Total carbohydrate: 29 g; Dietary fiber: 6 g; Sugar: 9 g; Protein: 6 g