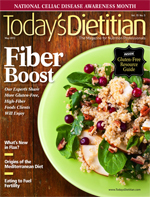 May 2013 Issue
Fiber Boost
By Lindsey Getz
Today's Dietitian
Vol. 15 No. 5 P. 24
Many celiac disease patients don't get enough fiber in their diets. Here are some strategies they can use to help increase their intake.
Celiac disease treatment and management has come a long way, but clients and patients who have the condition still can feel overwhelmed. After all, they must eat a gluten-free diet for the rest of their lives. They'll also have to become adept at reading food labels, developing a plan before dining out, and cooking more at home. And since they have to eliminate wheat, barley, rye, and other foods containing derivatives of these ingredients—many of which tend to be high in fiber—they'll need to be diligent about getting their fiber elsewhere.
"People who were once getting their fiber from foods like granola or Fiber One cereal may see a sudden dive in their fiber intake when they adopt a gluten-free diet that contains high-starch flours like white rice, potato, and tapioca—all low in fiber," says Melinda Dennis, MS, RD, LDN, nutrition coordinator at the celiac center at Beth Israel Deaconess Medical Center in Boston. "As a result, we see a lot of constipation arising from that change."
Shelley Case, RD, author of Gluten-Free Diet: A Comprehensive Resource Guide, says constipation always has been a big concern when making the switch to gluten-free living. While many celiac disease patients present with diarrhea, it's not uncommon for them to go the other direction and wind up with constipation when starting a gluten-free diet. "These are patients who have often suffered a long time with diarrhea and as a result are very reluctant about adding a lot of fiber to their diet," Case says. "But now they're dealing with constipation, and it's a whole new challenge."
Fiber is important for maintaining a healthy weight and low cholesterol levels, preventing colon cancer, and supporting a thriving community of healthful gut bacteria. While the lack of fiber consumption often is associated with a gluten-free diet, the truth is most Americans in general aren't eating enough fiber. The average American consumes approximately 15 g of fiber per day, which is well below the recommended 25 to 38 g, according to an Institute of Medicine formula based on getting approximately 14 g of fiber for every 1,000 kcal.
"Most Americans don't get enough fiber to begin with and when they make the switch to a gluten-free diet, it only gets worse," says Anne Lee, MSEd, RD, LD, director of nutrition services for Dr Schär USA, Inc, a gluten-free food manufacturer. "That's because before the switch, most of their fiber came from wheat-based cereal and bread. But when you transition to a gluten-free diet, you lose that. This kind of diet change requires people to be much better about seeking sources of fiber, and that can be a challenge. The good news is that manufacturers are starting to realize this is a problem. We're seeing a trend where some of the gluten-free products containing alternative grains are also including other fiber sources, such as apple fiber."
Creative Ways to Boost Fiber Intake
While many manufacturers are making a better effort to incorporate other sources of fiber into gluten-free products, such as cereals, snack bars, pastas, and breads, RDs believe it's still important to encourage clients to seek natural fiber sources. Arming clients with some high-fiber, naturally gluten-free food suggestions can make their shopping and food preparation experience easier.
Beans always have been a go-to, high-fiber recommendation, and they can be fast and easy to prepare. Marlisa Brown, MS, RD, CDE, CDN, president of Total Wellness, Inc in Bayshore, New York, and author of Gluten-Free, Hassle-Free and Easy, Gluten-Free, suggests a bean salad for lunch or a snack. It can be as simple as rinsing beans and adding some dressing and veggies. "Or toss some beans with a gluten-free pasta or into a soup for a filling meal," she suggests. "Beans easily can be added to dishes or served as a side, making them a great choice."
Brown admits many people claim to not like beans, so RDs will need to work with them to find alternatives. "The goal as dietitians is to try to find foods the client likes so they actually follow through with healthier eating habits," she says. "That may mean finding substitutions for some of their favorite foods that no longer fit into a gluten-free diet. It's not always an easy process, but we take things one step at a time."
Brown also suggests that her clients sprinkle flaxseeds on low-fiber foods. She says clients can increase the fiber content of gluten-free cereal by sprinkling 2 T of flaxseeds on top. That not only boosts the fiber content but also adds a nice dose of omega-3s.
Dennis frequently recommends that clients eat foods made with unconventional grains, including buckwheat, amaranth, millet, quinoa, sorghum, and teff. "I call them the 'super six' because of their high vitamin and fiber content," she says. "I really like and encourage the use of bean flours in the gluten-free diet because they're such a good fiber, vitamin, and mineral source. Some people, however, particularly those who are newly diagnosed with celiac disease, may experience gas and bloating if they add them in too quickly or in high quantities."
Case is a fan of nuts and seeds, since clients can add them to several different meals to increase their fiber intake. The high-fiber grocery list she recommends to patients includes brown rice, wild rice, quinoa, nuts, and seeds such as sesame and pumpkin. "Those are all items that are relatively easy to toss into everyday meals and snacks," Case says. "It's one thing to give patients a list but another to also give them practical suggestions on how to actually incorporate food items from that list, so I always offer meal ideas as well. One suggestion is taking some brown rice and mixing it with nuts and seeds. That can be stuffed in a gluten-free tortilla wrap with some dressing, cucumbers, and tomatoes for an easy, high-fiber lunch."
Of course, most Americans are looking for convenient, grab-and-go foods that suit their busy lifestyles, says Pam Cureton, RD, LDN, chair of the Dietitians in Gluten Intolerance Diseases, a subunit of the Academy of Nutrition and Dietetics' Medical Nutrition dietetic practice group. She says that with a little bit of strategizing, dietitians can help clients find foods that fit into their on-the-go lifestyle.
"Many people don't like spending a lot of time cooking, but that's not exclusive to celiac patients; that's the case for most Americans," Cureton says. "So we talk about easy solutions. A lot of my patients like Chex cereal, which is wonderful but devoid of fiber. So I suggest taking some dry Chex cereal and mixing it with dried fruit or peanuts for a healthful trail mix. Or they can toss some blueberries or strawberries into their morning cereal. If a patient is eating low-fiber bread, we talk about increasing the fiber naturally by adding some tomato slices and choosing carrot sticks instead of chips as a side. While this advice can help celiac patients, the truth is many of these recommendations aren't different from the types of tips we'd give clients on a wheat-based diet who are trying to find ways to get more fiber."
Too Much of a Good Thing
As celiac patients begin to add more fiber to their diet, it's not uncommon for them to encounter digestive issues. Lee says when counseling these patients she emphasizes that going from "zero to 100 overnight" is going to cause problems. "You have to add fiber slowly because a common complaint is that people get bloated, gassy, and uncomfortable," she says. "Patients can have the same symptoms that mimic their celiac disease and may become discouraged and stop altogether. So dietitians need to encourage patients to introduce fiber in simple ways. For instance, they can mix in some brown rice with white rice. A slow transition will allow them to adjust to more fiber without the associated concerns."
Cureton says she had one patient who was vigilant about his gluten-free diet. But one day he began experiencing gas and other digestive problems, making her wonder if his celiac symptoms were flaring up. "What it turned out to be was that he was really enjoying a new gluten-free bread that was also very high in fiber," Cureton says. "He was eating several slices a day, which was a big jump in his normal fiber intake. So it turned out that what could be confused as celiac symptoms was actually just a reaction to getting too much fiber. The solution was easy—backing off the bread and then introducing it more slowly. That's how all patients should approach adding fiber to prevent those types of issues from the start."
Case also says patients need to make sure they're drinking enough fluids as they begin adding more fiber to their diets. "If you pack in all these great fiber options but aren't drinking enough water, you're going to cause more problems for yourself," she warns. "Filling up on fiber without drinking enough fluids actually can lead to constipation and cramping. Fiber works best when the body gives it an adequate amount of water."
Adjusting to Change
As celiac patients begin to adjust to the changes in their diet and find ways to incorporate more fiber, it's important to encourage them every step of the way. It can be a long process that needs to be taken slowly.
"People have to be patient," Dennis says. "After many years of problems, they can't expect changes overnight. But in time, their bowels will change, and their symptoms will dissipate. By adding fiber slowly, people can adjust without experiencing the symptoms associated with too much fiber intake. Everything about this is a process, and patients need encouragement to help [them] stick with it."
— Lindsey Getz is a freelance writer based in Royersford, Pennsylvania.
High-Fiber Gluten-Free Products
Today's Dietitian asked RDs to provide the names of their favorite gluten-free foods that also are high in fiber. They named 11 different products, which they said could make great additions to clients' shopping lists and help them boost fiber intake. Each listing includes the amount of fiber per serving.
Vanilla Almond Crunch QuestBar: 18 g per bar
InBalance Health's InBars: 10 g per bar
Bob's Red Mill Fava Bean Flour (for baking): 8 g per 1/4-cup serving
Udi's Omega Flax & Fiber Bread: 6 g per serving (two slices)
Bob's Red Mill Gluten-Free Oat Bran: 6 g per 1/3-cup serving
NOW (No Opportunity Wasted) Energy Bar White Chocolate, Fruit & Nut flavor: 6 g per bar
Ancient Harvest Gluten-Free Pasta: 4 g per serving (2 oz dry)
LARABAR Peanut Butter & Jelly: 4 g per bar
Dr Schär Multigrain Ciabatta: 4 g per roll
Mary's Gone Crackers Original Crackers: 3 g per serving (13 crackers)
NoGii Super Protein bar: 3 g per bar
— LG
Granola Bars
Serves 18
Ingredients
2 cups gluten-free rolled oats
3/4 cup chopped nuts, walnuts, sunflower seeds, or almonds
3/4 cups dried fruit (eg, apricots, cranberries, dates, figs, currants, raisins, plums)
1/2 cup sweetened shredded coconut
2 T rice bran
2 T packed light brown sugar
1 tsp ground cinnamon
1/2 tsp salt
1/4 tsp xanthan gum
1/4 cup boiling water
2 T ground flax meal
2 tsp pure vanilla
1/3 cup maple syrup, agave nectar, or honey
1/3 cup canola oil or melted coconut oil
Directions
1. Place a rack in the middle of the oven. Preheat the oven to 325˚F. Line a 9- X 13-inch metal cake pan with aluminum foil, letting the foil extend over the edges.
2. Spread the oats in the pan and toast in the oven, stirring occasionally, just until they become fragrant, about 10 minutes. Transfer the oats to a large bowl and coat the foil-lined pan with cooking spray. Set the pan aside.
3. In the large bowl, toss the oats with the nuts, dried fruit, coconut, rice bran, brown sugar, cinnamon, salt, and xanthan gum until thoroughly mixed. In a small bowl, whisk the flax meal and vanilla into the boiling water and let stand until slightly thickened, about 5 minutes. Whisk the maple syrup and oil into the flax mixture until thoroughly blended, and then pour it over the oat mixture. Toss with a spatula until the oats are thoroughly coated. Press the mixture evenly into the pan.
4. Bake until the mixture is crisp and lightly browned, about 25 to 30 minutes. Cool the mixture in the pan, then invert the pan onto a large cutting board, remove the foil, and cut into 18 bars, approximately 4 X 11/2 inches each. Serve at room temperature. Store tightly covered in the refrigerator for one week or freeze up to one month.
Nutrient Analysis per serving
Calories: 155; Total fat: 9 g; Cholesterol: 0 mg; Sodium: 56 mg; Total carbohydrate 18 g; Dietary fiber: 3 g; Protein: 3 g
— Reprinted with permission from 125 Gluten-Free Vegetarian Recipes By Carol Fenster, PhD
Pear Quinoa Salad With Maple Vinaigrette

Serves 6
Ingredients
Salad
2 cups reduced-sodium chicken or vegetable broth
1 cup quinoa, rinsed
2 ripe but firm pears, sliced or diced
2 handfuls baby spinach, washed and drained
2 T fresh chopped parsley
1 handful dried cranberries
1/2 cup coarsely chopped walnuts or pecans, toasted
Salt and pepper, to taste (optional)
Dressing
4 T extra-virgin olive oil
3 T balsamic vinegar
2 T pure maple syrup
Directions
1. Bring broth to a boil in a large saucepan. Stir in quinoa and reduce heat to low. Cover and cook until the liquid is absorbed, about 15 minutes. Fluff with a fork.
2. Whisk olive oil, balsamic vinegar, and maple syrup together. Set aside.
3. In a large bowl, combine sliced pears, spinach, and parsley. Pour dressing over and toss to combine. Add quinoa, dried cranberries, walnuts, and salt and pepper (if using) and gently combine. Serve warm or at room temperature.
Nutrient Analysis per serving
Calories: 348; Total fat: 18 g; Sat fat: 2 g; Trans fat: 0 g; Cholesterol: 0 mg; Sodium: 42 mg; Total carbohydrate: 43 g; Dietary fiber: 6 g; Protein: 8 g
— Recipe courtesy of Cherylanne Skolnicki, founder of NourishYourself.com
Black Bean and Mango Salsa
Serves 12
Ingredients
2 10-1/2 oz cans black beans, drained and rinsed
1 ear of corn (kernels only, about 1 cup frozen if fresh is unavailable)
1 chopped mango
Juice of 2 limes
1 chopped jalapeño pepper
1 chopped red pepper
1 chopped red onion
1/4 cup chopped cilantro
Directions
1. Mix all ingredients together and refrigerate until ready to use.
Tips
1. Great served over chicken or fish.
2. To remove the kernels from an ear of corn, remove husk from the corn and run a knife down each side of the corn over a small bowl, removing and saving all kernels.
Nutrient Analysis per serving
Calories: 63; Total fat: less than 1 g; Cholesterol: 0 mg; Sodium: 99 mg; Total carbohydrate: 13 g; Dietary fiber: 3 g; Calcium: 20 mg; Iron: less than 1 mg; Protein: 3 g
— Reprinted with permission from Gluten-Free, Hassle-Free by Marlisa Brown, MS, RD, CDE, CDN