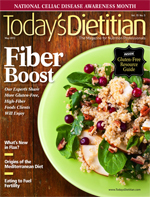 May 2013 Issue
Campus Dining — More Universities Are Serving Healthier Cuisine to Students
By McKenzie Hall, RD
Today's Dietitian
Vol. 15 No. 5 P. 18
College foodservice has stepped up its game in recent years by hiring dietitians to develop healthful eating initiatives and listening to students' increased demands for more allergen-free foods on campus. So at many institutions, gone are the days when getting a four-year college education means students must say good-bye to high-quality, nutritious meals. Furthermore, colleges are taking the environment and social responsibility into account as part of the dining experience.
Here, Today's Dietitian profiles some of these institutions in the United States and Canada known for their exceptional foodservice programs that are focused on providing students with healthier options.
Meat-Free Dining
Thanks to the popularity of plant-based eating, Meatless Monday, the nonprofit initiative developed in association with the Johns Hopkins Bloomberg School of Public Health, is becoming popular on college campuses.
McGill University in Montreal, Canada, began its Meatless Monday program about one year ago to meet the needs of its large vegetarian and vegan student population, and the effort has proven successful. "We have seen our tofu purchases double in the past two years," says Amelia Brinkerhoff, student sustainability coordinator for McGill's food and dining services. "In particular, our vegan and vegetarian students are really happy with our offerings. They often come to college fearing that their eating lifestyles will be challenged in dining hall atmospheres, but they've given us a lot of positive feedback regarding the variety of options available." These options include vegetable stir-fries, pizzas, tofu and veggie brochettes on the grill, gourmet paninis, curries, Asian-inspired dishes, and vegetarian lasagnas.
Even the students who choose to eat meat enjoy the meatless offerings as a way to apply what they're learning in the classroom. "Students are learning about the environmental impacts of meat production, so the Meatless Monday offerings are a way for them to put their knowledge into action," Brinkerhoff explains.
McGill University educates students about why reducing meat intake can have a positive effect on their health and the environment. The university's goal is to give students choices and show them that eating more whole plant foods doesn't necessarily equate to a large plate of steamed broccoli for lunch. "Our chefs and kitchen staff put as much effort into the vegetarian options as they do with our traditional meal options," Brinkerhoff says.
Similarly, Cabrini College in Radnor, Pennsylvania, has expanded its Meatless Monday program to meet the increased demand for vegetarian meals and has placed an emphasis on nutrition education. Students can view cooking demonstrations, review educational materials, and listen to speakers as part of the Healthy Monday program, a nonprofit health program started in 2005 with the goal of ending chronic preventable diseases by offering a weekly prompt to start healthful behaviors.
After five years of marketing Meatless Monday meals at various food stations throughout campus, the college decided to open a vegan and vegetarian food station in its student restaurant this past September.
Allergies and Intolerances
Some universities have introduced foods free of gluten, dairy, soy, and other allergenic ingredients to meet the needs of students with food allergies and intolerances. On-campus markets, such as those offered at the University of Washington and California Polytechnic State University (Cal Poly), San Luis Obispo, have dedicated entire sections to specialty foods for allergen-sensitive students.
Northern Arizona University introduced a program called Simple Servings that "provides fresh and flavorful meals prepared without milk, eggs, wheat, soy, shellfish, peanuts, tree nuts, or gluten," says Pamela Smith, vice president of operations for on-site campus service solutions at Sodexo. "The program also has attracted students who are focused on ingredients and portion size to control weight, blood sugar, and other health issues."
Simple Servings has become so successful that Sodexo is rolling out the program to 20 other schools nationwide, Smith says. The positive reaction to the program may be due to the flavor and presentation of the offerings, such as Glazed Baked Ham and Sweet Potatoes or Peruvian Lime Chicken Breast With Cilantro Basmati Rice.
To ensure students know what they're getting, several colleges are using food labels to distinguish allergen-free foods from general offerings. Many campuses, including Gonzaga University in Spokane, Washington, and the University of California (UC), Davis, developed their own labeling programs. At Gonzaga, "All our food is labeled with key indicators that show if the item is healthy, organic, local, gluten free, vegan, or vegetarian. They're also labeled with ingredients and draw special attention if they contain nuts, soy, or wheat," Smith says. UC Davis labels entrées that contain any of the eight major allergens.
In addition, some colleges work with students on an individual basis. At the University of Washington, campus residents can meet with the cafeteria's executive chef to discuss concerns and plan what they're going to eat, explains Storm Hodge, assistant director of food services.
UC Davis is following suit. "Several students are on special menu plans because of multiple allergies," Smith says. Chefs will prepare unique items for these students and work with them if they have any issues with the food offered.
Eating Sustainably
One of the biggest shifts in food preparation on university campuses is the emphasis on environmental responsibility. Several colleges have made commitments to consider the environment, especially in Washington State and California. They're supporting local agriculture; purchasing sustainably farmed meat, poultry, and fish; composting to manage food waste; and supplying students with eco-friendly food containers. With such initiatives in place, many schools are setting a new standard.
"Because we're in an institution of higher learning, it behooves us to lead the way in sustainability and teach environmental stewardship," Hodge says. For example, 54% of the foods purchased for the University of Washington campus come from within 250 miles of the institution. It helps that the university has its own student-run farm with more than 600 members, providing food for the campus community.
"Sustainability is always at the forefront of our minds. Whenever and wherever financially possible, we'll look at changes in products and ways of operating that benefit our consumers," says Gabe Kinney, executive chef at the University of Washington.
Cal Poly also provides food for students by students. A variety of fresh produce for students, staff, and faculty comes from the Cal Poly Organic and Cal Poly Sustainable Farms. Campus customers can purchase a variety of Cal Poly-prepared foods such as jam, chocolate, cheese, honey, barbeque sauce, seasonal artisan products, and eggs. The Cal Poly chickens provide more than 50,000 eggs per year to the campus. The rest are sourced through NuCal Foods Inc, the agricultural cooperative composed of northern California family farmers who run sustainable farms and provide humane living conditions for their chickens.
Organic Food
In keeping with the trend toward offering healthier meal options, UC Berkeley provides organically grown foods to its students. Berkeley is home to the farm-to-table movement and continues to be a front-runner in setting the standard for organically grown produce. So it stands to reason why the students wanted to eat organic foods.
"Much of our initial efforts toward local and organic involved grassroots campaigns inspired by the students," says Renee Simpson, RD, the university's quality assurance chef. "Students wanted these items, and we looked for ways to get them on our menus while being financially diligent."
To that end, the university introduced a certified organic salad bar in each of the four residential dining halls. Shortly after, the school saw an almost 20% increase in the number of students dining in the cafeterias. "Everything on the salad bar has to be traceable, from the lettuce to the olive oil and croutons," Simpson says, "and we only serve organic tofu, organic eggs, and organic milk."
Student requests for organically grown food have increased to a national level. Three hundred institutions already have joined forces with The Real Food Challenge, an independent, self-funded program whose mission is to increase the procurement of real food on college and university campuses with the national goal of 20% real food by 2020.

As part of The Real Food Challenge, students at the University of Washington recently analyzed food ingredients and found that 27% of them were considered real food, with 8% being specifically organic.
The trend toward healthful eating and better nutrition likely will continue to gain momentum as students voice their demands, and foodservice dietitians, program leaders, and culinary experts listen and do whatever they can to meet them.
— McKenzie Hall, RD, is cofounder of Nourish RDs, a nutrition communications and counseling business based in Los Angeles.