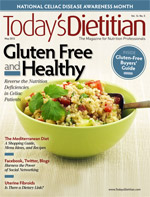 May 2012 Issue
Scallops — Seafood That's Hard Not to Love
By Bryan Roof, RD, LDN
Today's Dietitian
Vol. 14 No. 5 P. 74
Several years back, when I was cooking in restaurants, the chef decided to take a few days off and put me in charge of our shiny, newly constructed kitchen and the staff of line cooks. It was the week of July 4, and it was expected to be slow given that most people typically flee the city of Boston for the rocky shores and frigid waters of Cape Cod in anticipation of sun and lobster rolls.
On the evening of the fourth, we set up our stations for only a moderate amount of business based on the small number of reservations and established a single scallop special for the night's service. We were relaxed, calmly cooking, as the tickets began trickling in. Then a few more came in—and a few more. And they kept coming as the tiny printer pushed them out with ferocity. We were slammed.
As the tickets piled up in a sloppy mess on our stations, mass hysteria settled in like a fog over the entire kitchen. In the thickest moment of battle, off in the near distance, we heard loud, rumbling booms and crackle-pops as the evening's firework festivities began to ignite. It captured the "battle" perfectly, and we stopped for a moment to laugh nervously about our dire predicament. It was my kitchen nightmare.
Of the many emotions I experienced that night, one was appreciation—appreciation for scallops, which, among all their other admirable traits, are incredibly quick cooking. The goal for scallops is a well-browned, caramelized topside for presentation and a medium-rare to medium center so as not to dry them out. All that's required to achieve this is a hot skillet, a tablespoon of oil, and the discipline to not overcrowd the skillet and not disturb the scallops until you actually can see the browning occurring.
Most home cooks stumble with the last part: overcrowding the pan and moving the scallops too much, both of which cause the pan to cool down and the scallops to steam in their own juices rather than sear and caramelize. Another hurdle to perfectly home-cooked scallops is that most grocery stores stock wet scallops rather than dry scallops. Wet scallops have been soaked in a solution of sodium tripolyphosphate, which adds about 25% water weight to the scallops, for which you're paying extra money. Wet scallops also have a slightly off chemical flavor. Ask the fishmonger in the grocery store whether the scallops you're buying are wet or dry and settle only for dry.
So if I hadn't experienced one of the roughest nights of my professional life with scallops the only light at the end of my firecracker-echoed tunnel, would I still love them as much? Sure I would. I just wouldn't have as much to write about.
— Bryan Roof, RD, LDN, is a chef, dietitian, and food writer living in Boston.
Pan-Seared Scallops
Scallops are a great accompaniment to salads or a main course on their own. For a more interesting sauce, serve them with your favorite homemade vinaigrette. Their richness pairs well with acidity.
Serves 4
Ingredients
1 3/4 lbs large dry sea scallops
1/2 tsp fine sea salt
1/2 tsp pepper
2 T olive oil
Lime wedges for serving
Directions
1. Season the scallops with the salt and pepper. Heat 1 T of oil in a large 12-inch nonstick skillet over medium-high heat until just smoking. Add half of the scallops, flat side down, around the perimeter of the skillet. Cook, undisturbed, until deeply browned (you'll notice the browning as it starts to come slightly up the sides of the scallops), about 2 minutes.
 2. Flip the scallops and continue to cook until they're just opaque in the center, 1 to 2 minutes longer. (The second side of the scallops won't be as browned as the first.) Transfer to a plate, and tent loosely with foil. Wipe out the skillet with paper towels and repeat with the remaining oil and scallops. Serve with lime wedges.
Nutrient Analysis per serving
Calories: 240; Total fat: 9 g; Sat fat: 1 g; Trans fat: 0 g; Cholesterol: 65 mg; Sodium: 610 mg; Total carbohydrate: 5 g; Dietary fiber: 0 g; Sugars: 0 g; Protein: 33 g