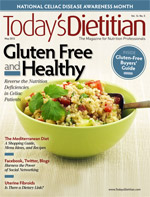 May 2012 Issue
Dining Safely With Food Allergies — Restaurants Step Up to the Plate to Cater to Customers' Needs
By Lenora Dannelke
Today's Dietitian
Vol. 14 No. 5 P. 56
For the estimated 15 million people in the United States living with food allergies, eating out—from fine-dining restaurants to fast-food chains—can be worrisome at best and a health hazard at worst. This estimated number, reported by the Centers for Disease Control and Prevention (CDC), represents 4% of adults (9 million) and 8% of children (6 million). And a study by the CDC indicates those figures reflect an 18% increase over the past decade.
But just as individuals can avoid the eight most common foods that cause 90% of allergic reactions (milk, eggs, peanuts, tree nuts, soy, wheat, fish, and shellfish) in a controlled home environment, they can learn to do the same through education, research, and planning when dining out.
However, Karen Ansel, MS, RD, CDN, an author and spokesperson for the Academy of Nutrition and Dietetics, says there are countless other foods beyond the most common eight that cause allergic reactions. "In fact," she says, "being allergic to less common foods can be even more stressful because these foods aren't required to be highlighted on food labels, so they can be harder to identify."
Growing awareness of allergies is prompting the foodservice industry to take its own proactive measures to address the requirements of diners with special needs. The nonprofit Food Allergy & Anaphylaxis Network (FAAN), in cooperation with the National Restaurant Association, developed Welcoming Guests With Food Allergies, a free downloadable 58-page guide for training restaurant staff. Training videos in English and Spanish also have been created for foodservice professionals.
Restaurant Trailblazers
While some individual and chain restaurants have voluntarily prepared disclosure materials about the ingredient content of their menus and developed allergy-friendly menu options, others are taking allergy-related actions under the mandate of the law. In 2009, Massachusetts became the first state to pass comprehensive legislation about food allergy awareness in restaurants. Celebrated chef and FAAN spokesperson Ming Tsai was instrumental in the passage of this bill, which requires menus (or boards, if printed menus aren't used) and websites to include a statement that the customer should inform the wait staff of any food allergy issue plus other voluntary and mandatory measures, such as having a certified food protection manager on staff. That designated staff member must complete an allergen-awareness training program approved by the state's Department of Public Health and renew the certification every five years.
Long before the bill was proposed, Tsai created a thorough food allergy reference book for Blue Ginger, his restaurant in Wellesley, Massachusetts, listing the ingredients of every dish, with major allergens highlighted, which helps staff and guests ensure safe food selections. This manual has become a model for other restaurants. Blue Ginger also voluntarily provides a separate gluten-free menu to guests.
While no legislation about food allergy awareness in restaurants has been proposed at a federal level, Christopher Weiss, FAAN's vice president of advocacy and government relations, reports that "Illinois and Rhode Island have bills this year that are virtually identical to the Massachusetts law. Arizona had a bill, but the bill died."
Ansel says that since nutrition information and ingredient lists often are available online, researching menus before dining out makes it easier for people when considering restaurants.
"Fine-dining restaurants can be a little trickier," she says. "I recommend a few things. Call before you go if you have a severe food allergy. Ask to speak to the manager and explain your food allergy situation. The chances are the restaurant will be as concerned about preventing an allergic reaction as you are. They often can work with you to suggest menu items that are free of certain allergens and also ensure your meal is prepared in a way to minimize cross-contamination. If that's not possible, explain your situation to the restaurant manager when you arrive. While it may be tempting to tell your server, he or she may be extremely busy and not properly trained to relay your situation to the chef and kitchen staff. The manager should always be your point person, as he or she is more likely to be trained to relay your situation to everybody who comes in contact with your meal."
Of course, even the most diligent research and planning may not prevent a mishap. "On your end, always be prepared," Ansel says. "That means carrying injectable epinephrine and making sure the people who you're dining with know you're carrying it and how to administer it. When it comes to food allergies, minutes can be lifesaving, so you always want to make sure you have your EpiPen handy."
Developing specific strategies for dining out will vary not with individual allergies but with the level of sensitivity of the person with the allergy—especially if airborne allergens are a problem. The following guidelines will help clients stay safe:
• Communicate during less busy times. Suggest clients call ahead and discuss their requirements with the manager at a quiet time, long before the dinner hour begins, so that he or she may devote full attention to your requests.
• Choose a restaurant that's not inherently high risk. For example, a seafood house isn't an optimal destination for someone allergic to shellfish. Even if a client orders a dish that doesn't feature shrimp or something similar as a main ingredient, sauces or stocks may be prepared with the allergen.
• Watch for problematic methods of preparation. Grills, griddles, and deep-fryers used to cook a variety of dishes may result in cross-contamination.
• Prepare all your menu questions at once. For example, clients should ask, "Can this dish be prepared without cheese? Is the chicken sautéed in butter or olive oil? Does the cornmeal breading also contain flour?" Preparing all your questions ahead avoids sending the server into the kitchen to talk with the chef multiple times.
• Keep it simple if you're unsure about ingredients. Ordering steamed veggies or a baked potato could avert a problem if clients don't feel confident about the safety of prepared dishes.
 • Avoid buffets. It may be difficult for clients to determine all the ingredients of individual dishes, and the environment has the potential for cross-contamination.
• Carry chef allergy cards. Several companies sell business-size cards that provide individual allergy information that clients can give to the manager or server who can pass this card on to the chef.
• Develop good restaurant relationships. When the chef and staff of a particular restaurant become acquainted with your clients' needs, they'll be better equipped to eliminate troublesome ingredients and serve safe dishes. Another tip: Recommend clients stick with chains that offer designated entrées that meet their needs, such as the gluten-free meals on the menu at Olive Garden.
Be Wary of Online Info
Although many chain restaurants post allergy information online, some websites are more user friendly than others and changing menus and methods of preparation can outdate the information quickly, such as when Wendy's started serving several sandwiches on buttered buns. Red Robin previously offered a "click here for allergen info" option displayed prominently on its website but recently changed the site to offer a wheat/gluten allergen menu. Members of their eClub can sign up to receive monthly allergen menu updates.
A more efficient alternative to checking individual company sites—especially when you're on the go—is the AllergyEats app, a free download available on iTunes and for Android smartphones and tablets. The two-year-old AllergyEats website, which also features an active blog, quickly has evolved into a comprehensive resource for locating allergy-friendly restaurants and bakeries and sharing peer-based ratings and reviews. When it comes to dining out with allergies, knowledge is power—and safety.
— Lenora Dannelke is an independent journalist and author based in Allentown, Pennsylvania, who writes about food, health, and travel topics.
Resources
Suggest clients explore the following websites for additional information and the latest news on food allergies:
• AllergyEats.com: The AllergyEats database on this website includes listings of more than 600,000 restaurants across the United States. Clients also can find links to a spectrum of food allergy-related blogs.
• FAIUSA.org: The Food Allergy Initiative (FAI) funds research, creates safer environments through advocacy, and raises awareness through education.
• Foodallergy.org: The Food Allergy & Anaphylaxis Network (FAAN) raises public awareness, provides advocacy and education, and advances research on food allergies and anaphylaxis.
• Ming.com: Learn more about Chef Ming Tsai's involvement with food allergy awareness, education, and advocacy.