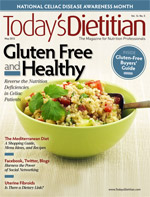 May 2012 Issue
New Standards Unveiled for School Lunches — Soon Kids Will Be Eating More Fruits, Veggies, and Whole Grains
By Lori Zanteson
Today's Dietitian
Vol. 14 No. 5 P. 14
For the first time in more than 15 years, new standards for school lunches are in place to offer healthier meals to children nationwide. In January, First Lady Michelle Obama and Agriculture Secretary Tom Vilsack revealed the new meal requirements, which will affect the more than 32 million kids who participate in school meal programs. This integral piece of the Healthy, Hunger-Free Kids Act, part of the First Lady's Let's Move! Campaign, was signed into law by President Obama.
The new standards make healthful yet practical changes that include the following:
• Increased offerings of fruits and vegetables every day: Current lunch requirements of 1/2 to 3/4 cup of fruits and vegetables will become 3/4 to 1 cup of vegetables plus 1/2 to 1 cup of fruit per day. Weekly vegetable requirements include a variety such as dark leafy greens as well as beans and peas.
• Greater servings of foods rich in whole grain: At present, school lunches are required to contain one grain serving. By this July, at least one-half of the grains offered must be whole grains and by July 2014, all grains must be whole grains.
• Proper portion sizes and caloric intake based on age: Children in kindergarten through grade 5, grades 6 through 8, and grades 9 through 12 will receive the correct portion sizes and number of calories they should be eating per meal.
• Fat free milk (unflavored/flavored) or 1% (unflavored)
• Reducing saturated and trans fats and sodium: The changes will be phased in over the next three years, beginning with the 2012-2013 school year, to give schools adequate time to implement the new standards. Lunch will be the focus in the first year, followed by changes in breakfast the next two years. The new standards are expected to cost $3.2 billion over the next five years.
Positive Reactions From the Field
The standards have generated a positive response from RDs specializing in school nutrition, who've largely been on track with incorporating healthful changes in their schools. "This is about establishing national nutrition standards that raise the bar," says Diane Pratt-Heavner, spokesperson and director of media relations for the School Nutrition Association. "No matter what school," she explains, "children will have access to healthful food."
These standards aren't anything new for many schools that already have taken the initiative to serve more healthful meals. The new standards are heavily based on recommendations introduced by the Institute of Medicine (IOM) in October 2009 to which many school RDs responded by initiating immediate changes. "We all knew what was happening," says Pratt-Heavner, who notes that school nutrition professionals have been working hard these past two years to increase the amount of fruits, vegetables, and whole grains served and lower sodium levels. They've done so in creative ways such as partnering with chefs and farmers and planting school gardens.
Anne Arundel County Public Schools in Maryland have changed their food environment to "fun, friendly, and inviting," says Jodi Risse, MS, RD, LDN, who works in the food & nutrition services division. "We do different tasting parties," she says.
Partnering with the department of health, the PTA, and the school administration, the public schools offer "A Tasting of the Rainbow" to showcase a variety of fruits and vegetables. Free samples are offered to every child, even those who bring lunch from home, to encourage them to try new healthful foods in a rainbow of colors. Butternut squash, kiwi, jicama, and kale chips—it seems no sample is too daring. "Once we get them to try it, they like it, and the more often we offer it, the less hesitant they become," says Risse, who then incorporates the newly introduced items into the school menu. It may take a little time and serving it with a dip to make it more appealing, but the kids usually come around and aren't only eating the new foods but are requesting them.
The intention and the hope is that the children will start conversations at home about healthful eating. "I think kids can be a huge influence over their parents," says Donna S. Martin, EdS, RD, LD, SNS, director of school nutrition at Burke County High School in Waynesboro, Georgia. She's had parents call her to ask about a green fuzzy fruit their child is requesting. And it doesn't take long for kids to get used to low-fat milk and whole grain foods, Martin says.
It's all part of a progression that Pratt-Heavner believes is the responsibility of schools to teach children how to be healthy citizens. "We need to be good role models in the cafeteria as well as the classroom," she says, "and we're certainly looking to parents. Kids are far more likely to pick up a fruit or vegetable in the cafeteria if it's been introduced at home."
Portion Sizes and Total Calories Are Key
The new standards not only model healthful foods, but they also address portion sizes. "Fruits and vegetables should cover half the plate as in the MyPlate guidelines," says Deborah Beauvais, RD, CDN, SNS, district supervisor of school nutrition services at the Gates Chili Central School District and the East Rochester Union Free School District in New York. In our supersize world, portion size is important, Beauvais explains. "There's a huge education piece moving forward with the parents," she says. Not only are the kids sharing what they learn in school with their parents, the schools send information home about the changes they've made on the menu, such as emphasizing more dark leafy greens and orange vegetables.
Such successful innovative programs will simplify the transition for these schools to meet the new standards. "They'll be relatively easy for us to accept," Risse says. "We'll just continue what we've been doing."
Yet the new standards still will require at least some change by all and, though Pratt-Heavner is convinced all schools can make the change, she says, "Change is a challenge on a tight budget, which gets expensive for schools that haven't had the head start." Schools will have to offer larger serving sizes, increased varieties of fruits and vegetables, and whole grains, all of which will be more expensive. And beyond the food, she explains, there are costs associated with every step of the process from food safety to staff training.
Food Companies Join In
RDs aren't the only ones preparing for the new standards. Food companies who sell to schools jumped right into action to align their products with the new regulations. As soon as the IOM report came out in 2009, "Dairies started reformulating, and manufacturers started gearing up," Beauvais says. "We're big business, and industries are trying to come on board." Lowering sodium content in some foods will take time, although some companies already are sending her samples of low-sodium ketchup.
"We need their help," Risse says of food manufacturers. "We're continually working with them to find a product the children will like and is good for them."
RDs in school nutrition are working hard to achieve that goal. According to Pratt-Heavner, there's a misconception among the public about the healthfulness of foods in school nutrition programs. She uses the example of Domino's Smart Slice Pizza, which she says is healthier than what the company sells commercially.
Tomato paste on school pizza and French fries have caused heated debates, what Martin describes as part of the "bad rap" school nutrition programs receive. The truth is school fries are baked, not fried, and increasingly they're made from sweet potatoes. Tomato paste on pizza is counted as a serving of fruit or vegetable by maybe 1% of school RDs, according to Martin. "Our pizzas," she says, "are made with whole grain crust, low-fat mozzarella, and turkey pepperoni. They're very healthful pizzas."
Despite so many healthful changes in school foodservice, misconceptions abound. Many RDs need to know there are no fryers in schools, Beauvais says. "You really need to come in," she adds. "It's not the foodservice your mother had."
The idea that each child is handed a tray with canned green beans and strips of green pepper destined for the garbage is wrong. Today's cafeterias offer kids a choice of fresh fruits and vegetables served in appealing ways. There are even fresh salad bars at some schools, which are very popular.
If the progress made over the last two years is any indication, the new school lunch standards will continue to influence menus that will nourish and teach children about fresh fruits, vegetables, whole grains, and age-appropriate portion sizes.
— Lori Zanteson is a southern California-based food and health writer whose work has appeared in various publications.
Comparison of the Current and New Elementary School Lunch Menus
Before

After

• Hot dog on bun (3 oz) with ketchup (4 T)
• Canned pears (1/4 cup)
• Raw celery and carrots (1/8 cup each) with ranch dressing (1.75 T)
• Low-fat (1%) chocolate milk (8 oz)

• Whole wheat spaghetti with meat sauce (1/2 cup)
• Whole wheat roll
• Green beans, cooked (1/2 cup)
• Broccoli (1/2 cup)
• Cauliflower (1/2 cup)
• Kiwi halves (1/2 cup)
• Low-fat (1%) milk (8 oz)
• Low-fat ranch dip (1 oz)
• Soft margarine (5 g)
—Source: USDA Food and Nutrition Service (www.fns.usda.gov/cnd/Governance/Legislation/cnr_chart.pdf)