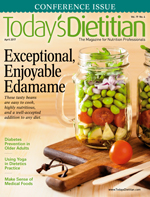 April 2017 Issue
Editor's Spot: Telenutrition in Cancer Care
By Judith Riddle
Today's Dietitian
Vol. 19, No. 4, P. 4
For many dietitians, offering telehealth services is probably one of the most lucrative ways to build their businesses, as they're reaching patients who prefer to receive nutrition counseling remotely or don't have a means of visiting face-to-face. Last month, I learned of an interesting study recently done to determine the efficacy of a telenutrition program involving the regional satellite offices of Levine Cancer Institute (LCI) in Charlotte, North Carolina. This telehealth model traditionally has been available to patients only in metropolitan areas, but LCI has extended it to patients living near its satellite offices in the rural communities where there's limited access to dietitians.
In the study, LCI dietitians used HIPAA-compliant Vidyo teleconferencing software to meet with the health care team and patients and caregivers at their doctors' offices within the Carolinas HealthCare System to develop and establish a plan of care. The referring office scheduled these appointments virtually. Assessments were completed using the same protocols and policies as face-to-face consultations, and follow-ups were conducted via teleconference or telephone based on patient preference and the RD's clinical judgment.
Study results showed patients were satisfied with the quality of nutrition services they received and were pleased with the "quick access to oncology-certified nutrition specialists" through video conferencing.
According to an article published online February 28, 2017, in Oncology Nursing News, lead study author Michele Szafranski, MS, RD, CSO, LDN, clinical nutrition manager at LCI, conducted nutrition-focused physical exams via video conferencing to assess muscle and fat wasting, fat pads under eyes, and the health status of the skin, mouth, and nails of patients. And dietitians were better able to demonstrate tube-feeding techniques to patients and share written information on screen. Also in the article, Szafranski says that such programs have the potential to be used in medical centers throughout the United States, and that she hopes to take LCI's program national.
Telenutrition has been and still is one of the most exciting aspects of dietetics, as it increases access to patients, enables RDs to boost their patient base, and is more cost-efficient. Clinical and nonclinical dietitians will continue to provide telehealth services (eg, MNT, nutrition assessments, education, counseling, coordination of nutrition care, and intensive behavioral therapy) in the years to come as technology advances and as more states fully cover nutrition telehealth services.
In this issue, Today's Dietitian features articles on edamame in honor of National Soyfoods Month, diabetes prevention in the elderly, an update on medical foods, yoga therapy in dietetics practice, and cystic fibrosis nutrition. Please enjoy the issue!
Judith Riddle
Editor
TDeditor@gvpub.com