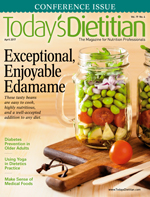 April 2017 Issue
Ask the Expert: Breast-Feeding Myths Debunked
By Toby Amidor, MS, RD, CDN
Today's Dietitian
Vol. 19, No. 4, P. 10
Q: What are the most common myths regarding breast-feeding, and how can RDs debunk these myths for clients?
A: As a mother of three, I had many questions when I breast-fed each of my kids—many of which I have heard from clients and friends. However, there are several myths and old wives' tales surrounding breast-feeding, which nutrition professionals need to debunk to ensure babies gets the best nutrition possible from their mothers. Today's Dietitian speaks with two leading pediatric RDs to get to the bottom of common breast-feeding myths, Jill Castle, MS, RDN, LDN, author of Fearless Feeding: How to Raise Healthy Eaters From High Chair to High School and founder of Jill Castle Nutrition, LLC; and Bridget Swinney, MS, RD, LD, author of Eating Expectantly: A Practical and Tasty Guide to Prenatal Nutrition and founder of EatRightMama.com.
Myth 1: Breast-feeding mothers shouldn't eat spicy foods. "Flavors, including spices and aromatics, travel from the mother's stomach to her blood and into her breast milk," Castle explains. "Studies tell us this early exposure helps babies learn to accept and like novel foods." A 1993 study published in Pediatric Research found that nursing mothers who ate garlic had infants who nursed more vigorously and longer.1 Another study published in Pediatrics suggests that exposure to certain flavors though the amniotic fluid or breast milk led to babies who liked those flavors when they began solid food.2 According to Castle, "This evidence supports the idea that the more flavors a nursing mom can incorporate into her diet during pregnancy and breast-feeding, the more accepting her baby may be with the introduction of new foods. Rather than avoiding foods, nursing moms should be eating a wide variety of foods and flavors during pregnancy and while breast-feeding."
Myth 2: If a breast-feeding mother is on medication, she must stop breast-feeding. According to Swinney, "Health professionals such as primary care physicians err on the side of caution and recommend a mom stop breast-feeding because they don't have the knowledge about which drugs aren't safe or that there are safer alternatives." According to the American Academy of Pediatrics, there are only a few drugs that are contraindicated during pregnancy, including radioactive medications, some selective serotonin reuptake inhibitors, antipsychotics, anxiolytics, mood stabilizers, some pain medications, and drugs for smoking cessation or to treat alcohol or substance abuse.3 Also contraindicated are several herbal products including kava, yohimbe, St John's Wort, and prolonged use of fenugreek.
"As there are limited safety data and undeclared potentially toxic ingredients in herbal supplements," Swinney recommends that breast-feeding moms "should be counseled to proceed with caution if considering taking them." Resources for nutrition professionals include the US National Library of Medicine TOXNET database for drugs and lactation, LactMed (https://toxnet.nlm.nih.gov/newtoxnet/lactmed.htm), and Texas Tech University Health Sciences Center, a research center dedicated to safe medication use during pregnancy and breast-feeding (www.infantrisk.com).
Myth 3: Breast milk provides all the nutrients a baby needs. The nutritional composition of breast milk is ideal for the young infant (<6 months); however, it's known to have low concentrations of iron, zinc, DHA, and vitamin D, and this becomes a significant factor in older babies. For babies, a vitamin D supplement (400 IU per day) is recommended, beginning in the first few days of life. At approximately 6 months, an infant's needs for certain nutrients, especially iron, increase. According to Castle, "[At 6 months], a baby's iron requirements jump to 11 mg/day, a level that breast milk alone cannot provide. Breast milk has a concentration of 0.35 mg iron/L, so a baby would have to consume several liters of breast milk per day just to meet iron requirements. "The American Academy of Pediatrics recommends supplementation with iron for exclusively breast-fed babies beginning at 4 months of age in the dosage of 1 mg iron/kg/day. Once foods are introduced, breast-feeding moms should continue to breast-feed while introducing complementary foods that are rich sources of iron, DHA, and zinc, such as beef for iron and zinc and salmon or DHA-fortified eggs for a DHA source.
— Toby Amidor, MS, RD, CDN, is the founder of Toby Amidor Nutrition (http://tobyamidornutrition.com) and the author of the cookbook The Greek Yogurt Kitchen: More Than 130 Delicious, Healthy Recipes for Every Meal of the Day. She's also a nutrition expert for FoodNetwork.com and a contributor to US News Eat + Run, MensFitness.com, and Muscle & Fitness.

References
1. Mennella JA, Beauchamp GK. The effects of repeated exposure to garlic-flavored milk on the nursling's behavior. Pediatr Res. 1993;34(6):805-808.
2. Mennella JA, Jagnow CP, Beauchamp GK. Prenatal and postnatal flavor learning by human infants. Pediatrics. 2001;107(6):E88.
3. Sachs HC; Committee On Drugs. The transfer of drugs and therapeutics into human breast milk: an update on selected topics. Pediatrics. 2013;132(3):e796-e809.