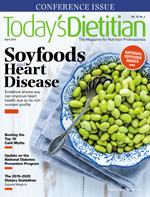 April 2016 Issue
Culinary Corner: Mushrooms
By Jessica Fishman Levinson, MS, RDN, CDN
Today's Dietitian
Vol. 18 No. 4 P. 66
Include these rich, earthy powerhouses in your spring dishes.
Today, mushrooms are a staple in the produce aisle of almost every grocery store, but it wasn't until the late 19th century that mushroom production began in the United States. Currently, 61% of total US mushroom production takes place in Pennsylvania, where mushrooms are grown indoors in a highly controlled environment year round.
There are many varieties of mushrooms, the most common of which are white button, with a fairly mild flavor, and brown crimini (also known as baby bellas), with a deeper, earthier flavor. Both of these types of mushrooms take about three months to grow before they're harvested by hand. Portabella mushrooms are grown like white and brown mushrooms and are a more mature version of brown crimini mushrooms due to their longer growing period. Portabellas are known for their meatlike texture and flavor and often are used as a vegetarian substitute for burgers.
Specialty mushrooms like oyster, shiitake, maitake (also known as hen-of-the-woods), and enoki take longer to grow and require more hands-on involvement, which accounts for their higher price tag. They range in flavor from delicate and light to rich, meaty, and woodsy.
While we often encourage our clients to eat brightly colored fruits and vegetables, we can't discount the nutritional benefits of mushrooms. They're low in calories, and one serving of mushrooms is a good-to-excellent source of selenium, potassium, and the B vitamins riboflavin, niacin, and pantothenic acid. Mushrooms exposed to ultraviolet light also are an excellent source of vitamin D.
Mushrooms are versatile in the kitchen and can be enjoyed raw in salads or cooked and added to stir-fries, pasta, sauces, pizza, omelets, and numerous other dishes. Because of their rich, umami flavor, mushrooms also are the perfect food to blend with meat to make burgers, meatloaf, and meatballs, which can be an effective way to reduce calorie and fat intake while still feeling satiated.1,2
— Jessica Fishman Levinson, MS, RDN, CDN, is a New York-based nutrition consultant, writer, and recipe developer, and the founder of Nutritioulicious (www.nutritioulicious.com).
References
1. Cheskin LJ, Davis LM, Lipsky LM, et al. Lack of energy compensation over 4 days when white button mushrooms are substituted for beef. Appetite. 2008;51(1):50-57.

2. Myrdal Miller A, Mills K, Wong T, et al. Flavor-enhancing properties of mushrooms in meat-based dishes in which sodium has been reduced and meat has been partially substituted with mushrooms. J Food Sci. 2014;79(9):S1795-S1804.
Recipe
Baked Mushroom Leek Frittata
Meaty mushrooms and sweet leeks are a classic combination that pair beautifully in this easy and nutritious frittata that's perfect for a weeknight dinner or your next weekend brunch.
Serves 4 to 6
Ingredients
2 tsp olive oil
1 medium leek, white and light green parts only, cut in half lengthwise and thinly sliced
8 oz sliced mushrooms (any type; for this recipe, I used a mix of shiitake and baby bella)
1 T water
1 clove garlic, minced
1 T chopped fresh thyme
1/2 tsp kosher salt, divided
Freshly ground pepper, to taste
6 large eggs
1 cup evaporated skim milk
1 cup (4 oz) shredded Parmesan cheese, divided
Directions
1. Preheat oven to 375° F. Spray a 9-inch pie dish with cooking spray and set aside.

2. Heat olive oil in a large skillet over medium-high heat. Add leeks and sauté three minutes, until softened. Add mushrooms and sauté five to six minutes until softened and most of the water has evaporated. Add 1 T water to deglaze the pan.
3. Stir in garlic, thyme, 1/4 tsp salt, and pepper, and cook one minute until fragrant. Remove from heat.
4. In a medium bowl, whisk together eggs, evaporated skim milk, remaining 1/4 tsp salt, and pepper, to taste.
5. Sprinkle 3/4 cup of cheese in bottom of pie dish and top with mushroom and leek mixture. Pour egg mixture on top and sprinkle with remaining 1/4 cup cheese.
6. Bake frittata for 30 minutes until top is puffed and golden brown.
Nutrient Analysis per serving
(Serving 4) Calories: 323; Total fat: 17 g; Sat fat: 8 g; Trans fat: 0 g; Cholesterol: 302 mg; Sodium: 915 mg; Total carbohydrate: 14 g; Dietary fiber: 1 g; Sugar: 9 g; Protein: 27 g
(Serving 6) Calories: 216; Total fat: 12 g; Sat fat: 5 g; Trans fat: 0 g; Cholesterol: 201 mg; Sodium: 610 mg; Total carbohydrate: 10 g; Dietary fiber: 1 g; Sugar: 6 g; Protein: 18 g