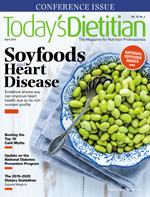 April 2016 Issue
Update on the National Diabetes Prevention Program
By Juliann Schaeffer
Today's Dietitian
Vol. 18 No. 4 P. 24
Learn what the National DPP is all about and how dietitians can get involved.
A massive, multifaceted problem often requires a solution of the same proportions. Diabetes is a health crisis dietitians know well, and the numbers of those who have the disease or may develop it are staggering. But through the National Diabetes Prevention Program (National DPP), the Centers for Disease Control and Prevention (CDC), along with hundreds of organizations, stakeholders, and trained professionals are working to reach and then help millions of Americans delay and possibly prevent the onset of type 2 diabetes.
The CDC estimates that 29.1 million Americans have diabetes, and 8 million of them don't even know it. What's worse, prediabetes affects even more people—an estimated 86 million people aged 20 and older. The vast majority, about 90% of people with elevated blood glucose that isn't high enough to be considered diabetes, have yet to be diagnosed.
That's crucial, because prediabetes not only puts people at higher risk of developing type 2 diabetes, it also puts them at higher risk of heart disease and stroke, according to the 2014 National Diabetes Statistics Report. But if the CDC and a whole host of other organizations across the country have anything to say about it, type 2 diabetes won't be a reality for the many millions of Americans they seek to reach through the National DPP.
What Is the National DPP?
Established five years ago, the National DPP is the largest effort of its kind to prevent type 2 diabetes. Managed by the CDC, the National DPP is a framework built on the National Institutes of Health's landmark DPP study that concluded in 2002, which showed lifestyle modifications, including healthful eating, moderate weight loss, and regular physical activity, provide a huge potential to delay or even prevent type 2 diabetes.
The original DPP, a randomized controlled trial that included participants at high risk of diabetes, found that a structured lifestyle program that stressed small but consistent changes, such as healthful eating habits and regular physical activity, showed significant results. Specifically, participants who lost 5% to 7% of their body weight (approximately 10 lbs for a 200-lb person) and aimed for 150 minutes of physical activity per week cut their risk of developing type 2 diabetes by 58%.
As researchers continue to follow up with these same participants, the results are proving even more optimistic. A decade since the original DPP study began, a 2009 follow-up study showed the lifestyle intervention continued to outperform metformin and placebo groups, with participants who completed a diabetes prevention lifestyle program still roughly one-third less likely to develop type 2 diabetes.
Built on what was learned from the original DPP study, the National DPP was developed for use as a framework to implement the dietary and lifestyle interventions used in the DPP clinical trial proven effective for preventing type 2 diabetes in people at high risk. Its goal is at once ambitious and acutely needed: to reach the 86 million people with prediabetes in this nation to help them avoid the health repercussions of type 2 diabetes—and help the country avoid the significant health care costs that go along with that diagnosis.
In effect, the National DPP is a yearlong classroom- or online-based program that teaches basic nutrition principles and physical activity components proven to decrease the risk of type 2 diabetes. In the year-long program, participants attend a minimum of 16 weekly classes during the first six months, with monthly classes thereafter. The CDC posts a curriculum that instructors can use, and lessons can be customized to an extent. Or, if an organization believes its own curriculum meets the national standards, it can submit it for CDC review and approval. Class topics range from how to eat healthfully to how to integrate more physical activity, such as walking, into one's lifestyle, in addition to stress management coping strategies—all with the goal to effect long-term lifestyle change.
"At each session, the participants are privately weighed and given a food/activity tracker to fill out and hand in at every meeting, and the coach facilitates the group in a lesson, encouraging as much participation from each person as possible," says Kim James, RD, LDN, DPP program coordinator for NorthCrest Medical Center Endocrinology Clinic. While the CDC leads this fight, it's hardly fighting alone. Organizations such as the YMCA and the American Association of Diabetes Educators (AADE), companies including L.L. Bean, health insurance plans, universities, and health organizations have joined the battle.
"The National DPP framework brings together all kinds of stakeholders, and that's really at the heart of the National DPP," says Ann Albright, PhD, RD, director of the division of diabetes translation at the CDC. "It serves as our backbone, allowing us all to coordinate, coalesce, and organize our efforts to prevent type 2 diabetes through this proven lifestyle intervention."
What's involved in the National DPP framework? The following are the four main components: workforce training, quality assurance, implementation, and marketing.
Workforce Training
As Albright stresses, a skilled workforce is needed to deliver this intervention on a mass scale. But that doesn't mean only health professionals are delivering this program—and that's a good thing, she says.
"The evidence has demonstrated that you can have both health professionals and trained laypeople deliver this intervention," she says.
Joining forces is key, Albright says, who notes that some of the most effective National DPP programs have laypersons and dietitians teaching classes and working with participants together. While the CDC doesn't train or credential coaches, it does credential and recognize organizations, who then deliver the program and provide support and oversight to their coaches and staff. The CDC also offers a set of approved curriculum on its website, though organizations can submit their own curriculum for approval, if they so choose. According to Albright, more than 8,000 coaches are trained to deliver this program today.
Quality Assurance
"This is where the CDC plays a very key role," Albright says. Noting that the CDC doesn't own the National DPP, Albright says it serves as the manager of the program to ensure its progress and successful implementation.
To ensure those ends, the CDC runs a recognition program, which involves the establishment of a set of national standards for the lifestyle program. Organizations apply and can receive full CDC recognition after running the program successfully for two years. One aspect of this involves National DPP sites collecting a core set of deidentified data that the CDC then uses to monitor the quality and performance of the national program as a whole.
According to numbers from January 20, 2016, Albright says 790 organizations were participating in the National DPP, 46 of which have submitted at least two years of successful data and thus achieved full CDC recognition. As of that date, there were 34,678 active participants in the national program, with virtual programs offered in every state including Washington, D.C., and in-person programs in 48 states and Washington, D.C.
Implementation
This component involves the nuts and bolts of the program: who is delivering it, where it's being delivered, and how it's being reimbursed. Albright stresses that she never wanted to depend on grant dollars alone to sustain this program—because she wants it to be sustained long-term. As such, she and the CDC have worked to get this program reimbursed, wherever possible.
And there's progress to note. As of January 2016, Albright says about 40 health plans currently are providing some form of coverage for the National DPP, including United HealthCare and BlueCross BlueShield of Florida. She's looking to bring more health plans on board as the program continues to show efficacy.
"We're also very involved with CMS [the Centers for Medicare & Medicaid Services], and we've been making important progress toward Medicare coverage. We are also embarking on a demonstration project with a few states to look at the Medicaid population," she says.
Of the 35,000-plus people involved in the program so far, Albright is pleased to note that average weight lost for eligible participants who have completed the one-year program and attended at least four sessions from the data they've received is about 4.7%. "Our standards require 5% to 7%, so as an entire country, we're almost to that goal," she says.
One new development to note: As of 2015, the CDC now allows organizations delivering the National DPP virtually to be eligible for recognition. "Prior to that, we were only recognizing in-person delivery, because the evidence wasn't quite there yet," she says. "We have significant and sufficient evidence now for virtual delivery."
Albright says the same standards apply to virtual delivery programs as in-person delivery, but she's hopeful this will allow the program to scale and expand its reach sufficiently.
Marketing
The last component of the National DPP involves spreading awareness—a huge issue, considering only 10% of people with prediabetes know they have it. But there's progress to note here, too.
The CDC, along with the American Diabetes Association (ADA) and the American Medical Association, in partnership with the Ad Council, launched the first public awareness campaign in January 2016 that focuses on prediabetes. It uses humor to help people identify their risk, and DoIHavePrediabetes.org offers a simple test that helps people determine whether they may have prediabetes. The three-year campaign also involves a texting component that gives people periodic updates and reminders about what it means to live a healthful lifestyle.
National DPP Sites Across the Nation
So what does implementation of the National DPP look like? Here, Today's Dietitian profiles several National DPP sites that have full CDC recognition. All work within the same framework to meet the same goal, while tweaking the details to maximize efficacy in their particular location for the population they're trying to reach.
Kentucky
Baptist Health Lexington applied to become an AADE-funded National DPP delivery site in 2013, and last May they achieved full recognition from the CDC. Since then, the facility has offered the program to grant participants, employees, companies, and even the public.
"We are growing and adding about one new [educational] class about every eight weeks or so," says Kathleen Stanley, MSEd, CDE, RD, LD, BC-ADM, MLDE, diabetes education program coordinator at Baptist Health Lexington in Lexington, Kentucky. "We offer classes off campus at businesses and companies as well."
Since Kentucky has one insurer that provides coverage for the DPP, Stanley says they work closely with that insurer as a referral source for members who are eligible for DPP based on their screening criteria and initiatives.
This program currently is taught by only RDs or RNs. In addition to providing evidence-based diabetes education, Stanley says instructors make a point to put a creative spin on things. "We also supplement the program with optional extra classes such as grocery shopping tours, guest speakers, tours of local gyms, and other events," she says, noting that she believes the hospital affiliation gives participants an extra level of comfort and confidence in the program.
In addition to the measurable successes seen by weight and BMI reductions and physical activity increases, Stanley says she sees even more in successes that can't be measured, including participants' positive attitudes, new friendships being formed, new strategies learned for coping with barriers, and empowerment.
Stanley says dietitians have a very real role to play in the National DPP. "This program provides a unique opportunity for dietitians to address the topic of weight loss in a comprehensive, evidenced-based group program in a variety of settings," she says.
Not only can the program help improve community health but it also could increase business for RDs in the future. "Because participants come for a full year in the program, the RD instructor helps to develop relationships with individuals who are otherwise healthy, but may develop relationships with your facility in the future because of the experience of a DPP," she says.
Tennessee
The National DPP program at NorthCrest Medical Center Endocrinology Clinic in Springfield, Tennessee, located 30 miles north of Nashville, also became an AADE-funded National DPP delivery site, with the center offering its first class in June 2013. NorthCrest is the first in the state of Tennessee to receive full recognition from the CDC for its National DPP program.
James says that the South has the unfortunate distinction of leading the nation in obesity, inactivity, and diabetes incidence. And though the center has had an ADA-accredited DSME (Diabetes Self-Management Education) program in place since 1993, capturing individuals before the onset of diabetes wasn't being effectively addressed.
"Although physicians were clinically identifying individuals with prediabetes, the best we could offer was a free one-time 30-minute session since prediabetes is not a reimbursable diagnosis in Tennessee. This brief encounter cannot begin to scratch the surface of the help that prediabetics need to delay or prevent their slide towards type 2 diabetes," she says.
Through the National DPP program, NorthCrest now offers participants 24 hours of group session time over 12 months.
As demand has increased, NorthCrest continues to expand the program as necessary, bringing on new coaches and planning to offer a program for Spanish-speaking adults in the near future. "We also incorporate a mentoring program for graduates who want to stay involved by having one to two of them serve as 'helpers' who come to each meeting to assist the coach and participants," James says. "A helper can set up the room, pass out lessons, collect completed food logs, and give encouragement and empathy to participants who may be struggling to meet their program goals."
In addition to the physical transformations of program participants due to weight loss and improvements in lab results, James says she also has observed positive changes in demeanor and attitudes, from "gloomy to sunny and from hopeless to hope-filled."
NorthCrest currently is working to bring employers and third-party payers on board in the near future to make reimbursement for a prediabetes diagnosis a covered medical cost.
"I would encourage any dietitian who has a passion for wellness and prevention to consider bringing the DPP to their worksite by becoming a trained coach," James says. "It has been one of the most satisfying things I've ever done in my 26-year career. To have the luxury of 24 hours of class time over one year and be able to watch the transformation that takes place is wonderful."
California
In Los Angeles, an organization called Black Women for Wellness (BWW), a 501(c)3 nonprofit, member-centered, community-based organization, is offering a multigenerational approach to addressing health disparities impacting black women and girls through education, empowerment, and advocacy. Working with the Black Women's Health Imperative through a cooperative agreement with the CDC since 2013 (through a program called Change Your Lifestyle. Change Your Life. [CYL2]) as well as the Los Angeles County of Public Health, BWW is now in its fourth year as a National DPP provider, says Janette Robinson Flint, BWW's executive director. (The organization doesn't currently use dietitians, but they do see the value of adding RDs on staff as the program scales.)
"BWW has always been concerned about the health disparities that plague our communities and the prevalence of chronic diseases such as obesity, cancers, heart disease, stroke, and diabetes," says Willie Duncan, senior program manager for BWW.
Flint points to the disparities in life expectancy, for example, that show average black life expectancy at 75.6 years, at least five years shorter than that of white, Latino, and Asian averages. Obesity rates also are higher for blacks (31%) and Latinos (32%) than whites (18%). The statistics that show how these and other health disparities disproportionately affect black men and women are telling, and BWW hopes to hit those numbers head on with their National DPP program.
"The main goal of CYL2 is to decrease the number of people being diagnosed as diabetic in our community through this evidence-based program that focuses on a coaching model, group support, increasing physical activity, improving food choices, and losing body weight," Flint says.
Holding to the national framework on class frequency and curriculum, BWW tailors the program at its six sites throughout the Los Angeles area to ensure it's meeting the needs of participants.
"For example, BWW's Kitchen Divas program uses a plant-based approach to encourage our community to eat more vegetables, fruits, and plant-based foods to lower the incidence of chronic diseases," Flint says. "The coaching and group environment is a critical component as they aid in behavioral change by working though obstacles, encouraging through stumbles, and celebrating and sharing successes."
BWW adapts its program to the community it serves, which means it includes culturally relevant themes, images, and sayings, where appropriate. "CYL2 understands the particular struggles and obstacles that might hinder members of our communities and works to combat factors such as economic, social, environmental, and health inequities," Flint says.
As the program has expanded, the CYL2 team increased from three lifestyle coaches to 10 passionate and dedicated community health educators. "Our team includes nutritionists, physical fitness specialists, and experienced health experts who are expanding the impact of the program," Flint says.
Thus far, the program's third-year numbers have surpassed national expectations. In year three, BWW saw an average decrease of 7.9% in BMI in the first 16 weeks and an average weight loss of 6.6%.
To get maximum success and buy-in from participants, Flint asks dietitians to dig beyond personal responsibility to consider what cultural and environmental factors (and inequalities) may be affecting someone's willingness to change.
"Working in the community has allowed us to see the barriers and obstacles facing our DPP participants such as family and community support, access to healthful foods, access to grocery stores vs fast food restaurants, access to safe parks and spaces for physical activity, and pervasive advertising and marketing that triggers us to make certain food choices," she says.
Virtual Delivery
Cappa Health, based in Scottsdale, Arizona, is currently a virtual provider of the National DPP through the CDC with pending recognition status. "From this experience, we realized our virtual tool would allow us to deliver this proven program to a far larger number of participants," says Jody Pannozzo, RD, vice president of hiring and training for Cappa Health. "The static nature of the class meeting times created difficulties for the attendees who were juggling busy lives. It became clear that a version of this program that allowed participants the flexibility to participate when and where they could was needed."
Pannozzo says the company also noticed that virtual daily tracking tools provided more accuracy and accountability than traditional paper tracking done in the classroom setting.
The program, which currently is awaiting CDC recognition status, involves four main components in both English- and Spanish-speaking versions. Educational videos help highlight the core curriculum and provide visual examples (available on the app and the website) for participants to watch at their convenience. Weight, food intake, beverage intake, activity, sleep, stress, and energy are tracked via the mobile app or website.
"Rather than text explanations of food intake, photo journaling allows for a more accurate record of portion sizes and food balance," Pannozzo says. "Participants can review anything that's previously tracked and see progress on colorful charts."
A certified lifestyle coach who's also a dietitian provides participants feedback and recommendations. "Our dietitians also take participants through hands-on skill building activities and goal-setting activities to reinforce the material," Pannozzo says.
Even though the program is delivered virtually, there's still a community aspect. Instead of participating with their peers in person, participants in this program communicate by posting questions, comments, and messages of support in the community forum.
While the Cappa Health program includes the core goals of the National DPP, Pannozzo says it goes a step beyond to provide more updated information on intuitive/mindful eating, whole foods, functional foods, and micro- and macronutrients.
"We want dietitians to know that this program is working and is changing lives," Pannozzo says. "On a daily basis, we are proving the value of dietetics as shown by the testimonials and feedback we get from our clients. The curriculum is solid, but the fact that it is a dietitian guiding the participants through the yearlong program is making a difference."
Get Involved
There are more than enough people who still can participate in the National DPP, so Albright encourages dietitians to get involved if they haven't already. "I want to be sure dietitians know there are many [RDs] involved in the National DPP. They're serving as coaches and coordinators. They're helping to train coaches. There are millions of people who need this intervention, and we've got to link arms and forces. I encourage dietitians to look and see who in their community is already delivering this program and what ways they can connect."
The CDC website has a wealth of information on the National DPP. To find out what organizations are participating, the CDC has a registry of recognized organizations at https://nccd.cdc.gov/DDT_DPRP/Registry.aspx. If dietitians want to receive training to deliver the program, they should visit the CDC website for the list of training organizations that have signed a Memorandum of Understanding with the CDC. RDs who work with organizations that have programs that meet the national standards and want to get CDC recognition should apply for it. Dietitians who are using a curriculum the CDC hasn't yet approved will need to submit their curriculum for CDC approval.
"There's a conversation out there about this program being delivered by community health workers and laypeople," says Joanna M. Craver, BS, MNM, associate director of prevention for the AADE. "And while that certainly has a place in the implementation of this program nationwide, I think it's still important that we include clinically trained and educated professionals in the overall implementation of the program to ensure it sticks to the high-quality standards to ensure its effectiveness.
"I think the takeaway is to look at this from multiple angles," Craver continues. "Not only can RDs talk to their patients about this program but they can also look into overseeing and scaling multiple programs in multiple locations because of the large number of people affected."
— Juliann Schaeffer is a freelance health writer and editor based outside Allentown, Pennsylvania, and a frequent contributor to Today's Dietitian.
Resource
Diabetes Prevention Program Research Group, Knowler WC, Fowler SE, et al. 10-year follow-up of diabetes incidence and weight loss in the Diabetes Prevention Program Outcomes Study. Lancet. 2009;374(9702):1677-1686.
[Sidebar]
THE YMCA'S NATIONWIDE DPP REACH
The YMCA has been a part of the National Diabetes Prevention Program (DPP) since 2009 and has continued to grow. "The YMCA's Diabetes Prevention Program has expanded from two YMCA associations with a handful of program sites in two states in 2009 to more than 220 Y associations delivering the program at more than 1,400 program sites in 44 states at the end of 2015," says Heather Hodge, director of chronic disease prevention programs for YMCA of the USA.
In a YMCA fact sheet on its National DPP program, the number of participants who attended at least one program session at one of the Y's national sites totaled nearly 40,000. Average weight loss at the end of the year sits at 5.4%.
Participants of the YMCA's DPP program must qualify with specific eligibility criteria beyond being overweight, similar to other National DPP programs. But Hodge stresses that YMCA's DPP isn't a weight-loss program.
"Throughout the yearlong intervention, participants work in a small, supportive group with a trained coach who must successfully pass standardized curriculum training," Hodge says, adding that dietitians have been involved in the program as lifestyle coaches or providers of diet and nutrition guidance beyond the scope of the program. In the latter case, the Y will refer the participant to a dietitian for support outside of the program, she says.
Since more than 80% of US households live within five miles of a YMCA, it has the ability to reach many people, Hodge says. The program has seen significant growth thus far and expects to expand the program even further as demand increases.
"Y-USA plans to continue to scale the program to meet local Y interest and community need," Hodge says. "By the end of 2017, the program will be available in over 300 Y associations all across the US, serving nearly 70,000 people."
— JS