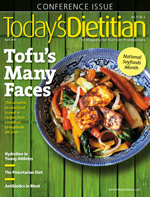 April 2015 Issue
Children's Nutrition: An Edible Education — How One Organization Moves the Classroom Into the Garden and Kitchen
By Leesha Lentz
Today's Dietitian
Vol. 17 No. 4 P. 14
The Edible Schoolyard Project (ESYP), formerly known as the Chez Panisse Foundation, is a nonprofit organization that champions the need for students to participate in cultivating, harvesting, and preparing foods—all as an integral part of the academic school curriculum. Coining the term "edible education," the organization uses immersive garden and kitchen experiences to bring subjects such as math and history to life in the classroom. What started as an idea by founder Alice Waters after noticing the rundown conditions of Martin Luther King, Jr. Middle School in Berkeley, California, has become an initiative to connect gardens, classrooms, and lunchrooms for students nationwide.
How It Evolved
Within the past 20 years, Martin Luther King, Jr. Middle School has become the main hub of ESYP, where the edible education curriculum is tested and perfected. Through Waters' vision, the school removed asphalt from the one-acre teacher parking lot and laid the first cover crop in the winter of 1995 to 1996. The first garden and kitchen classes started soon after. According to Krissa Nichols, operations manager at ESYP, nearly 7,000 students have taken part in these classes to date.
From 2004 to 2009, ESYP teamed up with Berkeley Unified School District and the Center for Ecoliteracy for the School Lunch Initiative, reforming school lunches for the entire district. Now the middle school houses the Dining Commons, a commercial kitchen where approximately 10,000 healthful meals are prepared every day for the 16 schools in the district.
With a desire to spread edible education across the country, ESYP worked with other organizations and schools to build the Founding Edible Schoolyards to demonstrate that the organization's concept can be implemented anywhere, no matter the climate or the levels of resources. From 2006 to 2010, ESYP helped six programs start, support, or promote Edible Schoolyards in the following organizations: Hunter's Point Boys and Girls Club in San Francisco; Larchmont Charter Schools in Los Angeles; FirstLine Charter Schools in New Orleans; Greensboro Children's Museum in Greensboro, North Carolina; PS 216 in Brooklyn, New York (now expanded to PS 102 in Harlem); and North Country School and Camp Tree Tops in Lake Placid, New York.
ESYP also hosts the Edible Schoolyard Academy annually, which provides five-day education training to professionals who are looking to implement or maintain their own kitchen and garden programs. The Edible Schoolyard Academy has been offered since 2009, and the organization estimates that it has "trained 488 teachers, administrators, health services professionals, and program volunteers from 208 programs all over the world," Nichols says.
In the Classroom
One reason for the program's widespread appeal can be observed not only through the students' experiences, but also through the teachers' and volunteers'. "I've been here for four years, and I've had a chance to attend a number of classes in the kitchen, the garden, and even in our evening program Family Nights Out," Nichols says. "It's a way of staying in touch with our mission to not only help everyone stay on track but also feel rewarded and important in the organization."
Nichols has observed sixth-grade students when they're first introduced to the program, which starts in the garden. Students are given a tour of the garden and eventually are taught how to identify, use, and care for garden tools to harvest and prepare crops for consumption. "The physicality of it is allowed, and the students can run and jump and voices can be louder. It's OK because we're outside in a garden setting," she says. "There are still expectations of respect, stability, and attentiveness, but it's also wonderful to see the kids be active. In some cases, the students who teachers struggle with the most in the classroom do incredibly well in the garden where they can move around and have a little bit more freedom in what they get to do, and they're still very much taking part in the lessons in ways that they might not in a regular classroom."
The students then move on to the kitchen, which is set up with three stations, each with a cement table-top, sink, and two-burner electric range. A typical lesson starts with a chef's meeting, where everyone gathers around a central location to listen to the teacher's introductory lesson, as well as to discuss the different tasks required that day. For example, one of the first kitchen lessons is called Greens Over Grains, during which the children slice and prepare a stir-fry of assorted greens, such as kale and rainbow chard, to serve over cooked grains that may include quinoa or millet. "There are also questions asked of the students—sometimes they're about techniques, such as 'Who can tell me the best way to chop an onion?' but then there also are going to be questions like, 'We're having a lesson today on the Silk Road. Who can tell me about a technology used in China that was exported to Rome?'" Nichols says. "There are all these wonderful links that the teachers are making and asking students to answer around that table."
Nichols believes that by giving students responsibilities, they will take them on cheerfully, which is demonstrated by their enthusiasm to try new things and clean up at the end of each kitchen lesson—a task that students even argue over. During Family Nights Out, evening classes which host five to eight families approximately 11 times per semester, students often show their parents around the kitchen, pointing out where everything is located. These evening classes mirror the kitchen classes, except that the families prepare an entire meal together, instead of one dish for sampling. "Parents are not directing here; it's really the kids taking charge," Nichols explains. "I think that was one of the most positive experiences for me as far as our program is concerned, just watching the parents respond to their child's capabilities."
Impact on Children's Health
While Nichols' own observations suggest that students are benefitting from the edible education curriculum, both in character and in kitchen and gardening skills, the research also shows that students are improving their nutrition—and taking the lessons home with them. In 2010, the Center for Weight and Health at UC Berkeley released an evaluation report of the School Lunch Initiative and how it affected the students' attitudes and behavior toward food. Some of the most important findings include the following:
• Children who are involved in the entire cycle of food preparation, from planting to cooking, are more willing to eat healthful foods they usually would have avoided.
• Students who were exposed to edible education increased their fruit and vegetable consumption by 30%.
• Across four metrics (bringing home recipes from school, helping to prepare dinner, making dinner from scratch, and eating together), students exposed to edible education improved on all counts.
The National Farm to School Network, an advocacy and networking hub for communities looking to bring food and agriculture education into the classroom, also provides links to recent studies on its website, www.farmtoschool.org, where users can learn more about the benefits of garden programs, such as increased vegetable consumption and building healthful relationships with food. While Nichols says the organization currently isn't involved in any large-scale research regarding children's health, its website, edibleschoolyard.org, has many resources that invite individuals to create and grow their own programs and witness the benefits firsthand. Through the website, users can connect with peers, access information on curricular activities for free, and discover other materials offered by fellow members in the resource center.
For those who just want their kids more involved in the kitchen, Nichols recommends including them in the process, from seed to fork. "If you have the space, try growing some lettuce or kale or chard, quick-growing greens that can make it just about anywhere, including your window sill," she says. "If you don't have space or soil to plant seeds, then entice kids into the kitchen with real tools and responsibilities. Nothing says, 'I care for you and trust you' like spending time teaching your kids how to use knives and other kitchen implements properly, then letting them take responsibility for part of a meal."
ESYP wants to spread the message that given the right tools, children can make healthful choices. "We believe that diet and food are a very holistic part of life and can't be separated from one another. Therefore, we think that it's important to think and talk about food as a larger part of life," Nichols says. "So sitting down together to eat a meal with your family is as important as the food you're putting there. We want everyone to think about food not in a vacuum and not on its own. Nutrition and health are integral to everything, so we want kids to be thinking about food during their academic school day, and we want nutritionists to be thinking about the social and emotional health of their charges, as well as their nutrition."
— Leesha Lentz is a freelance writer based in Pottstown, Pennsylvania.