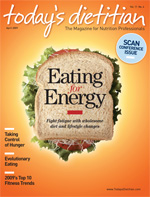 April 2009 Issue
Kidney-Friendly Potato Prep
By Chef Kyle Shadix, MS, RD
Today's Dietitian
Vol. 11 No. 4 P. 72
Chronic kidney disease affects more than 26 million Americans. For these individuals, following a "kidney-friendly" diet is crucial for positive long-term outcomes. Early detection of kidney disease, along with treatment by diet, may help delay its progression. For those patients who have already progressed to kidney failure and are being treated with dialysis, diet control is a key care component. Even after kidney transplantation, diet awareness is important to promote kidney health and manage potential medication side effects.
Most people with kidney disease are advised to monitor their dietary intake of protein, sodium, and potassium, among other restrictions. Adhering to this diet can be challenging because many common foods contain high amounts of these nutrients, and having to forgo so many foods or modify menus can also potentially contribute to depression. 
Dialysis is effective for removing excess potassium from the blood. For those who do peritoneal dialysis or daily home hemodialysis, high potassium is rarely a problem. However, in patients who receive intermittent hemodialysis three times per week, potassium levels may rise between treatments. As a result, these patients must limit their intake of high-potassium foods so potassium levels do not get too high before the next treatment. 
Past research has suggested that soaking foods in water may reduce their potassium content for people following a kidney-friendly diet. Potatoes are one of these foods, and recent research has revealed new ways of cooking them to remove the maximum amount of potassium. Cubing potatoes can reduce boiling time, but it also reduces mineral content by as much as 75%, according to a 2008 Journal of Food Science article.
Researchers at the vegetable and crop unit of the USDA subjected six potato varieties to various methods of preparation and then ran an analysis for potassium and 10 other minerals. They found that cubing or shredding potatoes prior to boiling resulted in significant reductions in potassium. This could be a good cooking strategy for potato fans hoping to reduce potassium intake. The research also indicates that boiling potatoes whole gives people the highest nutritional bang for their buck.
Researchers Jansky and Bethke also examined the effects of leaching the potatoes by letting them soak in water overnight. Their results showed that leaching had no significant impact on potassium reduction, in contrast with conventional wisdom.
Thus, the best evidence-based advice is to peel potatoes, cut in small pieces, boil in a large amount of water, and drain well. Eliminating the soaking phase is good news for everyone. And, of course, most patients with reduced kidney function should also season potatoes with herbs instead of salt.
Since we must recommend cooking and using less salt at the dinner table, we need to think of ways to help our patients enjoy their dining experience. By focusing on the use of herbs and spices, we can create flavorful dishes without the need for salt or potassium-containing salt substitutes. Many commercially prepared herb and spice mixtures are available, but reading the label is important because some seasoning blends may contain salt and other low-sodium blends as a replacement for sodium chloride.
Why not create your own signature mix of your favorite herbs and spices? Place the blend in a shaker on the dinner table so that it's always visible and within reach. Add seasoning blends to marinades, homemade salad dressings, and sauces. Sprinkle over meat, poultry, or fish before cooking. Add to salads and vegetables for extra flavor or use it on your potatoes.
— Chef Kyle Shadix, MS, RD, is director of Nutrition + Culinary Consultants, an advertising, marketing, and culinary full-service agency in New York City.
Herbs and Spices Blend
Portions: 30
Serving size: 1 tsp
Dried Ingredients:
1 T ground cumin
1 T ground onion powder
1 T ground celery seed
1 T ground basil
1 T ground marjoram
1 T ground oregano
1 T ground thyme
1 T ground coriander
1 T ground crushed rosemary
1/2 T paprika
1/2 T garlic powder
Dash of cayenne pepper
Directions:
Combine spices in a small jar or bowl.
Nutrients per teaspoon:
Calories: 8
Protein: 0 g
Carbohydrates: 2 g
Fat: 0 g
Cholesterol: 0 mg
Sodium: 10 mg
Potassium: 46 mg
Phosphorus: 9 mg
Calcium: 10 mg
Fiber: 0.5 g
Resource
To find kidney-friendly recipes and additional information about nutrition for patients with kidney disease, visit www.kidneyfund.org.