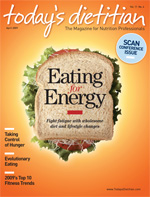 April 2009 Issue
Food Banks in Crisis — Hard Times Spell Increased Demand, Reduced Donations
By Maura Keller
Today's Dietitian
Vol. 11 No. 4 P. 46
With the recent flurry of bailouts for automakers and banks, you may wonder: where's the relief for America's food banks struggling to meet their communities' needs? Fortunately, these organizations are orchestrating creative solutions—and you can lend a helping hand.
It's official. The U.S. economy is experiencing one of the slowest economic periods in recent history. Businesses are worried, consumers are cautious, and investors are downright jittery. What does this mean for the state of the nation's food banks? Well, that depends on whom you ask and where they're located. But the consensus is that donations are down, demands are up, and dietary needs are at an all-time high as families struggle to put food on the table during this economic crisis.
State of the Nation's Food Banks
When you think of the Great Depression, what comes to mind? For many, images of long bread lines stretching down city streets are etched in their memory. Fast forward 70 years and the reality is not much different. Every week, thousands of people across the country stand in similar lines at food banks, churches, and community centers waiting for their rations of bread, milk, and vegetables to get them through the week.
"Coping is hardly the word," says Martine Scannavino, DHSc, RD, LDN, chair of the department of nutrition and director of the Didactic Program in Dietetics at the Allen Center for Nutrition at Cedar Crest College in Allentown, Pa. "Food banks are overwhelmed by what has been referred to as 'the perfect storm' of food and nutrition support for communities."
Over the past few years, food banks have been hard pressed by rising fuel and operating costs, increasing food prices, reduced donations, and increases of individuals and families seeking assistance. According to the Web site for Feeding America, the largest food bank organization in the United States, in 2007, 3.4% of all U.S. households (3.9 million households) accessed emergency food from a food pantry at least one time.
Food banks usually rely on donations from food manufacturers and large grocery chains. But as Robert A. Guth and Roger Thurow of The Wall Street Journal reported in November 2008, a decline in consumer demand for canned products (a staple of most community food distribution programs) due to a desire for fresh food has reduced overall production of these items, resulting in decreased donations.
"Food banks across the country are seeing an increase in demand and a decrease in donations," says Monica Y. Escobar, MSHS, RD, LD, nutrition education manager at the Capital Area Food Bank of Texas in Austin. "More working poor families need emergency food assistance, and some for the first time ever. Food banks are forced to think of their business differently now. The traditional food bank model of 'cans in and cans out' is no more. We must continue to consider additional sources to acquire food, including fresh produce, meats, and dairy."
Feeding America oversees a network of about 200 food banks serving more than 63,000 pantries and soup kitchens across the country. According to The Wall Street Journal, the organization reports that demand at food banks is up about 25% across the country vs. one year ago, including a surge in first-time clients. More than one third of those served by Feeding America live in a household in which at least one person is employed; about one third of its clients are children, 10% older adults, and only about 12% are homeless.
"Food distribution is at an all-time high," says Dave Krepcho, president and CEO of Second Harvest Food Bank of Central Florida in Orlando. "We are now distributing at disaster relief levels for the past five months. Unprecedented demand is being experienced by our 500 partner feeding programs. In some cases, demand is up 300%. The supply of food is currently remaining consistent, but we need much more. Financially, it is costing us more to distribute this excessive volume."
Second Harvest Food Bank of Central Florida is a nonprofit organization that collects surplus food that otherwise would be wasted and redistributes it to about 500 different charitable feeding programs in a six-county area of central Florida. Last year alone, it distributed enough food for 12 million meals. Its partner programs serve families, seniors, children, and individuals who are disabled.
"We get our food from a variety of sources: grocery retailers, food distributors, manufacturers and wholesalers, restaurants, resorts, caterers, growers, the USDA, and community food drives," Krepcho says. "We offer shelf-stable goods, as well as prepared meals and fresh fruits and vegetables, both frozen and refrigerated."
According to Scannavino, in many instances, food banks that have been partially reliant on government grants and awards have seen these opportunities decline and funding amounts diminish. "Also, more effective production, forecasting, and distribution methods in food manufacturing have been a boon for the food industry but a burden for food banks," she says. "Overproduced, damaged packaging, and overstocks at retailers has been their primary donation source."
The most notable change Scannavino has observed is that community food banks and emergency food sites are simply running out of food. "The foods that are most often gone first are high-protein foods and dairy," she says. "As layoffs in all segments of the economy continue and families become more strapped than ever, they are relying more on the food available through these organizations to feed their families. We must remember that as food and energy prices … soared in the past few years and wages stagnated, food banks already began to feel the strain of those working poor who just could not make ends meet."
Making It Work
So what unique solutions are food banks using to handle the current situation? Rescuing fresh foods, including produce, meats, and dairy, is paramount. Also, an increasing number of food banks are adding a direct-service component to their process. "The Capital Area Food Bank of Texas has a mobile food pantry that serves rural areas without food pantries and urban areas with high need," Escobar says. "We have also opened our own food pantry in a high-need area, which is also unusual for food banks."
According to Benny Wechsler, director of the Kosher Food Pantry for the Metropolitan Council on Jewish Poverty in New York, each year, the council distributes 4.5 million pounds of kosher food to 13,500 households in need from all faiths and backgrounds.
"As the largest kosher food pantry in the country, we have a comprehensive distribution process in which we compile all the food at our warehouse, divide it into family-sized packages with the help of volunteers and staff, and deliver the packages to smaller community organizations throughout New York City," Wechsler says. "Those organizations then distribute the packages directly to families. We also maintain a small food pantry at our crisis department so that we can immediately help those in need."
Some helpful and creative solutions that food banks are utilizing include gleaning projects, where food is gathered from local farms by volunteers and donated directly to food banks, soup kitchens, and pantries.
"This is a great opportunity in year-round growing climates. More seasonally challenged localities use gleaning in season, and some volunteers even participate in food preservation co-ops to dry, can, and freeze excess gleaned foods to increase accessibility off season," Scannavino says. While they are good solutions, gleaning projects require a great deal of organization and volunteer commitment. The most successful gleaning projects to date have been joint programs through AmeriCorps and USDA Cooperative Extension agencies. 
However, fresh fruits and vegetables can be somewhat challenging for food banks. "They are more expensive for us to obtain, and we have to move them very quickly through our distribution system," Krepcho says. "There is also a limited capacity of partner programs to take more of these items due to lack of refrigeration and storage space. Also, some cultural issues lead to people not knowing the value of these foods. Poor people typically cannot afford these foods or they are not available in their areas; many live in what's called a 'fresh food desert.' In some of these areas, it's easier to find a gun than a tomato."
In addition to gleaning opportunities throughout the nation, The New York Times reported that Connecticut communities are investigating the possibility of increasing the limit of deer killed by hunters to both handle the overpopulation of deer and allow hunters to donate the meat to nonprofits and feed those in need.
"Protein is always a struggle and the first thing to go due to the increased expense and difficulty in storing and distributing fresh protein," Wechsler says. "Canned tuna is good, but it would be better for our clients if we could provide them with poultry and meat more frequently. We distributed frozen turkeys for Thanksgiving, but it's hard to get those kinds of donations outside of the holiday. Fresh fruits and vegetables are also more difficult, but we are lucky in that volunteers and donors usually pick up this tab, donating apples, potatoes, and other fruits and vegetables."
But as donations decline, families and individuals are forced to either skip meals or rely on more low-cost, poor nutrient-quality foods to stretch food and/or serve as makeshift meals. Many of these low-quality foods are high in fat and sodium. Donated foods (eg, canned foods and processed foods that tend to be shelf stable) are often high-sodium, high-calorie, and low-fiber foods.
"It's simple. Poor dietary intake results in increased risk for chronic disease, infectious disease, and declining work and school performance," Scannavino says. "Adequate nutrition is the foundation of a strong community and resilient society. In this current economic crisis, our nation must effectively address the nutritional needs of the population to ensure recovery both in the short and long term."
Role of Dietitians
Experts agree that dietitians play a key role in assisting food banks, both during difficult economic times and on an ongoing basis.
"First, they can advocate at the policy level to improve federal funding for feeding programs, which include the USDA Supplemental Nutrition Assistance Program (SNAP); WIC [Women, Infants, and Children Programs]; National School Lunch [Program]; breakfast and snack programs; Elderly Nutrition Programs; and the associated farm programs," Scannavino explains. "As need increases and the risk of food insecurity exponentially increases, it is imperative that we support adequate funding for SNAP and supplemental food programs."
Dietitians can also provide food production expertise to enhance the nutrient quality of foods served and offer recipes and preparation ideas to make the best use of foods received from food pantries. Additionally, dietitians can use their expertise in management and organization to orchestrate food gleaning programs and food drives in their communities.
"Those of us in education programs can serve the public and work to fight food insecurity by designating appropriate time and instruction, as well as involving their students in these issues," Scannavino says. "And we can strengthen the future of the profession and its advocacy to fight hunger and support adequate foodways for the public."
In her role as nutrition education manager, Escobar directs the community nutrition program called CHOICES, which is funded in part by SNAP to help individuals and families make healthy choices within a limited budget and choose active lifestyles.
The Capital Area Food Bank of Central Texas offers free nutrition classes to 21 central Texas counties, including more than 350 nonprofit human and social service agencies. CHOICES reaches a broad audience comprised of children, adults, and older adults. Currently, the food bank has one part-time and two full-time nutrition educators.
"As the registered dietitian, I work closely with another program called Kids Cafe, which is an official program of Feeding America," Escobar says. The Capital Area Food Bank currently operates 32 Kids Cafes in central Texas, serving an average of about 25,000 meals per month to more than 2,800 children in need.
"Kids Cafe participants are school-aged children and their younger siblings," Escobar says. "As the registered dietitian, I work closely with the cafeteria managers and cooks. The cafeteria managers are in charge of menu planning and receive most food from the food bank. Each semester, I receive menus from each Kids Cafe cafeteria manager/cook and use the Food Processor software for nutrient analysis of menus submitted and provide recommendations. I also visit with the person in charge of meal planning to answer any Kids Cafe meal planning questions, review current menus and provide any feedback/recommendations for change, [and] monitor meal preparation and meal consumption."
Escobar also assists with educating partner agencies about the Choose Healthy Options Program (CHOP), a software program created by the nutrition staff at the Greater Pittsburgh Community Food Bank. CHOP is a ranking system based on the nutrient content provided by Nutrition Facts labels.
"Every item that comes into the food bank is put in our ranking program," Escobar explains. "The ranking program gives each item a nutritional rating based on nutritional contents found in the item."
After each Nutrition Facts label is entered into the program, it will calculate its nutritional rank. Each food item receives a ranking of 1, 2, 3, or MC (minimal contribution), with 1 being the most nutritious. Each ranking will appear next to food items on the Web site's shopping list. CHOP allows the food bank to analyze the percentages of food items available and measure progress toward strategic nutrition goals for food distributed.
"Food banks are experiencing increased pressure when it comes to distributing healthy foods," Escobar says. "Healthy foods are the most expensive foods and the hardest for food banks to acquire. With donations falling and the need for food rising, there could be the pressure on food banks or the tendency for food banks to be forced to distribute less healthy food. As a dietitian, offering a variety of food and focusing on increasing the quality of food is very important to clients we serve."
— Maura Keller is a writer and editor based in Minneapolis.