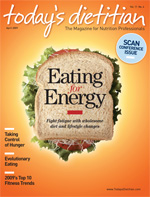 April 2009 Issue
2009's Top 10 Fitness Trends (There's a Workout for Everyone on This List)
By Lindsey Getz
Today's Dietitian
Vol. 11 No. 4 P. 42
Today's unique classes and training options make exercise fun—and the prospect of an exciting workout may be just the motivation your clients need to get moving.
Since many people turn to RDs to help them lose weight or improve their lifestyle, it's important that nutrition professionals are clued in to the latest fitness trends. A balanced diet and regular physical activity should work together to promote healthy weight loss and overall well-being.
"It's not complicated, but many people are just looking for that magic bullet, which doesn't exist," says Tricia L. Berchem, RD/LDN, a clinical dietitian contracted with Aramark at Central DuPage Hospital in Winfield, Ill. "For instance, to lose belly fat, they may think all they have to do is regular sit-ups, but then they get frustrated when they don't see a difference. It's not enough. If you have layers of fat, you must incorporate cardio and a healthy diet in addition to isolating the stomach muscles."
When your clients come knocking with fitness questions, you should feel comfortable enough with providing basic guidelines, says Toni Bloom, MS, RD, who is in private practice in the San Jose, Calif., area and nutrition director at the Pacific Athletic Club. "Especially since I work at a gym, I do get fitness questions from my clients," she says. "I can provide some basic training tips and how many days they should work out each week. But if they mention anything about an injury or surgery or have any in-depth questions, I immediately refer them to a trainer. In the same way, if a client is asking the trainer any diet questions beyond basic nutrition tips, they will refer that client to me."
Bloom says it's a great idea to build relationships with trainers in your area, even if you don't work out of a gym. It's an easy way to gain new business, as the trainer will appreciate your recommendation and may refer his or her clients to you for their nutrition needs.
Offering clients information on the latest trends is one way dietitians can get them interested in physical fitness. The American Council on Exercise (ACE), the country's leading authority on fitness, recently released a list of the top 10 fitness trends for 2009. The research was compiled through a survey of ACE's network, which includes personal trainers, group fitness experts, and lifestyle and weight management consultants. Budget-friendly and boot camp-style workouts both topped the list this year.
"The overarching theme for fitness in 2009 is getting more bang for the buck," says Cedric X. Bryant, PhD, ACE's chief of science officer. "Consumers will engage in workouts that provide multiple benefits due to time and economic limitations. We also see continued trends from 2008, including boot camp-style workouts, technology-based workouts, out-of-the-box programming, and an increased interested in fitness for those who are over 50 years old."
ACE's top 10 list follows, and Today's Dietitian has included helpful advice you can share with your clients and patients.
1. Boot Camp-Style Workouts
Also one of 2008's most popular fitness trends, boot camp-style programs provide a total-body workout that's varied, fun, and challenging. Exercisers can burn up to 600 calories per session; naturally, these workouts are quite popular among those looking to lose weight. "This is a great workout for someone looking for an intense session," says Debi Silber, MS, RD, WHC, a personal trainer and president of Lifestyle Fitness, Inc. "The benefits of a boot camp-style workout are that it's fun, fast paced, action packed, and can strengthen muscles and burn a lot of calories."
However, Silber identifies the potential for injury as a downside. "Often, this type of workout is so intense and the trainer is trying to get the client to move very quickly from one activity to the next," she explains. "With this type of speed, injury can occur if proper form takes a backseat to speed and movement."
Silber adds that the intensity of these programs may overwhelm some clients and that they aren't right for everyone. Also, boot camp-style workouts shouldn't be the only style of exercise clients perform; if they are, clients may quickly become exhausted and frustrated. "If this is the only type of workout and there is nothing more moderate incorporated into the routine, the client may abandon their efforts because of being unwilling to perform at such intensity each and every time," she says.
2. Budget-Friendly Workouts
The current state of the economy is affecting the fitness world, too. Because families are limiting their spending, research predicts more people will cut the cost of staying in shape. Forty-eight percent of participants in an ACE survey predicted gym memberships will decrease over the course of this year, and 52% said less people will hire personal trainers. Your clients who are interested in fitness will likely be looking for cheap ways to work out.
"One thing I've been hearing at the gym which I never heard before [is] two-on-one or even three-on-one training sessions," says Bloom. "Instead of just training one person, the trainers are now [working with] a husband and a wife or maybe a group of friends in the same session. I've also heard about people asking for half-hour sessions instead of the full hour. I didn't even know that was an option, but I think with the way things are, trainers and gyms are becoming more flexible."
3. Specialty Classes and Programs
ACE reports that favorites such as yoga and Pilates will remain popular, but dance-based classes and programs have emerged as the latest trend. Many of these classes and programs are combining fitness with dance techniques. Yoga Booty Ballet, an at-home DVD program that has become fashionable, is a cardio workout that combines yoga and dance with glute-sculpting techniques. Also popular, reports ACE, is Zumba, a fitness program inspired by Latin dance that combines South American rhythms with cardiovascular exercise. One reason why these types of classes are in vogue may be the television show Dancing With the Stars. Dance workouts are also quite popular among celebrities.
4. Getting Back to the Basics
ACE reports that despite the fact that many exercises and pieces of equipment are becoming more advanced and trendy, trainers will continue to focus on basic movements and techniques to help their clients. "I totally agree," says Silber. "Some exercises and equipment can be very intimidating for the average exercisers. To encourage activity, a level of comfort is important, so I often find that sticking with the basics really works. Exercises like push-ups, chair dips, abdominal floor work, lunges, or squats can bring excellent results when done properly and can be a great way for clients to stick with an exercise program when they aren't able to get to the gym, are on vacation, or don't have the budget to pay for a gym membership."
Berchem says we never really abandoned the basics. "Most exercises, even some of the complicated ones, are based on those basic movements," she says. "There can be some variation on it, but it all comes back to the proper technique and form. Some of the variations start with the basic level and just build on that fundamental."
5. Circuit Training
Interval training, which combines strength training with cardiovascular activity at different intensities, has been shown to provide a more time-efficient workout than participating in traditional aerobic and weight-training sessions. "Clients maximize their workout time while building muscle, burning calories, and increasing their overall fitness," says Silber. "Interval training classes can also be fun."
Bloom says that her gym built a special circuit training area, and classes have been busier than usual lately. "It's a big trend right now," she says. "It's something that's been around for years, but it definitely has gotten more popular. We have a light on the wall at the gym, and they crank fun music, but when the light flashes, you hop down and move on to the next piece of equipment."
During circuit training workouts, it's important to maintain proper form and techniques, especially since it can be fast paced and getting hurt is always a possibility. "If the client is more interested in getting through the circuit at the expense of proper form and technique, injury can occur," notes Silber.
6. Kettlebells
A kettlebell is a traditional Russian weight that resembles a cannonball or a bowling ball with a handle. It has become a popular tool for both men and women to increase strength, endurance, agility, and balance. ACE believes the reason for the surge in popularity surrounding kettlebell training is because it gets back to basic training that requires functional, whole-body fitness. Kettlebell training is particularly effective for strengthening the core, since it requires those muscles to contract as a group. It also forces  an individual to focus on whole-body conditioning because lifting and controlling the kettlebell in various workout positions require using multiple muscles. It's a great way to develop strength and stability, and the varying routines keep the workout more interesting than standard dumbbell training.
7. Boomer Fitness
Many people aged 50 and older have the time, motivation, and desire to enhance their quality of life through physical activity, so more boomers are looking for workouts in which they can participate. "I think boomers' interest in fitness will continue to increase," says Berchem. "More and more boomers are retiring and finding the time and the energy to get involved with physical activity. And so much research has been done on the benefits of working out for that age group. For instance, it has been shown to help delay dementia. It can be a very good thing as long as boomers are making sure their workout is physician approved."
Popular boomer activities include golf, tennis, swimming pool workouts, and yoga. While boomers seek workouts that are low impact, Becky Williamson, president of lifeSport Fitness and an exercise physiologist who specializes in boomer fitness, says that incorporating a little bit of impact is important—especially for boomer women. "I'm not saying go out and run, but many boomer women are swimmers, walkers, or spinners, and they are losing bone mass," she says. "Add a little bit of impact into your routine. If you're walking in the neighborhood, step off the curb and jump back up a few times. Or incorporate a minute of jumping rope at home."
8. Technology-Based Fitness
With technology becoming a big part of daily life, it makes sense that people are interested in ways in which they can incorporate it into their fitness routine. Whether it's using an iPod during a jog or "exergaming" (the new term for exercising with video games—think Wii Fit), there are many ways that technology is impacting fitness. Technology can also keep the workout entertaining, says Bloom. "Almost every member of our club either uses an iPod or plugs headphones into the equipment, which gives them sound for the televisions," she says. "It's multitasking to pass the time or to catch up on favorite shows."
Even all of the equipment available today, including heart rate monitors, body fat measurers, and pedometers, is affecting the way people work out. "Pedometers can be helpful to get a sense of how much a client is actually moving each day," says Silber. "It can be a real wake-up call." But she adds that fancy gadgets aren't required to get a thorough workout. "I usually encourage exercisers to try something as simple as the 'talk test.' Simply put, with the talk test, if you can only speak in one-word answers, the workout is too hard. If you can have long conversations, it's too easy. But if you can speak in short sentences it's the perfect pace."
9. Sport-Specific Exercise
Even as technology makes rapid changes in the way people work out and trendy workouts become all the rage, sports continue to be a popular way to stay in shape. Participating in a friendly game of basketball at the Y or taking a day-long bike ride at the park are just a couple of ways that people will stay in shape in 2009 and have fun while they're doing it.
"Sports-specific training is definitely popular," adds Bloom. "In the spring, my gym does golf training where they specifically work on the golf swing and the core muscles. Tennis training has also been popular. And when it gets colder, they'll switch to ski conditioning, where they'll work more on the quads and the glutes."
10. Mixing It Up
According to ACE, traditional programming is changing from what is called "linear progression" to "undulating." In other words, people are mixing up the types and styles of workouts in which they participate. Research has shown similar if not better results in exercising this way. Mixing low-intensity cardio with intervals on some days and then mixing high-volume, low-intensity weight training on other days can keep things interesting while also yielding positive results. And if people are enjoying themselves and not growing bored with their routine, they'll be more likely to stick with it.
Get Them Moving
Sharing some of these trends with your clients may help motivate them or give them ideas on how to become more physically active. Just be sure to recommend that your client see a physician before getting started, especially if he or she has any risk factors for heart problems, has had an injury or a recent surgery, or is an older adult.
Make sure to stress that variety is key, adds Berchem. "Whether it's diet or exercise, people tend to forget how important variety is," she says. "Your body needs to be challenged with different exercises and different intensities or it will get used to the same routine and the results will plateau. Same with diet—encourage your clients to incorporate a variety of foods and decrease their processed food intake. And encourage them to try some new foods in their diet on a weekly basis."
— Lindsey Getz is a freelance writer based in Royersford, Pa.