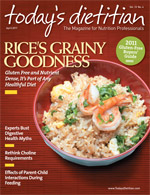 April 2011 Issue
Spice as Nice — Smoked Paprika Makes Stuffed Peppers Twice as Tasty
By Bryan Roof, RD, LDN
Today's Dietitian
Vol. 13 No. 4 P. 64
When I was in my early 20s, I had little enthusiasm for cooking but a lot for eating. So when my mother introduced me to smoked paprika, I paid little attention. Perhaps I was blinded by hunger or maybe it was the fact that it came from the $1 jar spice bin at Wal-Mart. Ten years later, though, I realized the error of my foolish dismissal and wondered how deft a user of smoked paprika I would have become if only I had been more willing to stir the pot than eat from it.
Smoked paprika (pimenton) is yet another genius product from Spain. Standard paprika (read: unsmoked) is made by drying sweet (dulce), medium hot (agridulce), or hot (picante) peppers in the sun. Smoked paprika, which hails mostly from La Vera, Spain, known in the vernacular as pimenton de La Vera, is made by drying the peppers over Encina oak wood fires for about 15 days. The seeds and stems are removed and the dried peppers are ground slowly, often on antique granite millstones, to prevent overheating and destroying the delicate oils in the spice. The aroma is delicately smoky but sure-footed enough to leave a balanced mark on foods. And as the heat builds from dulce to picante, the paprika finishes with a slight bitter edge.
Smoked paprika can stand in anywhere regular paprika is used, or cayenne or even black pepper for that matter. In Spain, smoked paprika is sprinkled liberally throughout the diverse cuisine, which brings me to tapas and a recipe for piquillo peppers stuffed with manchego cheese—good on their own but much better with a little smoked paprika.
— Bryan Roof, RD, LDN, is a chef, dietitian, and food writer living in Boston.
Manchego-Stuffed Piquillo Peppers
Serves 4 as an appetizer
Ingredients
1 T plus 4 tsp extra-virgin olive oil
2 tsp sherry vinegar
1 garlic clove, peeled and sliced thin
Kosher salt and ground black pepper
8 jarred piquillo peppers
2 oz Manchego cheese
1/4 tsp smoked paprika
Directions
In a small bowl, whisk together 4 tsp of olive oil, vinegar, garlic, one pinch salt, and pepper to taste; set aside.
Thoroughly dry peppers, inside and out, with paper towels. Divide cheese into eight 1/4-oz portions and place one piece inside each pepper. Heat remaining tablespoon of oil in a 12-inch nonstick skillet over medium-high heat until shimmering. Add peppers and cook until lightly charred on first side, about 2 minutes. Flip peppers and continue to cook until lightly charred on second side, about 2 minutes more.
Transfer peppers to platter, drizzle with reserved vinaigrette, and sprinkle with smoked paprika. Serve immediately.
Nutrient Analysis per serving
Calories: 140; Total fat: 12 g; Sat fat: 3.5 g; Trans fat: 0 g; Cholesterol: 10 mg; Sodium: 460 mg; Total carbohydrate: 4 g; Fiber: 0 g; Protein: 4 g
Notes: Manchego is a spanish sheep's milk cheese. If you can't find it, you can use any other semi-soft cheese. You can find canned or jarred piquillo peppers in specialty markets and well-stocked grocery stores. Any style of smoked paprika will work in this recipe. Serve this tapa with crusty bread.