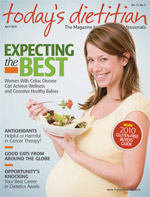 April 2010 Issue
Oodles of Noodles — Those Who Like Large Servings of Pasta May Appreciate Shirataki
By Chef Kyle Shadix, MS, RD
Today's Dietitian
Vol. 12 No. 4 P. 64
A short time ago I received a question from a reader: "I have recently heard about shirataki noodles and wonder about the nutritional benefits that are being promoted. What are your views on these noodles?"
Shirataki (shee-rah-TAH-kee) noodles are a traditional Japanese noodle sometimes called konnyaku noodles. They have a very different texture, mouthfeel, and taste from traditional pasta noodles. Shirataki are made from the root powder of an Asian yam called konjac, not at all similar to what we consider a yam in the United States. 
Most of the hype stems from research from the University of Connecticut published in 2008 in the American Journal of Clinical Nutrition that concluded: "Glucomannan [a soluble fiber that naturally occurs in high concentrations in the konjac plant] appears to beneficially affect total cholesterol, LDL cholesterol, triglycerides, body weight, and FBG [fasting blood glucose], but not HDL cholesterol or BP [blood pressure]."
On a recent trip to New York's Chinatown to investigate this "miracle food," I found that there are two types: shirataki and shirataki-tofu. After further research, I discovered that health food stores and markets sell these noodles, and the shirataki-tofu variety seems to be the most common. Both varieties are packaged wet (prepackaged in liquid); hence, they are precooked and ready to eat out of the package.
The accompanying table compares the Nutrition Facts panel of one brand to traditional boiled pasta. As the nutrient comparison demonstrates, for people who enjoy hearty servings of pasta, the switch to shirataki or shirataki-tofu noodles may be beneficial. But since shirataki noodles are being marketed as a substitute for pasta, it is important for consumers to realize that while these noodles are a wonderful low-calorie substitute for pasta, they do not taste like the pasta on the shelves of the local grocery store. They may appear similar, but consumers should expect a different dining experience.
If clients desire large portions of a natural, ready-to-eat "pasta" and if they find the texture suitable to their palate, then adding shirataki noodles to their repertoire is a great idea. Inform clients with allergies that the tofu variety does contain soy.
— Chef Kyle Shadix, MS, RD, is a culinary nutrition communications consultant in New York City and online at www.chefkyle.com.
Shirataki Primavera
4 servings
Ingredients:
1 head of broccoli, stem removed, cut into small florets
8 oz fresh haricots verts or green beans
1⁄2 cup frozen baby lima beans
One 8-oz package shirataki spaghetti noodles
2 T olive oil
1 tsp dried hot red pepper flakes (optional)
1⁄2 cup onion, chopped
6 garlic cloves, finely chopped
1 cup cherry or grape tomatoes, halved lengthwise
2 T light cream cheese
3 T Parmigiano-Reggiano, finely grated
Directions:
Bring a pot of water to a boil. Add broccoli, haricots verts, and lima beans and cook, uncovered, until crisp-tender, about 3 minutes. Transfer vegetables to a large bowl using a slotted spoon. Add shirataki to boiling water and immediately drain in a colander.
In a sauté pan, heat olive oil over high heat until hot but not smoking and sauté red pepper flakes and onion, stirring, until softened and pale golden, about 3 minutes. Add garlic and sauté for 1 minute more, being careful not to burn the garlic.
Add boiled vegetables and cherry tomatoes and cook, covered, until vegetables are tender, about 5 minutes. Add cream cheese and Parmigiano cheese and stir until combined.
Add shirataki and stir.
Nutrient Analysis for 1 serving:
Calories: 161
Total fat: 9 g
Saturated fat: 3 g
Trans fat: 0 g
Cholesterol: 8 mg
Sodium: 240 mg
Total carbohydrate: 14 g
Dietary fiber: 5 g
Protein: 6 g
Table
| | | | |
| --- | --- | --- | --- |
| | 4 oz cooked shirataki-tofu spaghetti noodles | 4 oz cooked shirataki spaghetti noodles | 4 oz cooked traditional spaghetti noodles |
| Calories | 20 | 0 | 160 |
| Fat (g) | 0.5 | 0 | 1 |
| Sodium (mg) | 15 | 0 | 113 |
| Total carb (g) | 3 | 0 | 32 |
| Fiber (g) | 2 | 1 | 0 |
| Protein (g) | 1 | 0 | 5 |