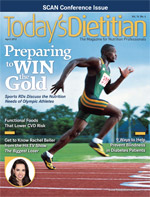 April 2012 Issue
Tasty Appetizers — Three Recipes Take the Angst Out of Entertaining
By Bryan Roof, RD, LDN
Today's Dietitian
Vol. 14 No. 4 P. 72
My mother always said that the food at a party should encourage drinking, and I agree. There's nothing worse than the uncomfortable first moments of a party standing stone sober and shoulder to shoulder with your boss, trying to make small talk while you sweat through your new tweed. I've learned from experience, though, that the proper food also helps temper the effects of alcohol. Rich foods, slightly on the salty side and with a little spice, work well at achieving both goals. Here, a fruit salad could be considered a poor choice. Of course, I can speak only for myself.
I can't assume others share my beliefs on party etiquette, dining, or drinking, but for now, let's just agree that parties are meant to be enjoyed (with or without alcohol), and the perfectly planned party doesn't neglect the food, in particular those little bites meant to be eaten while mingling.
I'll admit that I'm somewhat picky when it comes to the functionality of these party bites: If I can't walk away from the spread nibbling out of one hand and sipping from the other then I'll quietly consider the party a wash. I even object to the use of plates. They require too much of the guest because usually they come with the assistance of a napkin and lightweight plastic fork. My wife and I once took turns holding each other's wine glass while the other sliced leg of lamb and roasted potatoes from our juggled plate before quickly stabbing the food into our mouths and then switching roles.
Anything that can be poked with a toothpick, arrives on a stick, is spread over toasted bread, or can be picked up with your fingers is the way to go. You want bold flavors that will stand up to the drinks and keep people coming back for more. The good news is that the food doesn't have to be overly complicated—in fact, the simpler the better. Because in addition to shopping, cleaning the house, dressing the kids, and watching my wife do her hair, there's more to be done than just preparing a few appetizers.
— Bryan Roof, RD, LDN, is a chef, dietitian, and food writer living in Boston.
Roasted Eggplant, Pepper, and Onion With Blue Cheese
Serves 6
Ingredients
1 large eggplant
1 red bell pepper
1/2 yellow onion, peeled
2 T plus 2 tsp extra-virgin olive oil
1 T sherry vinegar
2 garlic cloves, minced
1/4 tsp sea salt
1/4 tsp pepper
1/4 tsp Aleppo pepper or red chile flakes
2 oz blue cheese, crumbled
2 T finely sliced chives
Directions
1. Adjust oven rack to lower-middle position and heat oven to 425˚F. Rub vegetables with 2 tsp oil and place on aluminum foil-lined baking sheet. Bake until skins are wilted and vegetables are cooked through, about 40 minutes, turning vegetables occasionally. Set aside to cool.
2. When cool enough to handle, remove skins from eggplant and peppers (discard seeds from pepper), cut into thin strips (about 1 1/2-inches long), and transfer to a bowl. Cut onion into thin strips and add to bowl with eggplant and peppers. Add remaining 2 T oil, vinegar, garlic, salt, pepper, and Aleppo pepper and toss to combine. Transfer to platter and sprinkle with cheese and chives. Serve on crostini or crackers.
Nutrient Analysis per serving (for the topping): Calories: 120; Total fat: 9 g; Sat fat: 2.5 g; Trans fat: 0 mg; Cholesterol: 10 mg; Sodium: 230 mg; Total carbohydrate: 8 g; Dietary fiber: 4 g; Sugars: 4 g; Protein 3 g
Prosciutto and Goat Cheese Bruschetta With Honey
Serves 6
Ingredients
1 (12-oz) loaf ciabatta bread, cut into 12 slices and toasted
6 oz soft goat cheese, room temperature
6 oz prosciutto, sliced thin
2 T honey
1 1/2 tsp chopped fresh thyme
Ground black pepper
Directions
Spread goat cheese evenly among toasted ciabatta. Divide prosciutto evenly among toasted ciabatta on top of goat cheese. Drizzle prosciutto with honey. Sprinkle bruschetta with thyme and season with pepper to taste. Serve.
Nutrient Analysis per serving: Calories: 290; Total fat: 10 g; Sat fat: 6 g; Trans fat: 0 g; Cholesterol: 40 mg; Sodium: 1,100 mg; Total carbohydrate 33 g: Dietary fiber: 1 g; Sugars: 7 g; Protein 18 g
Marinated Manchego Cheese
Serves 6
Ingredients
3 T extra-virgin olive oil
3 garlic cloves, peeled and smashed
2 (3-inch) strips lemon zest, removed with vegetable peeler
2 sprigs thyme
1 bay leaf
8 oz Manchego cheese, cut into 1/2-inch cubes
1/2 tsp coarsely ground black pepper
Directions
1. Combine oil, garlic, lemon zest, thyme, and bay leaf in small saucepan over medium heat. Cook until garlic begins to sizzle and mixture is fragrant, about 5 minutes. Remove from heat and cool to room temperature.
2. Once cooled, toss oil mixture, cheese, and pepper in bowl until combined; let sit for three hours at room temperature. Transfer to serving dish. Serve with toothpicks on the side for skewering.
Nutrient Analysis per serving: Calories: 160; Total fat: 12 g; Sat fat: 6 g; Trans fat: 0 g; Cholesterol: 25 mg; Sodium: 520 mg; Total carbohydrate: 2 g; Dietary fiber 0 g; Sugars: 2 g; Protein 7 g